Looking for a Blu-ray player to pair up with your latest 3D TV acquisition? Then you can't go wrong with the Samsung 3D BD-C6900. Standing at the top of Samsung's new 2010 Blu-ray player line, it's compatible with both standard displays and the company's latest 3D sets, implying that you could still use it for excellent standard Blu-ray playback, even if you're holding back from upgrading your TV to the three dimension experience.
It also features 1GB of integrated memory, DLNA streaming capabilities for sharing content between things like your PC or Playstation 3, and a slew of web-connected Samsung apps like Netflix, Blockbuster new movies releases, and Pandora.
Sick of viewing those black bars on older discs and non-wide screen content? This Blu-ray player sports 21:9 to 16:9 content conversion for a full screen experience, and upscales to 1080p to boot. The press release promises 2D to 3D upconversion as well, but we won't speculate on how effective this is until we see it for ourselves.
"Our new Blu-ray players really represent the spirit of Samsung – innovation that brings together the best entertainment experience and the most elegant and eco-friendly design, providing our widest range of options ever," said Sung-Ho Jun, Senior Vice President of Visual Display Division at Samsung Electronics. "We are excited to show the world another premium Blu-ray player lineup that can be described with adjectives like fast, slimmest, and energy-efficient – we're offering something for everyone – especially those that want a player to compliment our new HDTVs."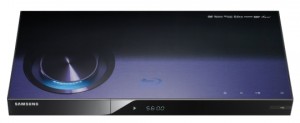 On sale now at Amazon, snag one today if you're the early adopter type. Irritatingly enough, though, 3D glasses are sold separately. The Samsung 3D BD-C6900 player is compatible with Samsung's new 3D HDTVs and recently ratified 3D Blu-ray standard, for the ultimate in immersive, life-like experience. ($499, www.samsung.com)
Published on March 20, 2010