The WePad, from German company called Neofonie, sports a 11.6-inch touchscreen display capable of 1,366 x 768 resolution, an Intel Atom N450 processor clocking at 1.66GHz, GMA 3150 graphics, a 6-hour battery, webcam, 2 USB ports, memory card reader, UMTS modem and Android OS as the backbone.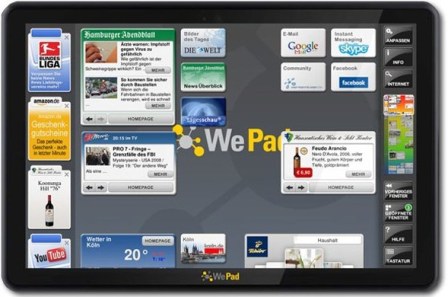 Clearly the WePad has some extras over the iPad like connectivity ports, a memory card reader and a webcam. The WePad also will offer proprietary apps from the WePad App Store while also allowing future customers to tap into the Android Market.
WePad could definitely be a contender.  I personally think Android is the best OS out there because of its open architecture.  It also lends itself well to adapt to new devices like the WePad because it can resize to suit different screen sizes. With Android and WePad as a package, I'd be very interested to see how this does.
Availability and pricing for the WePad have not been announced yet, but info should be filtering in shortly. (www.neofonie.de/)
Published on March 23, 2010