Solar Mate is a lighting kit in a box! Where mains quality lighting is needed in remote locations, such as workshops, stables, summer houses, garden offices, garages, sheds etc Solar Mate is the answer. It will provide light for up to seven hours per 24hour period. Its single 12volt, energy saving bulb is equivalent to a 40watt household light bulb illuminates an area of 16 sq metres.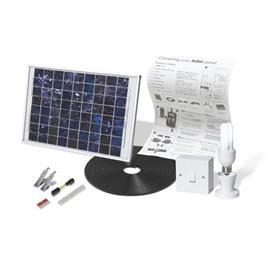 Technical Specifications
1 x 5W solar panel
1 x Long life bulb (40W equivalent)
(illuminates an area of 16 sq meters)
1 x Bulb holder/1 x wall switch
5m Cabling and connectors
4 x Roof/wall mountings
1 x Instructions
10 Year Warranty
Takes around 1 ½ hours to install
No special tools needed
Size 315x215x25mm
This kit has everything you need MINUS the battery. Any standard car or caravan battery is suitable, new or old. We do not offer non-sealed batteries due to the difficulty in shipping and recommend sourcing the battery locally or better still reusing a redundant car battery.
Solar Mate can be Used
in a Variety of places.
In a stable
in a garage
in a shed
Published on April 03, 2010