Viewsonic has thrown two new products into the e-reader ring with the release of the 6-inch VEB620 and VEB625. Both e-readers include 800X600 resolution, E-ink monochrome displays, 1.5 GB of internal memory and a G-Sensor for orientation while the VEB625 gets a touch screen and WiFi connectivity.  They are available now in Europe.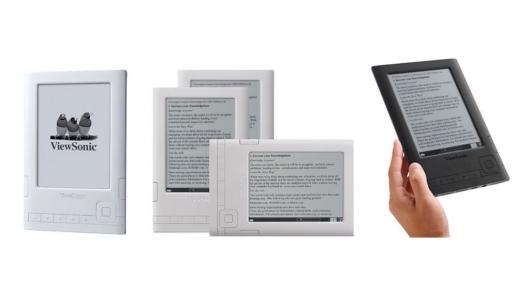 The VEB625 is less than 11mm thin, weighs 0.26kg and features touch screen control, a G-sensor for viewing in portrait or landscape and WiFi 802.11 b/g connectivity.
The 1.5GB of useable internal memory is expandable via SD card slot and the e-reader has a 3.5mm headphone jack and a 1x 0.5W speaker so it can double as a music player. A virtual keyboard is available and the touch screen capability also means that highlighting and notes can be done directly on screen.
The G-sensor also allows you to turn a page by shaking the device to the left or right. Alternatively you can use a finger swipe – one battery charge can deliver up to 6,500 page turns according to Viewsonic, so that's a whole lotta swiping. The VEB620 is the same size (188 mm X 126 mm x 10.9 mm) and shares most of the above features, but there's no touch screen or WiFi functionality and the battery lasts for more page refreshes (around 8000)
Both ViewSonic eBooks support formats including plain text, ePub, PDF and MP3 audio as well as multiple languages (English, Traditional Chinese, Simplified Chinese, German, French, Italian, Spanish, Dutch, Russian, Portuguese, Greek, Turkish).
The VEB 620 and VEB 625 will be available in Europe and UK pricing is expected to be around $275 for the VEB620 and $315 for the VEB625. U.S. release should come this summer, but no confirmation as of yet.