A Chinese company called Moonse had released a new tablet which runs Google's Android OS, the Moonse E-7001. The Moonse E-7001 comes with Android 1.5 and it features a 7-inch multi point touchscreen display with a resolution of 800 x 480.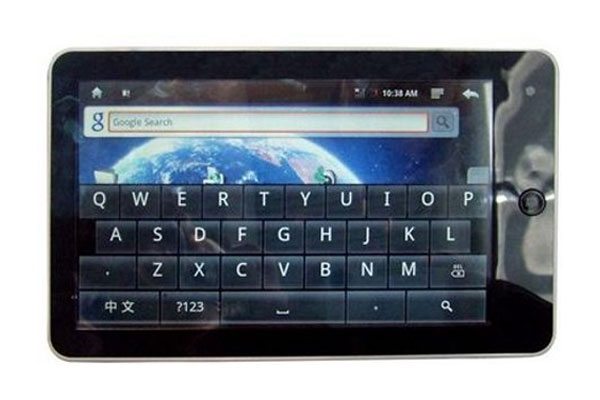 Other specification include a 1.3 megapixel camera, 3G HSDPA connectivity, and has a microSD card port that can take up to 32GB cards.
The Moonse E-7001 comes with integrated 802.11 b/g WiFi, one USB port, a 3000mAh battery that is reported to give up to five hours of usage, and it is also capable of playing back HD video in 720p. It is running on a  Rockchip RK2808 clocked at 600MHz.
There is also some information that suggests the processor may be upgraded to a more powerful ARM Cortex-A8 chip. In the meantime, the device features external support for WCDMA/EVDO 3G through a USB connection. Other specifications include a built-in microphone, stereo speakers, and a headphone jack.
Using the Rockchip CPU also means that the E-7001 is capable of playing back 720p HD video with support for a large range of audio and video codecs. A 3000mAh battery gives a battery life of about 5 hours worth of continuous use, with dimensions measuring a compact 9.33 x 4.92 x 0.56 inches and weighing only 11.7 ounces.
The Moonse E-7001 is available in China for about $131. There are no details if it will be available in the US and Europe. It appears that the tablet is available for order now on Chinese auction site Taobao.com and ebay for 1350 Yuan (US$197.65) and US$164.99 respectively.