Knoxville, Tennessee based SportDOG has a new product called the FieldTrainer SD400, that provides safe distance-training in yard, field, and hunting-based environments.
The FieldTrainer® is loaded with technical breakthroughs in the smallest package available in this price range. Features such as 3-dog capability and waterproof/submersible transmitter and receiver are among the most advanced features ever offered in a mid-range training system.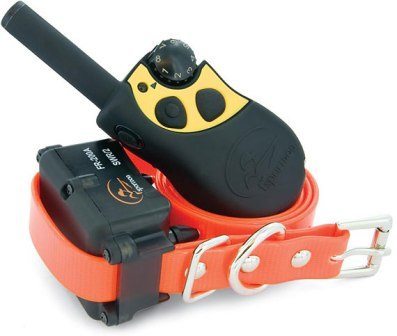 The compact SportDOG FieldTrainer SD400 is ideal for training muts in the yard, field, or for hunting with dogs that hunt close. Because no 2 dogs are alike, the FieldTrainer SD400 is designed to provide more stimulation to large or stubborn breed dogs.
You can choose from up to 16 levels of continuous or 8 levels of momentary stimulation that causes no harmful effects. The 3.2-ounce transmitter fits snugly in the palm of your hand. Press a button to stimulate your dog, or up to 3 dogs, from as much as 400 yards away. The comfortable Soft Coat finish makes the transmitter a pleasure to handle.
DryTek technology makes the very small 2.8-ounce receiver waterproof and submersible to 25 feet, per NEMA 6P and IP67 standards. No field trainer in this price range is smaller or offers more advanced features.
You can choose either tone or stimulation to train your dog. A low-battery detection feature monitors your transmitter and receiver. Rechargeable Ni-MH batteries, a lanyard, and a limited lifetime warranty are also included.
Available at Amazon now for: $155
Training Safely With Electric Dog Collar
Published on April 22, 2010