Now available to pre-order, SmallHD's DP-SLR external monitor for DSLRs allows you to preview 1280 x 800 resolution images on a hand-sized screen. Complimenting your existing LCD screen, this 4″ x 6″ x 1″ is the world's smallest HD monitor.
A bracket adapter makes it possible to mount the DP-SLR onto your camera's hotshoe, and a neoprene sunhood accessory to prevent glare will available soon.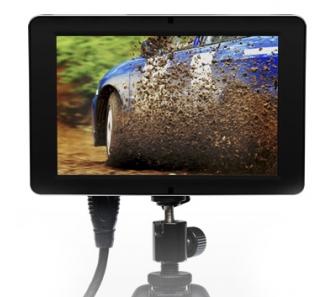 The DP-SLR has a screen density of 270ppi, which allows you to preview your shots with quality you'd expect to see from an actual photo print. With on-screen adjustments available for all the essentials such as contrast, brightness, hue, saturation and sharpness as well as RGB control and Gamma settings, photographers have a large-degree of photo manipulation.
The smallHD DP-SLR advanced settings gives you the chance to check out images in monochrome as well. Other options allow you to carry out quick image flips or back-light your images.  On the back of the unit includes loads of inputs including scope for HDMI, Component and 3G/HD/SDI. The smallHD Battery will provide you with up to 4-hours run time, but the monitor can be used with almost any battery on the market.
[adsense]
The DP-SLR model runs $1199.  It's also available without the 3G/HD/SDI inputs at $899.
As mentioned, the DP-SLR is only available to pre-order at the moment through the
SmallHD website
, with additional accessories expected to be released at a later date. Ship dates for the 2 models expected around July-ish.
DP-SLR specifications:
Inputs: HDMI, Component, Composite, 3G/HD/SDI
Resolution: 1280×800
Screen Dimension: 5.6-inch diagonal
Viewing Angle: 179 Degrees
Weight: 10 oz.
Physical Dimensions: 4" x 6" x 1"
Construction: Milled Aluminum Construction
Power: 5v to 18v Input
Button Interface: DSLR-Style
Firmware: Field-Updatable
Published on: April 24 2010