The Nautilus Mobia provides a super-efficient cardio workout at an easy walking pace and low impact. The movement is a combination of a stair-stepper and a treadmill, but with very low impact like an elliptical machine.
The sleek design works well in any home, and its simple controls and heart rate monitor chest strap are a breeze to use. You really don't even have to break out the manual. Designed by Frog Design, Inc., it is only 52-inches long, which is shorter than most treadmills and some ellipticals.  It doesn't fold up, but it does wheel on built-in wheels. The console also provides a built-in cupholder and reading rack.  The Mobia supports up to 300 lbs.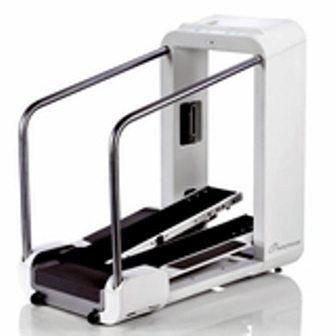 Mobia looks like a treadmill, but instead of a treadmill deck it has two treadles, each with a moving belt. The treadles tilt up and down as you walk. To walk on the Mobia, you position yourself close the to console and step forward. The treadle rises to meet you foot, lessening any impact. As your foot moves backwards to push off, the treadle lowers. The result is that you are always moving uphill, yet without the higher impact of a stair stepper.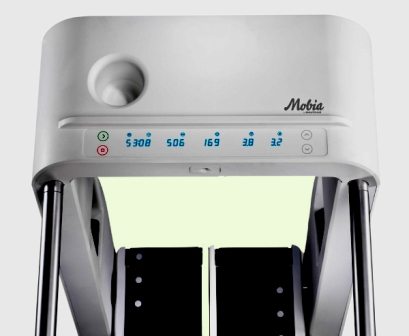 The Mobia can produce a high heart rate workout for the highly fit person as well as a good workout for exercise beginners. The intensity of the workout is set by both the speed and the resistance setting. And did I mention that this sucker is quiet.  Not only is the motor silent, but the way you take strides is unlike a traditional treadmill.  Your feet aren't pounding on the belt because the impact is much more gentle.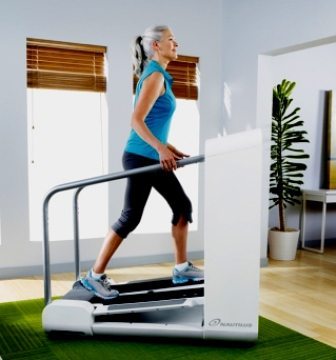 Nautilus says that the Mobia burns more calories at the same speed as level walking or running. I'll make no bones about that. Because the workout is all uphill and engages a wide range of muscles, you're burning significantly more calories in a shorter amount of time. 30-minutes on the Mobia would equate to around an hour on the treadmill.
You can purchase the Mobia directly from Nautilus, Inc. It ships in two boxes and takes about 45-minutes to put together using a Phillips screwdriver. A home assembly service is available in many places for $219.  Expect to pay around $2000 for the Mobia.
Published on April 27, 2010