Nintendo and the American Heart Association will co-host a press event in New York City this Monday, May 17. The brief press release for the event does not offer any indication as to what the announcement will be, but Nintendo's upcoming Vitality Sensor, designed to measure a player's pulse, seems the likely focus of the event — and the sort of thing the American Heart Association would be into co-promoting. Additionally, only the Wii is highlighted in the release, and not the DS, suggesting this is a Wii-related event.
With the Vitality Sensor scheduled for a 2010 release, now seems like a good time for Nintendo to start talking about its features and software. President Satoru Iwata declared in a press conference a while back that Nintendo would like to deliver the Wii Vitality Sensor not too late in the year.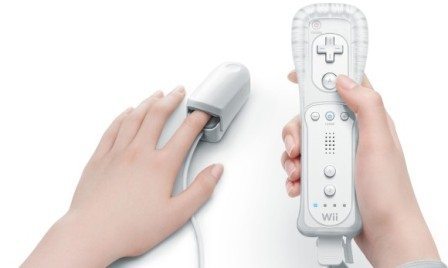 Here's the press release………
American Heart Association and Nintendo Join Forces to Promote Healthy Living Through Active-Play Video Games
Consumers Motivated to 'Get Informed, Get Empowered, Get Active'
NEW YORK–(BUSINESS WIRE)– The American Heart Association and Nintendo of America today announced a first-of-its-kind, multifaceted strategic relationship aimed at helping people create healthy lifestyles through physically active play. The two organizations will work together on multiple fronts to help consumers discover how active-play video games contribute to healthy living. Their joint efforts will arm consumers with information, provide people with hands-on experiences and arrange a summit of representatives from different backgrounds to discuss the benefits of active-play video games.
"Our two organizations come from different worlds, but we share a common goal," said Clyde Yancy, M.D., president of the American Heart Association. "Showing people accessible ways to stay active has been a part of our mission for decades, but our research tells us nearly 70 percent of Americans are getting no regular physical activity. As an organization we are looking for ways to change this. Nintendo has demonstrated clear leadership in active-play video games with the popularity of the Wii system, and I'm confident that together we can encourage Americans to become more physically active."
Recent research indicates that the average person spends more than eight hours of each day sitting down*. The American Heart Association has been conducting its own studies to investigate the reasons why many Americans aren't more physically active. In a recent survey, more than half of respondents identified lack of time as one of the main obstacles preventing them from enjoying regular physical activity. Of those who almost never exercise, nearly 40 percent said that "exercise is not fun." The American Heart Association and Nintendo aim to help eliminate these common barriers with a call to action that motivates people to "Get Informed," "Get Empowered" and "Get Active."
"Nintendo has been helping people get up off the couch and get playing since the Wii system launched in 2006," said Cammie Dunaway, Nintendo of America's executive vice president of Sales & Marketing. "By joining forces with the American Heart Association, we further our commitment to bringing fun and accessible active-play video games to a broader audience."
To "Get Informed" about products that can be used to create a more physically active lifestyle, consumers will see the iconic American Heart Association brand on boxes for the Wii Fit™ Plus and Wii Sports Resort™ software and for the Wii™ system itself beginning this summer. Nintendo and the American Heart Association will also launch an online information center at
www.activeplaynow.com, where visitors can read about the benefits of physically active play, conduct personal assessments and learn more about living a more physically active lifestyle.
Additionally, later this year Nintendo and the American Heart Association will convene a multidisciplinary summit of representatives from areas such as science, health care, research, physical activity, fitness and video gaming. The goal will be to bring together thought leaders, each with a unique perspective, to take a closer look at the synergies and potential benefits of active-play video games and physically active lifestyles. Some of the people involved in the development of the summit include Dr. Timothy Church, exercise physiologist and chair of the American Heart Association's Physical Activity Committee; Hank Wasiak, a communications industry leader and self-help author; and Michael D. Gallagher, president and chief executive officer of the Entertainment Software Association, the trade association representing U.S. computer and video game publishers.
"Video games' remarkable ability to inspire and motivate are keys to reaching new audiences. This alliance between Nintendo and the American Heart Association marks an extraordinary opportunity, not only for both groups but for the interactive entertainment software industry at large," Gallagher said. "At a time when most Americans could benefit from more regular physical exercise, these high-profile efforts to promote healthy entertainment help to make active-play video games even more appealing to consumers of all kinds."
The American Heart Association and Nintendo also will help people to "Get Empowered" by making personal choices about creating a healthy lifestyle. People can find fun new ways to incorporate physical activity into their lives, such as participating in Start! Heart Walk events and using the American Heart Association's My Life Check test to evaluate their lifestyles. The relationship is also designed to help people "Get Active" through active-play video games like Nintendo's Wii Fit Plus and Wii Sports Resort, which also will be showcased at select Start! Heart Walk events around the country.
Separate from this strategic relationship, the American Heart Association has recognized Nintendo of America as one of its Start! Fit-Friendly Companies, a designation for employers who go above and beyond when it comes to their employees' health and provide opportunities for wellness in the workplace.
For more information about Nintendo, visit www.nintendo.com. For more information about the American Heart Association, visit americanheart.org.
*According to a December 2009 poll by the Institute for Medicine and Public Health.
Published on May 18, 2010