The past 2 years, Spring Design has been quietly working on their Alex eReader, grabbing a few ideas from smartphones along the way. The result has culminated into a mobile, dual screen Android reader with patented "touch and extend" capability called Spring Design Alex Reader.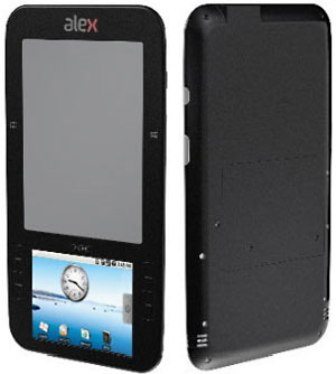 The Spring Design Alex Reader looks a little like the Barnes and Noble's Nook, but it's an entirely different device….more dynamic and many more features. The first e-reader to have full Internet browsing capacity and dual screen integration technology, the Alex sets new standards in web referencing. Throw in text-hyperlinking capability, fastest refresh rate, and video playback, and you have a device that beats other eReaders in every category.
The Spring Design Alex Reader houses the new ARMADA 166e chip from Marvell Technology, which has the capacity to reduce the current refresh rate norm to 0.3 seconds. This is a very fast ereader with great response. Smaller than the traditional chip board, the ARMADA chip is also the key to the Alex's increased power efficiency and reduced cost.
The Spring Design Alex Reader features two-touch screen displays. The large 6-inch monochromatic EPD display comes with standard features of current e-ink readers, as its main use is for reading digital content.  Users can download Adobe digital content from Google Books or purchase ebooks, magazines, and newspapers from Border's Kobo-based store and other Alex partner bookstores.
The secondary panel, located below the EPD panel, features a 3.5-inch full-color display with 320 x 240 –pixel LCD, and can be used for browsing the web over WiFi or 3G. It runs Google's Android 1.6 and a number of other capabilities including video playback and photo slideshow. The touch-sensitive panel also houses the virtual keyboard and a slide bar, which makes text entry, skipping to a page, or navigating the menu bar a lot easier. Page turn buttons are also found on the sides.
The "touch and extend" capability, called the Duet Navigator, gives you the capability to view two panels simultaneously. Web Grab and text reflow capability you can capture and send selected content from online sites to the EPD screen for better viewing. With the Alex's Link Notes technology, you can also hyperlink notes or multimedia.
To conserve battery life, simply turn off the LCD display when not using it. With wireless off, the device can stay on power for 2 weeks without recharging. Micro SD slot lets you insert an external storage device into your Alex.
The Spring Design Alex Reader is opening new possibilities with the way we access and cache content from sources. It enhances and personalizes our reading experience. The Alex is a well-rounded device with groundbreaking capabilities.  Assuming Spring Design's does right with their marketing, they could propel the Alex into a leader of the eReader industry.  Look for others to follow with similar features. The Alex retails for $359.
Here are some specs:
• Dual screen display includes a 6-inch e-ink screen for reading and 3.5-inch LCD display for web browsing.
• QUE bookstore carries more than a million titles
• Versatile 1.6 Android OS
• Onscreen keyboard
• "Touch and extend" technology
• Supports WiFi, 3G, EVDO/CDMA and GSM
• 0.3 EPD refresh rate
• Hyperlink texts and multimedia
• Dual screen integration capacity
• Access to Adobe ePub Books from Google Books
• Annotate, highlight features
• Video  playback
• Photo viewing
• MP3 player
Published on June 8, 2010