ThinkGeek announced the release of the kid versions of their popular Electronic Rock Guitar Shirt and Electronic Drum Kit Shirt.  The geniuses at ThinkGeek Labs know that there is no age limit to being a Rock God, so they created these interactive shirts to give the youngest of rock and roll dreamers the ability to ROCK OUT!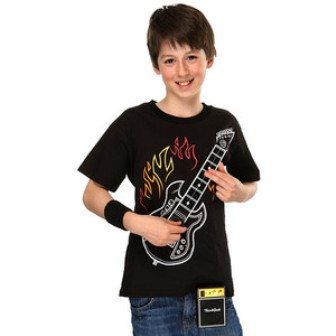 The Kids Electronic Rock Guitar Shirt is NOT a toy that plays pre-canned musical riffs, it's a real musical instrument that allows you to play your favorite songs and sound great doing it.  With its included mini amp that attaches to any belt, any kid can play classic rock songs for their friends and family.  Plus, they can play with precision due to the shirt's ingenious technology.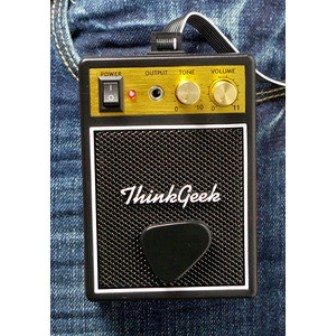 Each button on the neck of the guitar plays a major chord, which makes it simple and easy to crank out songs like "Smoke on the Water" and "I Love Rock n' Roll".  Since all the chords have been recorded on a real electric guitar, the sound that is created is truly authentic.  The included magnetic pick allows you to strum just like you would on an actual guitar.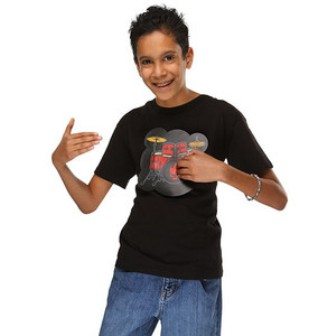 The Kids Electronic Drum Kit Shirt is NOT just a picture of a drum kit on a t-shirt. It's a fully functional and actual playable drum kit with 7 different drums.  Each of the seven drums has a different and distinct sound.  Hit the drums on the shirt with your finger and it plays the beat through a built-in embedded speaker.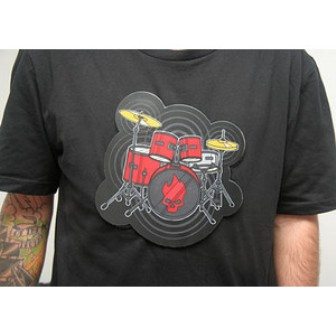 Both the Kids Electronic Rock Guitar Shirt and the Kids Electronic Drum Kit Shirt come in small (28" chest, 43–55lbs.), medium (30" chest, 56-73lbs.) and large (32" chest, 74–100lbs.).  Each shirt comes with its own set of care/washing instructions.  They are available exclusively from ThinkGeek for $29.99 at thinkgeek.com/kids-rock-shirts.
Published on Jun 22, 2010