The Pedal Juice is a rechargeable battery that can power Guitar Effects pedals without being plugged into an outlet, eliminating the need for expensive 9V batteries and ground sound from AC adapters.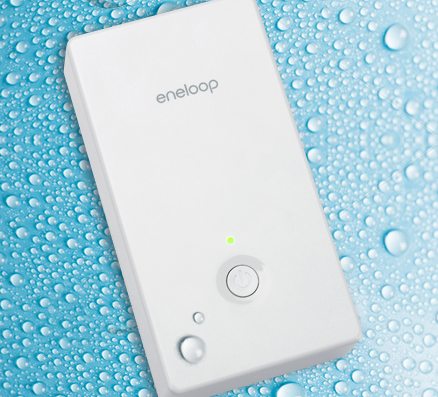 Pedal Juice is Sanyo's latest Eneloop rechargeable battery solution.  Its 9V power supply for effects pedals contains a 3.7V, 7.35Ah rechargeable Lithium-Ion battery with Eneloop technology that provides direct current to connected devices via two DC outputs, with a maximum output of 2,000mA from each. Fully charging in 3.5 hours, it can provide musicians with 50 hours of continuous use for a single 10mA analog effects pedal, 20 hours for three digital devices, or 27 hours for a 100mA effects board.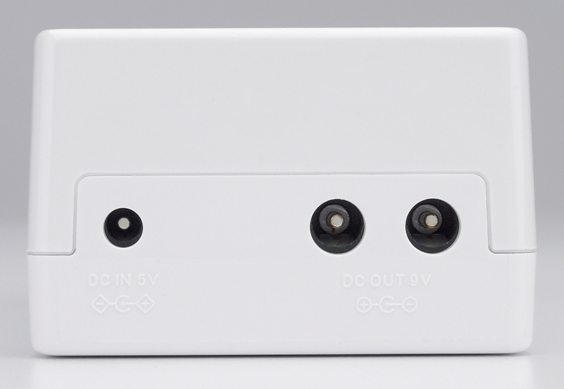 The Sanyo Pedal Juice is water and shock resistant to JIS IPX3 standards.  Measuring at a mere 2.5 x 4.7 x 1.7 inches, the Pedal Juice can be recharged hundreds of times, thereby eliminating the waste and inconvenience of disposable 9V alkaline batteries. A traffic light LED system informs the user of the device's remaining power. Additionally, no AC ground loops gives you a hum-free clean signal. The Pedal Juice Eneloop KBC-9V3U will be available shortly for around $200.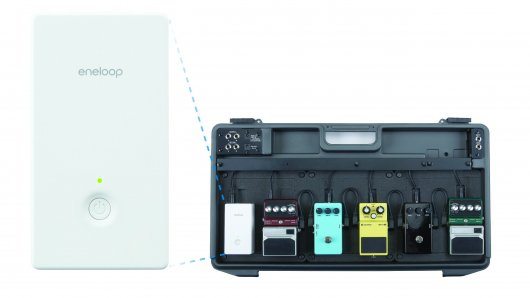 Here's the release….
SANYO North America Provides Pedal Juice to Charge Up the Music Industry
Chatsworth, CA, June 24, 2010 – SANYO North America Corporation (SANYO), a leader in rechargeable battery technology introduces a new way for musicians to power their effects pedals, multi-effect devices, and mobile recorders. SANYO Pedal Juice, a 9V DC Rechargeable Lithium-Ion Battery device, will be available from leading national music retailers and distributors throughout the U.S. in late June with a List Price of $199.99.
SANYO has developed Pedal Juice to meet the needs of both professional and entry-level musicians. One Pedal Juice battery can provide up to 50 hours of continuous, stable power for a single analog pedal or up to 20 hours of continuous power to three digital pedals.  Because the eneloop 9V rechargeable lithium-ion battery eliminates the need for AC power, the output voltage is more stable for longer periods of time without the possibility of AC ground looping noise. The battery can be recharged hundreds of times, thereby eliminating the waste and inconvenience of disposable 9V alkaline batteries. With two DC outputs, Pedal Juice can power multiple devices including pedals, multi-effect units, and portable recorders. Pedal Juice provides portable battery power to a single pedal or can be used to power several pedals at the same time.
"Getting power to effects pedals has never been easier," says Tom Van Voy, Vice President and General Manager of the Consumer Products Group for SANYO North America. "Pedal Juice will power multiple effects pedals with the simple press of a button, eliminating the need to unplug pedals from traditional power sources," said Van Voy. "With the portable power Pedal Juice offers, musicians can perform without an AC power outlet."
SANYO Pedal Juice was developed using feedback from musicians about what they need in portable power devices. Musicians can conveniently power Pedal Juice and connected devices with a flip of the on-off switch. In addition, a 3-stage visible LED power indicator displays the remaining power level with green, orange, and red LED lights for musicians to see at a glance. Pedal Juice is also water and shock resistant to JIS IPX3 compliance level.
SANYO originally debuted new products for the music industry at the Winter NAMM Show in January. With the introduction of Pedal Juice, SANYO continues to support the "eneloop lifestyle" valuing the reusing and recycling of resources. SANYO will continue to develop and offer products suited for musicians, such as its digital sound recorders and additional energy solutions.
For more information about the SANYO Pedal Juice please visit http://us.sanyo.com/pedal-juice .
About SANYO
SANYO Electric Co., Ltd. is a global company providing solutions for environment, energy and lifestyle applications. SANYO North America Corporation Digital Solutions Division (SANYO North America is a subsidiary of SANYO Electric Co., Ltd.), based in Chatsworth, California, is a service and sales division with two main groups: Corporate Solutions and Consumer Solutions.  The division markets digital projectors, digital still cameras, digital media camcorders, home appliances, security video equipment, audio systems, and portable electronics. For more information on SANYO, please visit http://us.SANYO.com