Boxee's Boxee Box from D-Link is now taking pre-orders for a November release.  While news of the device has been ongoing, 2 major changes have occurred, just in time for the launch. Boxee has now chosen the Intel Atom CE4100 CPU over the Tegra 2 chip to power the device, the same as Google TV. The explanation is that the new chip does a better job at decoding H.264 HD video (and by HD we mean real HD, 1080p 60fps video) than the Tegra. In other changes, Boxee CEO Avner Ronen also promised a sub-$200 price point a few months ago, but it now seems that the chip change might creep the price up to $229. That shouldn't be too much of a deal breaker to some people.  This is looking like a very nice product.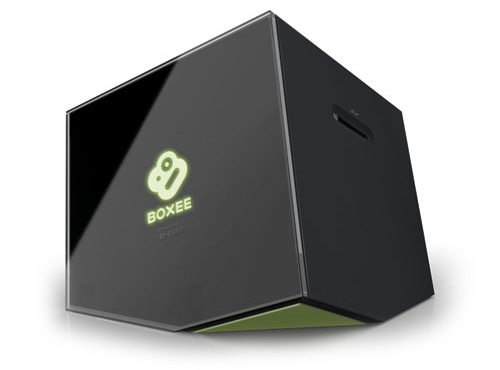 Here's the release…..
The Boxee Box by D-Link, Now with the Intel® Atom™ Processor Inside
D-Link Selects the Intel® Atom™ Processor CE4100 to Power the Boxee Box
San Francisco, Calif., Sep 13, 2010 – Today at the Intel Developer Forum (IDF), D-Link and Boxee announced the upcoming Boxee Box by D-Link is now powered by the Intel® Atom™ processor CE4100. Additionally, starting today, US customers will be able to pre-order the Boxee Box by D-Link exclusively through Amazon.com at http://amzn.to/boxeeboxbydlink. Units will begin shipping in November 2010 in the US, Canada, EU and Australia.
The award winning Boxee Box by D-Link, first released in December 2009, received critical acclaim from the industry and is highly anticipated by consumers. The product is the first media device capable of delivering both free and premium TV shows and movies, videos, music, and photos from the Internet with support for full 1080p high-definition (HD) and 5.1 surround sound for popular digital media formats.
"Three years ago when we started Boxee, nothing like this existed," said Avner Ronen, CEO of Boxee. "We wanted to watch video in a way that was only available on a PC. Today we're taking a big step towards TV for an Internet generation with D-Link and Intel."
The Boxee Box uses the Intel Atom CE4100, Intel's system-on-a-chip designed for TV and Internet integration. It provides performance, audio visual and graphic capabilities to enable Internet-driven applications, video, personal media, advanced user interfaces and electronic program guides. The new chip lets the Boxee Box deliver a wide range of applications and ensures support for 1080p content, no matter the source.
"Consumers are ready for the smart TV experience, bringing Internet-based applications and services into the living room," said Wilfred Martis, General Manager of Retail CE, Intel Digital Home Group. "Taking advantage of the advanced performance and media capabilities of the Intel Atom CE4100, the Boxee Box by D-Link is poised to make a major impact on smart TV."
With its powerful Intel-based hardware, an open source software platform, and tens-of-thousands of movies, shows and apps already available, the Boxee Box gives users unparalleled access to on-demand entertainment and new found control over their TV:
TV on Your Schedule. Nearly 40,000 TV episodes available from your favorite networks, ready to watch any time you want.
Huge Movie Library. Enjoy tens-of-thousands of free movies and new releases in stunning HD from premium movie services.
Plays All Your Digital Stuff. Access videos, music, or pictures from your computer or home network.
Tailored to Your Couch. Internet TV should be more than just Internet on your TV. The Boxee Box and two-faced QWERTY remote are designed to transform the Internet into something you'll love watching on your HDTV from the couch.
See What Your Friends Are Watching. Follow what your Facebook and Twitter friends are watching, and share your favorites too.
Give Your Wallet a Break. Why pay for stuff you don't watch? The Boxee Box lets you watch a vast range of popular TV shows and movies – you choose what you pay for!
Try Boxee Now. Since its launch two years ago, Boxee has added well over one million users. The service is available for free and you can use it now! When you want to shift the viewing experience from your PC to your HDTV, the Boxee Box by D-Link automatically imports your account, bringing your favorite TV shows, apps, and friends with you.
"This represents long overdue innovation to the entertainment experience that D-Link will help consumers quickly deploy throughout their home network. These exciting new capabilities align closely with Intel's commitment to improving how people access and enjoy digital content on their TV," said Brent Collins, Director of Consumer Marketing for D-Link. "We are leading a revolution that will offer tremendous new possibilities in the home."
Pricing and Availability
The Boxee Box is expected to be available in November 2010 at an average street price of $199 in North America. Prices may vary in other regions.
Important Links
http://www.intel.com/inside/smarttv
http://www.facebook.com/boxeeboxbydlink
Pre-Order Link
http://amzn.to/boxeeboxbydlink
About The Boxee Box
The award-winning Boxee Box by D-Link streams your favorite movies, shows and videos from the Internet, and plays your home videos, music collection, or digital pictures on your HDTV — letting you enjoy free entertainment at your convenience from the comfort of your couch. It also gives your TV a social life, letting you watch crazy stuff your friends are sharing on Facebook and Twitter. Visit http://www.dlink.com/boxeebox to transform your home entertainment experience.
About D-Link
D-Link is the global leader in connectivity for consumer electronics and an award-winning designer, developer and manufacturer of networking, broadband, storage, home automation, security, and entertainment solutions for the digital home. With millions of networking and connectivity products manufactured and shipped, D-Link is a dominant market participant and price/performance leader in the networking and communications market. For more information visit http://www.dlink.com.
About Boxee
Boxee is changing the way people experience home entertainment by bringing TV shows, movies, videos, and music from the Internet to the TV. Boxee's software can be easily downloaded for free to any computer or embedded in living room devices. Boxee has quickly established itself as the best way to bring entertainment from different sources into one place – anything from a local collection of movies, TV shows, music, and photos, to streaming content from websites like MLB.TV, Pandora, Last.fm, and flickr. Users can also discover new entertainment from their friends and share recommendations with social networks like Facebook and Twitter. More than a million people use Boxee to enjoy their entertainment. Learn how you can join them at http://www.boxee.tv.