When Peek first introduced their first handset, it was a 'text' only device. In other words you could receive and send emails but you couldn't make a phone call.  It was affordable and perhaps practical for those who didn't have a smartphone device. Today, the company released the latest iteration of the device, the Peek 9.  While it's difficult to tell if there are any physical updates to the hardware from the last launch, there a new set of features that might attract small business owners or better yet parents that want to keep tabs on their kids all at a more minimal cost than today's smartphone plans.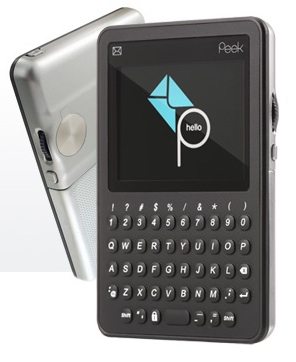 The previous Peeks included unlimited email, support for MS Exchange/Outlook and SMS (text messages) to any mobile device.  Now the company says they've improved the cell phone reception, added Facebook and other social networking apps and the ability to craft your own apps, something they're calling Peektop Apps. Peektops Apps are designed to be managed in the cloud and are for those businesses that need to "build and deploy custom device interfaces that make ordering, surveying, or reporting dead-simple."
Another biggy is the addition of PeekMaps, which lets you view your location as well as track fellow Peek users (employees or kids) in realtime on Google Maps.  We're hearing that the device doesn't include GPS, so we're not quite sure how "realtime" is accomplished. Despite the new hardware, the pricing appears to have remained the same- $70 for the handset and $20 a month for the service.  If you buy into more months you slowly lower your monthly cost.