Casio has announced its next generation model graphic calculater that's been designed to deliver graphs and statistical data as they appear in color textbooks. The PRIZM gets a new, modern body design, offers high resolution color graphics and gives students the opportunity to plot graphs over background image curves and then discover the math functions used to create them.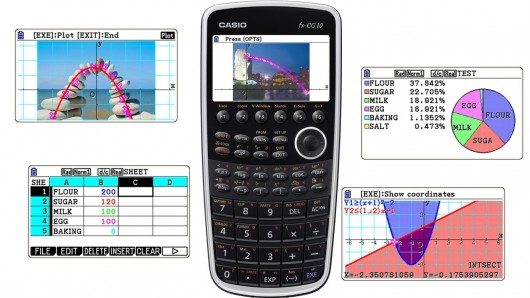 Casio's new PRIZM (fx-CG10) graphing calculator's outer shell now benefits from a more modern, mobile phone-like appearance. Above the rows of input buttons is a high resolution 82,944 dot, 3.7-inch color LCD screen that's said to offer a textbook-like display. There's 61,440 byte program and 16MB storage capacity and the power consumption of 0.6W is claimed to translate to 140 hours of use on four AAA-sized alkaline batteries.
Casio has included something called the Picture Plot function, which enables students to experiment by creating their own graphs over pictures of real-life scenes, and then understand the functions from the graphs that they created on their own. Once the graph has been plotted over any one of 55 types of color images of real-life curved shapes such as the parabola of jets from a water fountain, the student can then perform regression calculations to help them understand what math functions were used to generate the graph overlay.
The PRIZM comes pre-loaded with 40 images which can be used in eight of the calculator's 15 applications, and also features a Color Link function that matches spreadsheet values to colors used in graphs to help students better understand changes in trends and values.
The 0.81 x 3.52 x 7.42-inch (20.57 x 89.4 x 188.46mm) graphing calculator has a USB 2.0 port for hooking up to Casio's GREEN SLIM data projectors for display to the whole class, or direct connection to a computer to allow students to share calculations using Casio's manager software.
Casio says that the PRIZM will be available from January 2011 for a suggested retail price of US$129.