Microsoft's Lync aspires to be the next generation of unified communications, and its first week of existence has already gotten six new touchscreen headsets designed for it by Jabra.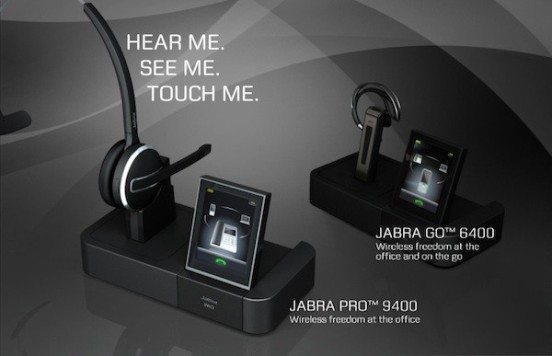 All six models belong to either the Jabra Pro 9400 or Jabra Go 6400 series, and come with pretty much the same base unit design, but have headsets varying in size. They range from full featured and full size headphones, to a Bluetooth headset that fits your phone as well as the base unit.
All are available immediately, and all cost over $500, including the Jabra SPEAK 410, which is a first for Jabra – a USB-powered speakerphone.
Here's the release…….
Jabra®  Launches Revolutionary Solutions for Microsoft Lync
Jabra® releases six new headset solutions Optimized for Microsoft Lync, including multi-use headsets with intuitive touch screens and a speakerphone for Microsoft Lync with call control
(Copenhagen, Denmark – November 17, 2010 – Jabra, a world leader in innovative headset solutions, today announced the expansion of its suite of products optimized for Microsoft Lync 2010 demonstrating the company's commitment as a major device partner and developer of Unified Communications (UC) solutions. A new portable speakerphone and five touch-screen, multiuse headsets expand the company's portfolio of products, providing a full range of solutions to meet the needs of enterprises deploying Lync-based voice and conferencing. The new offerings are being unveiled at the worldwide launch of Lync.
"We are committed to delivering the most extensive portfolio of audio endpoints for Lync to both the market and to our customers.  These new, innovative additions demonstrate Jabra's continued investment in developing a portfolio that addresses how businesses are extending communications through desk, mobile, and soft phone applications," said Chris Briglin, vice president, strategic alliances, Jabra. "With each generation of new products, we seek to deliver on our goals to increase end-user productivity, improve their experience, and reduce the costs for enterprises through improved design, functionality, and durability at cost effective prices. All devices in the portfolio feature wideband audio for richer sound quality as well as, plug-and-play call-control functionality for ease of use and large scale deployment."
"Microsoft is pleased to be working with Jabra to deliver customers choice in devices and peripherals," said Kirk Gregersen, senior director of product management, Microsoft Lync. "The combination of Jabra's Optimized headsets and Lync provides a quality, easy to-use audio solution to meet the voice and conferencing needs of our mutual customers."
Jabra has developed a suite of corded and wireless headsets, handsets, and speakerphones that are optimized for Lync. The line now includes the following new products:
Jabra SPEAKTM 410:  The Jabra SPEAK 410, is Jabra's first USB powered speakerphone. It offers full duplex and true wideband sound (6,800 Hz) for maximum call clarity, an omni-directional microphone with 360 degree coverage, a built-in ringer, and a 3.5mm headset jack for privacy in open office environments.  The Jabra® SPEAKTM 410 speakerphone offers a comprehensive UC experience with a built-in ringer, on-device hook, mute, and volume control.
Jabra GOTM 6470/ Jabra PROTM 9400 Series:  With the Jabra GO 6470 and Jabra PRO 9400 Series, users can easily manage multiple phones using the intuitive touch screen, start or end calls, adjust the volume, or switch between desk, soft and mobile phones all from one device.  The Jabra PRO 9400 and Jabra GO 6400 Series feature have been shown to increase workforce productivity by saving a minimum of twenty minutes per day, ensuring a return on investment within three months. The Jabra PRO 9470 and Jabra GO 6470 combine the sound, range and quality performance of a professional office headset with the flexibility of mobile headsets.
About GN Netcom
GN Netcom is a leading specialist in hands free solutions that help people communicate freely in any location and across any voice communication platform. The CC&O division develops and sells UC-ready headsets for contact centers and offices and the Mobile division provides headsets for mobile phones and speakerphones for the car. GN Netcom markets the headsets globally under the Jabra brand. By the end of 2009, GN Netcom had about 850 employees and is a subsidiary of GN Store Nord A/S. Read more at www.jabra.com