iPhone 4 Skype Video Calling
—Skype may be introducing Skype video calling for iPhone 4 during the upcoming Consumer Electronics Show in Las Vegas beginning January 6th.  A help document on Skype's site details making video calls using Skype for iPhone.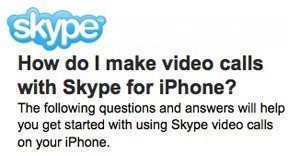 No one knows if there could also be an Android, Symbian, or other operating system version in the works, but chances are that could be an affirmative as well.   If Skype introduces versions for all the major phone platforms, they could dominate the mobile-to-mobile and mobile-to-PC video calling market in no time.
12/24/10