SurfCube 3D Browser for Windows Phone 7
—SurfCube Browser by Kinabalu Innovation Limited is a brand new 3D browser for Windows Phone 7 devices. The interface of this Web browser features a 3D cube effect. The browsing itself, however, is still done in a standard 2D interface. SurfCube sports a nifty UI that positions various browser functions on five sides of a virtual cube.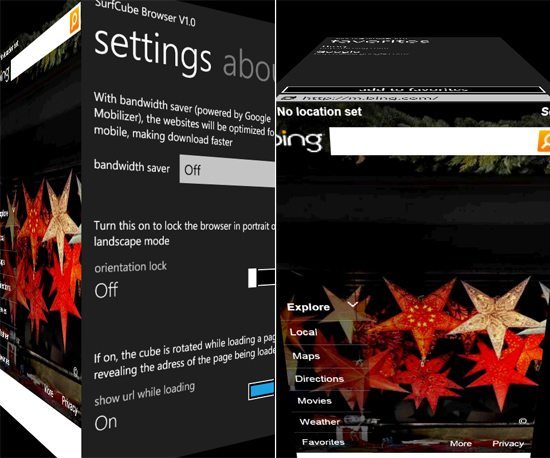 At its center, the cube features a standard Web page viewer. Above the center pane is the favorites list and a URL bar, and below it is a tab view that is still under development. To the left of the Web page viewer is the browser's history view and to the right, the settings panel. SurfCube Browser is available immediately in the Windows Phone 7 Marketplace for $1.99. A fully functional trial is available as well, which allows the browser to be opened 20 times for free before users are required to purchase the app.
Here's the video demo…….