The Embrace headphones move away from BlueAnt's bluetooth wireless line, and focus on comfort and sound quality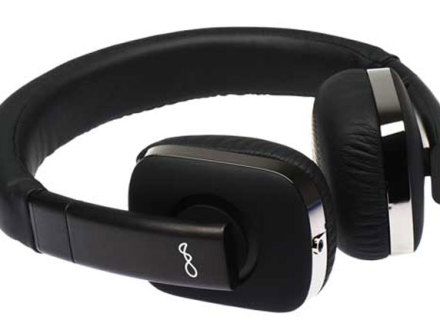 BlueAnt's recently introduced the Embrace headphones, a departure from its Bluetooth wireless roots with a wired stereo headset. The stylish over-ear headphones include an integrated mic and controls for iOS devices that allow you to make hands-free calls and play, pause, and track-forward audio selections. Although their $200 retail price tag sways toward the higher end of the consumer market, these over-ear headphones showcase robust, well-defined sound and padded comfort.  These are one of the best new gadgets Blueant has brought to market in a little while.
These are BlueAnt's first non-Bluetooth headphones, using a standard 1/8″ connector, and designed with a focus on sound quality and comfort. They also come with two cables, one regular cable and another with an iPod/iPhone/iPad controller & microphone.
Star Rating:


Cost: $199.99
Where to Buy: [amazon_link id="B005GT3JF8″ target="_blank" container="" container_class="" ]Amazon [/amazon_link]
[amazon_my_favorites design="1″ width="250″ title="BlueAnt Embrace Stereo Headphones" market_place="US" ASIN="B005GT3JF8″ color_theme="Blues" columns="1″ rows="1″ outer_background_color="" inner_background_color="" background_color="" border_color="" header_text_color="#FFFFFF" linked_text_color="" body_text_color="" shuffle_products="True" show_image="True" show_price="True" show_rating="True" rounded_corners="False"/]
The [amazon_link id="B005GT3JF8″ target="_blank" container="" container_class="" ]Embrace headphones [/amazon_link]are solidly built, and have rectangular earcups that are aptly padded and fold flat for storage in the protective faux-leather case. The package also comes with an OMTP adapter.  Designed with 'True to Life' sound technology for accurate sound reproduction, they're also sturdy while still being comfortable and relatively lightweight. The brushed aluminum hardware contains two custom tuned 40mm drivers covered with comfy leather ear pads, which do a pretty damn good job of suppressing noise.  The big drivers are specially designed to reproduce the full sound range, reproducing music neutrally.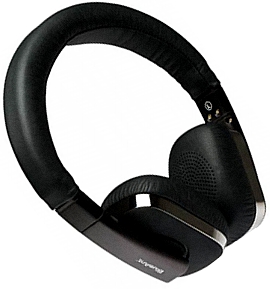 The built-in equalizer lets you design the sound to your like.  The 36-inch light-blue cord on the headphones is detachable from the left earcup, and the plug is similar to the design you'll find on some of Monster's headphones. BlueAnt also wraps the wire in a smooth rubber casing for extra protection, and the light wax also helps lower the possibility for tangles. Plugging into an iPhone with a large, protective case is a breeze thanks to the L-shaped plug that's also reinforced with thick rubber.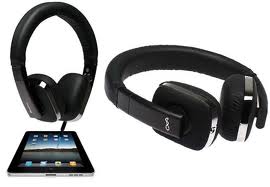 The two included cables are either blue for iDevices or black for the straight-through cable.  The integrated in-line mic and remote are designed for use with Android and iOS devices (iPhone, iPad, and iPod Touch) and the remote allows you to control volume as well as jump tracks forward and back by double- or triple-clicking on the call answer/end button. If you have an older iPhone such as the 3G, you won't be able to skip tracks forward and back.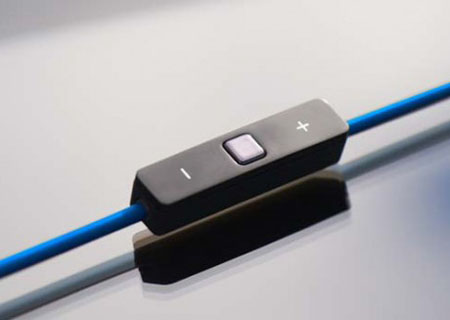 While the look screams sophistication, the audio is no slouch either. The bass is deep and well defined, the midrange is clear, transparent, and dynamic, and the treble is not harsh or too bright. In short, these are natural-sounding headphones that are for people who listen to all kinds of music. Also impressive is their open-air quality that gives the illusion of three-dimensional sound.  Songs don't sound canned or restricted to just the inside the head.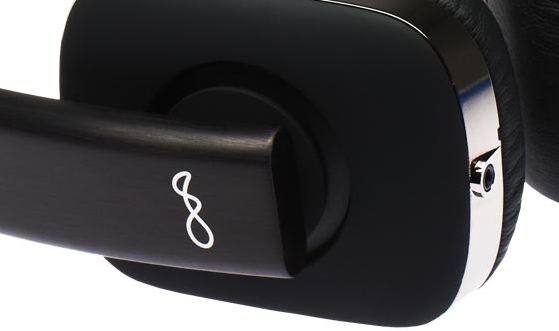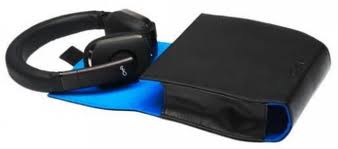 The addition of iPhone/iPod/iPad controls and a microphone is a definite convenience.  Listening to great sounding music while getting a couple of calls is a true convenience.  The noise isolating leather ear pads cut out a good amount of background noise, and the 40mm drivers reproducing a caller's voice as clear as a bell.  And the microphone works well according to call receivers.  If you're on a long conference call, the Embrace's are ideal for long conversations.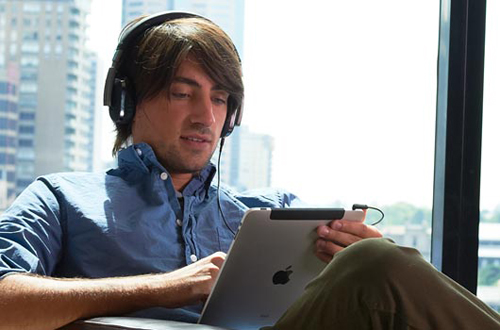 Bottom line, the [amazon_link id="B005GT3JF8″ target="_blank" container="" container_class="" ]Embrace headphones[/amazon_link] are a real winner. They're well made with aluminum stalks so they feel like they won't break easily.  Plus, having the folding design with a cable that unplugs rather than being bent or broken off makes carrying these things very easy for travel. The soft leather on the top and earpads feels great and do a great job of isolating noise while keeping your ears comfortable. But more importantly, the Embrace headphones sound awesome.  You get crystal clear sound with no overemphasis of bass or treble, but with enough power to really thump. The greatest advantage is the Embrace's ability to reproduce authentic audio, which brings out the detail in almost every genre of music.
If you're looking for headphones in the $200-300 range, definitely give these a try. They sound great, and the added iDevice features make them a must-have for iPod, iPhone and iPad users.  The are available at [amazon_link id="B005GT3JF8″ target="_blank" container="" container_class="" ]Amazon[/amazon_link].
Check out the video and full press release below…
EMBRACE Stereo Headphone Now Shipping: True-to-Life Sound by BlueAnt

The Ultimate Companion for Multiple Platforms and Devices that Bring a New Voice to Mobile Entertainment and Embraces the Digital Lifestyle with the Absolute Best Sound

CHICAGO, — BlueAnt, a leading innovator of Bluetooth peripheral devices and mobile communications solutions, today announced shipping of the EMBRACE stereo headphones. As BlueAnt's foray into the mobile entertainment and digital lifestyle category, EMBRACE represents a new voice with true-to-life sound that is not artificially manipulated.

"Enhancing our customers' mobile entertainment and digital lifestyle experience is our highest priority. We are breaking new ground by leveraging BlueAnt's heritage in voice-centric products to bring the highest audio quality at an affordable price to the world of stereo headphones," said David Hogan, CEO of BlueAnt. "Whether at home, at work, at play or in-transit, EMBRACE is the perfect companion for users wanting versatility and the absolute best sound."

Absolute Best Sound

The on-ear EMBRACE true-to-life sound ensures that audio detail and range are faithfully reproduced without bass or treble being enhanced or manipulated. This creates a pure or "flat-frequency" listening experience. Users may also choose, through their personal device, to adjust EQ settings to match their personal preferences.

The Perfect Companion

EMBRACE features an integrated in-line remote control for music playback volume control and a microphone that allows users to switch between listening to music or watching a video to taking hands-free calls. The EMBRACE stereo headphones work across multiple platforms and devices including iPad®, iPhone® and iPod®. In addition, the EMBRACE conforming ear pads create a noise-isolating seal which blocks out unwanted background noise. The headphone comes with a standard "straight-through" audio cable to ensure compatibility with any device that has a standard 3.5mm audio headphone socket. In our busy and hyper connected day-to-day lives a truly universal device, EMBRACE, delivers a consistent listening experience across platforms.

The headphones are supplied with an OMTP adapter, which expands support for the microphone and remote to a wide range of devices that support this standard. This ensures cross compatibility and ease-of-use.

Maximum Comfort and Luxury Style

Engineered with comfort in mind, EMBRACE has a superb fit including plush ear pads and a leather headband for longer lasting listening enjoyment. The EMBRACE is lightweight, folds flat and includes a stylish carrying case, an iconic blue BlueAnt cord and features premium materials such as brushed aluminum and supple leather.

Product Highlights

Cable with integrated Apple® remote and microphone
36 inch straight through audio cable
OMTP adapter
Stylish carry case
Fold flat design
1 year replacement warranty

Pricing and Availability

The BlueAnt EMBRACE has a value price point (MSRP) of $199.99 and is now available at www.blueantwireless.com.

BlueAnt EMBRACE Video

Watch a video and learn more about EMBRACE at: http://www.myblueant.com/knowledge/videos.php?watch=embrace

About BlueAnt

Headquartered in Melbourne, Australia, and with offices in Chicago, Silicon Valley and London, BlueAnt is a market leader in Bluetooth and mobile entertainment and the digital lifestyle. BlueAnt delivers products that integrate highly advanced technology in such a way to not overpower the user. The company's current product range includes the world's first true hands-free Bluetooth car speakerphone, Bluetooth headsets with the best wind noise reduction of any headset on the market and stereo headphones with remote control and microphone that deliver true-to-life sound.

For more information visit: www.blueantwireless.com

Become a fan on Facebook: Facebook.com/BlueAntWireless

Follow us on Twitter: @MyBlueAnt