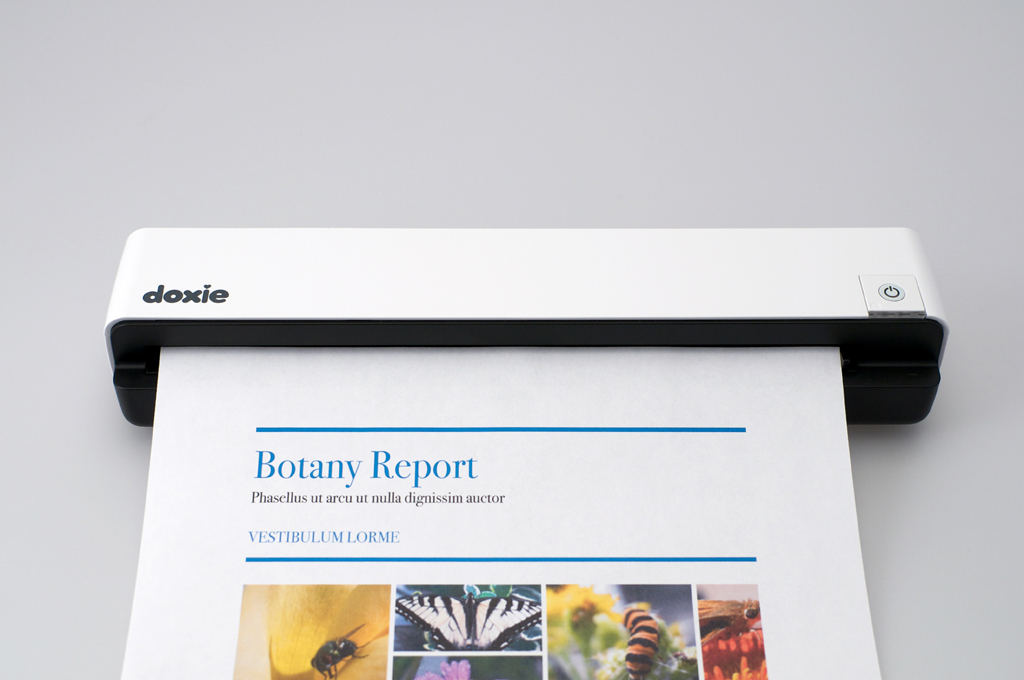 The new Doxie GO is the document scanner company's embarkment into wireless scanning.  The best part is, you don't even need a computer anymore.  Doxie's Doxie Go is a cordless self-contained scanner that saves scans to its internal memory. You can tether the scanner to your PC or Mac (or iOS device, with optional accessory kit), and transfer your scanned documents to your hard drive later.
The internal memory stores about 600 pages of scanned documents. You can also scan directly to USB stick or SD card and completely avoid the need to connect the Doxie Go to a USB port.
Doxie Go scans at about 8-seconds per page, and scans pretty darn good images.  And the included Doxie 2.0 software now allows you to create searchable PDFs.
Doxie Go has a Lithium-Ion battery good for about 100 scans per charge. It'll charge over USB (while you're syncing with your PC) in about two hours, or you can get the optional Doxie GoKit for $20, which includes a wall charger and international power plugs.
Doxie Go will run you about $199. It's available for pre-order now, with the first units expected to ship mid-November.  This scanner really goes the distance for all educational and personal purposes.
Check out the full press rlelease…
Groundbreaking 'Post-PC' paper scanner scans anywhere – no computer required; sync scans direct to Mac, PC, iPhone, & iPad; all new Doxie 2.0 software creates searchable PDFs

RALEIGH, NC, USA (October 18th, 2011) – Apparent today unveiled Doxie Go, the modern new mobile paper scanner that's tiny, cordless, and simple, so you can scan anywhere – no computer required. Doxie's app syncs scans – just like a digital camera – then organizes multi-page documents, creates searchable PDFs with ABBYY® OCR, and sends to the cloud – Evernote, Dropbox, and more.

Scan anywhere – no computer required.

For all your paper
Doxie scans everything from bills and receipts to reports, recipes, ideas, cards, photos, and everything else.

Tiny and fast
Doxie's tiny size means you can scan anywhere, no computer required. Scan full color pages in just 8 seconds.

Built-in battery and memory
Scan up to 600 pages with built-in memory, or insert a USB flash drive or SD card for endless storage.

Sync to Mac, PC, iPhone, & iPad
Doxie Go syncs scans to your computer – just like a digital camera. Doxie even syncs direct to iPhone & iPad.1
Doxie 2.0 software included.

Connect to sync
Doxie Go syncs scans to Doxie 2.0 when you plug it in – just like a digital camera – and charges while you sync.

Simplicity is key
Doxie's intuitively designed companion app makes going paperless amazingly easy. Just sync, staple, and save.

Create searchable PDFs
Award-winning ABBYY® OCR technology recognizes the text on your scans and creates searchable PDF files.2

Evernote & Dropbox ready
Doxie works directly with Evernote, Dropbox, Google Docs, and more – send PDFs and images to the cloud.
Now Available For Pre-Order

Doxie Go is the newest member of Apparent Corporation's award-winning Doxie® scanner family, and includes the cordless scanner, Doxie 2.0 software, and a carrying case. Now available for pre-order for $199. The first orders ship in late November. Complete product information and images available here.

Doxie Go web site: http://www.getdoxie.com/product/doxie-go
Resources for press and bloggers: http://www.getdoxie.com/press/

About Doxie® brand paper scanners
Doxie delivers modern, award-winning scanners for digitizing and organizing paper, photos, and receipts. Doxie scans anywhere – no computer required, sends directly to the cloud, and syncs to Mac, PC, iPhone, & iPad. +1 800-550-5470, www.getdoxie.com.

About Apparent Corporation
Apparent makes smart devices and software that rocks. Apparent's award-winning products and brands include IntelliScanner home and small business barcode readers that organize everything; Barcode Producer, the industry standard barcode generation suite for graphic designers; and Doxie, the amazing scanner for documents. +1 919-468-0340, [email protected], www.itsapparent.com.
Copyright © Apparent Corporation, 121 Dry Ave., Cary, NC 27511 USA.
All rights reserved. Apparent and Doxie are our registered trademarks. All other marks are the property of their respective owners.
1. iPhone & iPad sync requires accessory sold separately, shipping this December for $39.
SD cards used with Doxie Go also work with Apple's iPad Camera Connection Kit.
2. ABBYY OCR features available as a free software upgrade to Doxie Go owners this December.