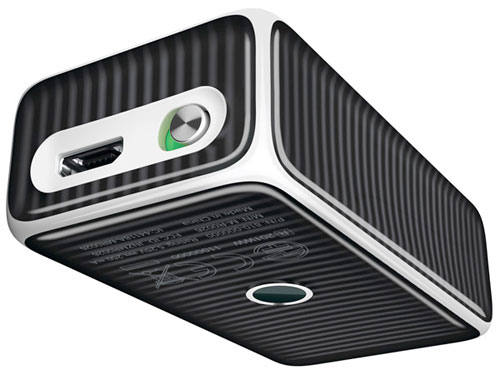 Logitech is releasing a new mouse called the Logitech Cube. The device looks like a small box and fits in the palm of your hand. What makes it unique is that the top side of it is a touch sensitive panel. When picking up the Cube it jumps in to presentation mode and allows you to control a presentation from the palm of your hand.
Essentially, it's  a wireless mouse / presenter hybrid in the same small package.  As a mouse, the Cube scrolls via swipe gestures across the main panel via the company's Flow Scroll software with performance similar to scrolling on your touchscreen smartphone of choice. To engage presenter mode, all you'll have to do is pick the device up off your desk and the switch is made for you. The pocket-sized accessory connects to your PC using a diminutive Logitech Unifying receiver with 2.4GHz connectivity.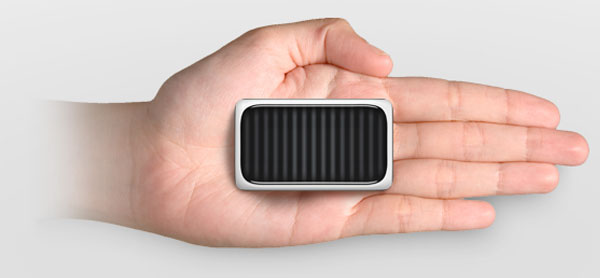 While in presentation mode the touch sensitive panel can be used to jump forward and backwards between frames. To do that it requires you flip it upside-down when going backwards and flip it back the other way to go forwards between slides. Logitech is also making a plugin available that allows for smoother scrolling.
The device is powered by a Li-Ion battery. To charge it you can connect it to any powered USB port meaning that it can be charged from a laptop for example. Next to the USB port it also has a physical power switch to shut it down while transporting.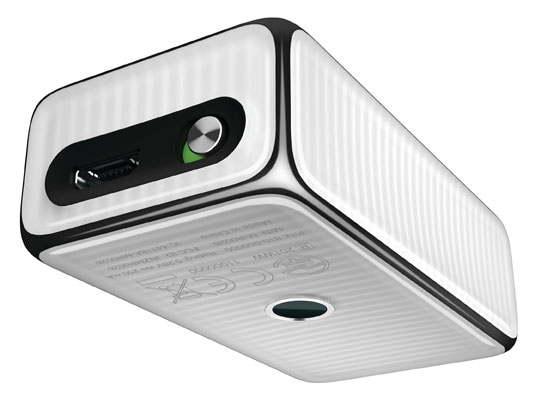 Logitech Cube comes with a WiFi USB dongle that allows it to work up to 25 meters away which is generally more than enough for a presentation.
Price wise, it costs $69.99 and is available for pre-order now.  It is available in black, white and lament colors.
Check out the video and press release below…
Logitech Redefines the Mouse with Logitech Cube
Mouse Helps You Make an Impression, in a Size That Fits in Any Pocket

FREMONT, Calif. – Jan. 5, 2012 – Once again redefining the way we interact with the digital world, today Logitech (SIX: LOGN) (NASDAQ: LOGI) unveiled the Logitech® Cube. With a unique design that re-imagines what a mouse can be, the Logitech Cube offers everything you want in a mouse, and effortlessly becomes a presenter when you need it.

When used as a mouse, the Logitech Cube scrolls when you swipe your finger along the main panel, thanks to Logitech's Flow Scroll software that delivers a smooth scrolling experience similar to your favorite touchscreen smartphone.

"With its sleek design, the Logitech Cube catches your eye immediately," said Todd Walker, brand manager at Logitech. "But it doesn't stop with distinctive design. The Cube has just the right set of features, whether you're working through an international flight or making a critical presentation – all in a beautiful tiny package."

To use the Logitech Cube as a presenter, all you need to do is lift it in the air and moments later it's in presenter mode. Clicking the top of the mouse advances to the next slide, and if you need to go back simply turn the mouse over in your hand and click again.
And, this pocket-perfect mouse travels light, so whether you're traveling from your desk to the conference room or taking your computer from the living room to the kitchen you can easily carry your mouse with you wherever you go.

The Logitech Cube also comes with the tiny Logitech Unifying receiver, featuring Logitech Advanced 2.4 GHz connectivity and a small-enough form factor to stay plugged into your computer when you move around. This gives you the reliability of a cord with the convenience of wireless, along with the option to connect up to six compatible devices. Add a keyboard or a number pad, or even another mouse, without the hassle of multiple USB receivers.

The Logitech Cube has been named an International CES Innovations 2012 Design and Engineering Awards Honoree in the Computer Peripherals product category and will be featured in the Innovations Design and Engineering Showcase at the 2012 International CES, which runs Jan. 10-13, 2012 in Las Vegas, Nev.

Pricing and Availability
The Logitech Cube is expected to be available in the U.S. and Europe beginning in January 2012. It will be available online only at www.logitech.com for a suggested retail price of $69.99. For more information please visit www.logitech.com.