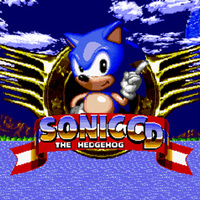 If there is one Sega CD game that is still worth playing nearly 20 years after its release, that would be Sonic CD. Quoted as one of the best old-school titles in the franchise, the game is available to both Android and iOS users wanting to relive childhood memories. But what about Windows Phone owners? Are they finally going to get some Sonic love as well? The answer is yes.
Sonic CD is now available for download from the Windows Phone Marketplace, requiring a handset running WP7.5 or higher. The game features Sonic's eternal nemesis, Dr. Eggman, who has taken control over the future. In order to stop him, our favorite blue hedgehog must travel back in time and destroy the doctor's evil contraptions.
One thing that makes Sonic CD better than the original is that it features both the soundtracks from the U.S. and the Japanese versions of the game. Moreover, the developer has made the game fit on a 16:9 screen without altering the proportions of its graphics. The inclusion of achievements and support for leaderboards enhances the experience even further.
Sonic CD for Windows Phone is priced at $4.99, but you can always give it a try before you buy it, just to get an idea as to how playable the game is with touch controls. Hit the source link below for more info!