Having a marvelous design and  a conventional keypad, The Nokia 206 successfully combines  classic and modern. With its large 2.4-inch screen, it is launched both in single and dual-SIM options, just like its precedessor the Nokia Asha 205. The Nokia 206 has a very classy outlook and you can choose the color of your phone among  cyan, black, white, magenta and yellow.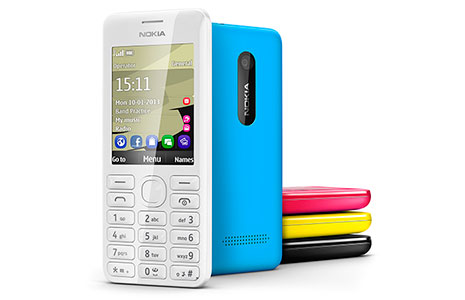 Those who have the chance of having a Nokia 206 will enjoy the new Nokia Slam technology for sharing items on their phone. This new technology uses Bluetooth for transmission, but it is no need for you to pair the two phones. Thanks to the Nokia Xpress Browser,  phone users will not have to worry about running up excessive data charhes when surfing on the Web on their phone.  It will let users to cut download sizes by up to 90 per cent while it also cares for your wallet. Where the service is available, the Nokia 206 will ship with Nokia Life.
With the Nokia 206, you can both access to Facebook and emails. If you buy a single SIM phone,  eBuddy and WhatsApp will already be preinstalled in your phone. Besides, 1000s of free and paid games and apps in the Nokia Store will be available for you.
Its 1.3-megapixel resolution camera can automatically resize pictures to around 700KB. This will be a  great help for a Facebook posting. The 'intelligent imaging' feature tells you when self-portraits are in focus  and it also allows you to take a sequence of shots and choose the best. Video capture is also supported.
Finally, the battery life of the Nokia 206 will really stun you. Its long-lasting battery will let you talk for twenty hours solid without a recharge or you can leave your phone on standby for a whole month and it will still be ready to be used.