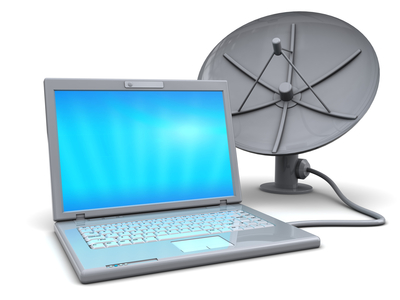 If you live near a major metropolitan area, you probably forget that vast swaths of the U.S. have extremely limited broadband penetration. According to a Pew Internet survey, home broadband penetration is currently at about 70 percent for adults. That still leaves 30 percent of individuals without broadband access for one reason or another.
There are several excellent satellite internet providers currently available to choose from which offer high-speed internet with unlimited data plans and speeds varying between 100 Mbps all the way to 500 Mbps or even 1,000 Mbps (1Gbps). Ultimately, the best satellite internet providers that are available for you will depend on your location, budget, and internet usage habits.
Some people simply don't use the Internet at home, whereas some homeowners can't live without high-speed Internet and even a home phone powered by Century Link bundles, for example. Others only have access to the Internet through dial up or mobile options. If you're classified as part of the latter demographic, it may feel like time to upgrade your Internet capacity. 4G technology is promising, but it does not have a wide coverage area yet. Satellite Internet is available in even remote locations, but you'll want to keep the following in mind, especially if you're working with a Mac computer.
Compatibility
Hardware incompatibility is the main issue experienced with a Mac. If the satellite equipment used by the company does not have compatible drivers for OS X, you can't use the service. Talk to the satellite Internet provider to determine any potential compatibility issues, and research providers so you know which are compatible with Macs. Satellite providers, such as HughesNet, make sure all of the latest equipment have drivers for Mac and Linux operating systems.
Network Setup
Whether you're using an Airport or Time Capsule, setting up your satellite Internet on the network requires extra steps. This is only an issue if you're sharing your satellite Internet connection throughout a network, instead of keeping it solely with a single computer. IP addresses can be problematic. If you are unable to fully connect to your satellite Internet through the network, look for the Distribution IP addresses setting. This controls how IP addresses are spread throughout your home network. It fixes any issues the network has with properly assigning IP addresses from a satellite Internet connection.
Satellite Speed
Satellite Internet speed is comparable with mid-range cable Internet packages, set in a 12 to 15 mbps range. It's good for a variety of applications, although the latency does make it problematic for online gaming. For everyday, non-intensive Internet usage, it gives you close to the same service you would receive in areas with DSL or cable Internet, although it lags far behind FIOS services. If you want to check how fast satellite speed really is then go to speedcheck.org for best results.
Options
Satellite Internet does provide solid access to broadband Internet in remote locations, but explore other options before signing up with the first service that you find. Not all services are created equal, and you may also have access to DSL in the area. Due to the satellite Internet's latency, which is somewhat substantial according to the FCC, you may want to use another option in your area.