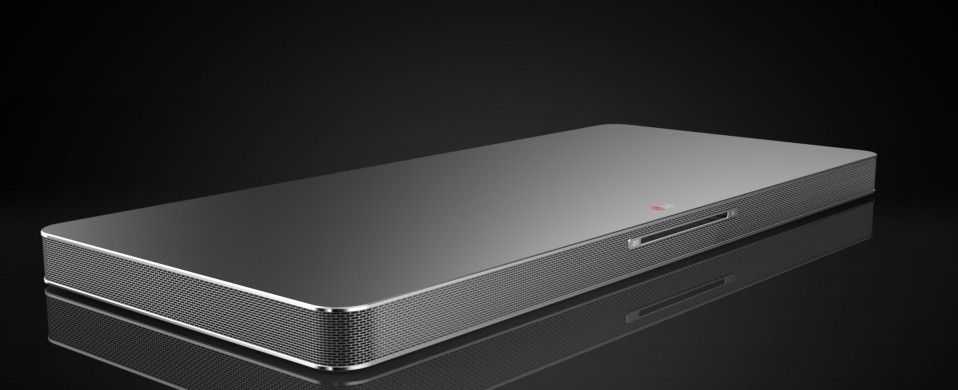 LG's latest LAP540 4.1 Ch 320W SoundPlate can replace your entire sound system with a simple flat device, which looks gorgeous and is so inconspicuous, it will have you wondering…."where in the hell is this full sound coming from?"
The SoundPlate's main chassis can hold up t0 a 55" TV, and add very little height overall. Connections are minimal: a HDMI input and output, an optical digital audio input, a USB input and one for wired Ethernet. The optical can be used for audio from an attached device, such as the TV, providing it emits Dolby Digital.  The SoundPlate also has a Blu-ray player and a full Smart TV System built in.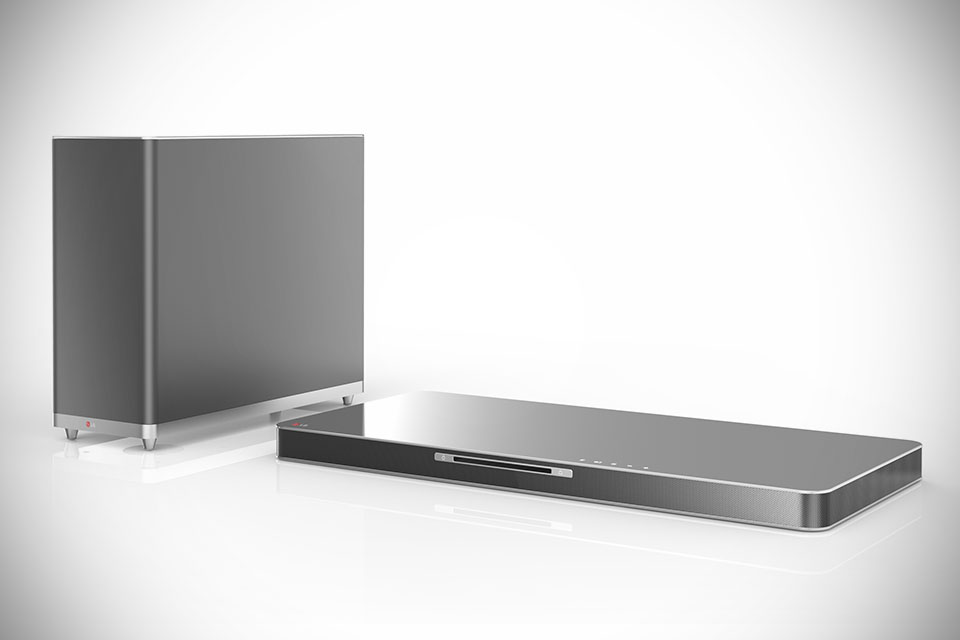 The "Smart TV" additions built in consist of access to all kinds of apps including LG's App Store and LG's own user-generated content.  You're also able to view videos, pics, and music from DLNA-connected devices, whether on the home network's LAN (media server) or on a paired bluetooth device. All of this works efficiently, even when the SoundPlate is 30+ feet away from the wireless router supplying the WiFi signal. Android users can also connect their phone/tablet to the SoundPlate and play video, audio and pics using the MTP protocol.
The SoundPlate nixes includes a downward-firing separate subwoofer; one that can be placed anywhere within a reasonable range since it functions wirelessly. The sub auto-connects and goes into standby when the SoundPlate is not in use. The remote is the simplest way to adjust the volume levels of the bass as well as the internal speakers. There's no equalizer or treble/bass control, but you can play around with the volume of the subwoofer vs other speakers which helps a little. Also, there are three overall EQ settings:  Cinema, Standard, and Music. These settings tweak the sound to optimize it for the type of content.
There are 4 speakers inside the SoundPlate (4.1 audio system), with two facing front and one each at the sides (all at 40 watts ea.). The subwoofer's rated at 160 watts. The speaker configuration doesn't include a center channel, but there is enough separation for creating a decent stereo sound field.
LG's LAP540 4.1 Ch 320W SoundPlate retails for $599.99. Stay tuned for a full review…