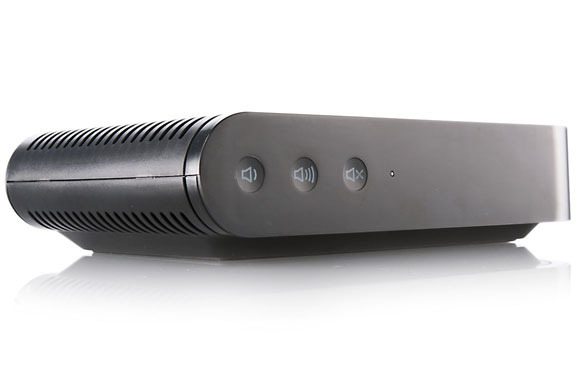 The NuVo P100 Wireless Player is the entry-level version to the company's P200 Wireless Player, and like it's big brother, the P100 is a combination stereo amplifier and wireless media hub for music playback, with support for  MIMO and dual-band Wi-Fi.  The P100 is suited more for smaller rooms, where as the P200 is dedicated for larger areas.  For both, you can control the entire NuVo system from your iOS or Android device, with the ability to play back different music streams on each system. The P100 is outstanding, if you don't need the P200's Bluetooth wireless streaming or additional power.
Build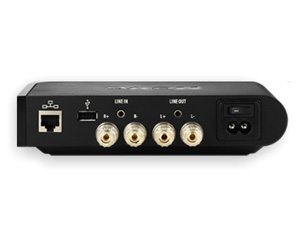 At 1.35-pound, the P100 measures 1.65 by 7.36 by 4.53 inches, and is made entirely of black plastic, with vertical and horizontal curves on each side. On the front, you get a combination power/status LED light, as well as a mute button and a pair of volume capacitive touch buttons. On the back, is a port for the power cord, a hardware power switch, standard-size 3.5mm line in and line out jacks, four gold 5-way binding posts, a USB port and an Ethernet port.  The power supply is internal, which is a nice touch.
Setting It Up
The P100 is pretty easy to setup, although it requires the additional GW100 Gateway, which is another $199, if you want to use the system wirelessly. Otherwise, you plug it straight into
your wireless router with an Ethernet cable, download the free iOS or Android app, and you're good to go.

Usefulness
The P100's 20-watt-per-channel amplifier is much less than the P200's 60-watt output, but it works very well for smaller rooms, such as a study or bedroom.  Additionally, the P100 is capable of driving 6 ohm and 8 ohm speakers, but not 4 ohm speakers.
Bottom-Line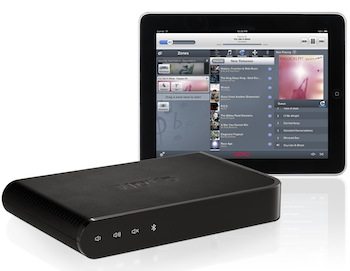 While the P200 has a lot more going for — such as a much more powerful amp, aptX Bluetooth streaming capability, and the Audyssey dynamic volume circuitry at only $100 or so more — The P100 works better in smaller rooms, and is perhaps the finest small-room media player out on the market today. You can purchase the NuVo P100 for around $479.
….Stay tuned for a full review of NuVo's P200 Bluetooth Wireless Media Player