Tesla has been in the news quite a bit recently, first introducing a Roadster coming out in 2020, with an engine that is going to blow the doors off of the commercial car speed record. But let's turn to transportation, and area Tesla has had their eye on for some time. The company will be making huge environmentally-friendly waves and turn the transportation industry on their ear when they release their recently announced Tesla Semi Truck.
With over 3 million truck drivers employed in the US alone, Tesla's semi could completely change the industry. The Tesla Semi was originally scheduled to go live in September, but some design issues delayed the announcement to this month. This enormous truck can haul a whopping 80,000 pounds, and is quite the beast to look at.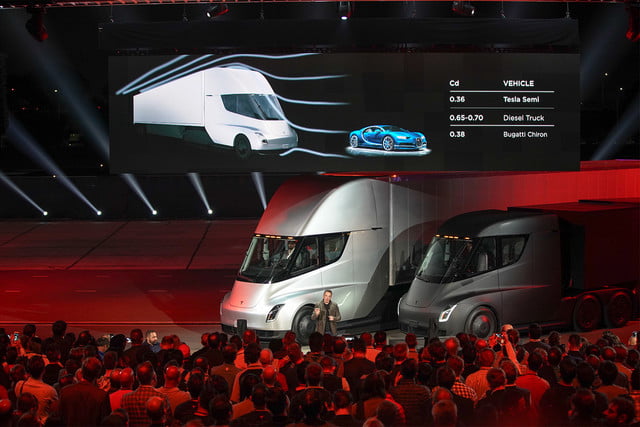 Tesla Semi Features
At the debut event, a pair of trucks silently rolled on state, and Elon Musk strolled out of one of them, immediately announcing some of the specs including the fact that the Tesla Semi can do 0-to-60-mph figure in 5 seconds. More importantly, this acceleration equates to efficiency and generous power.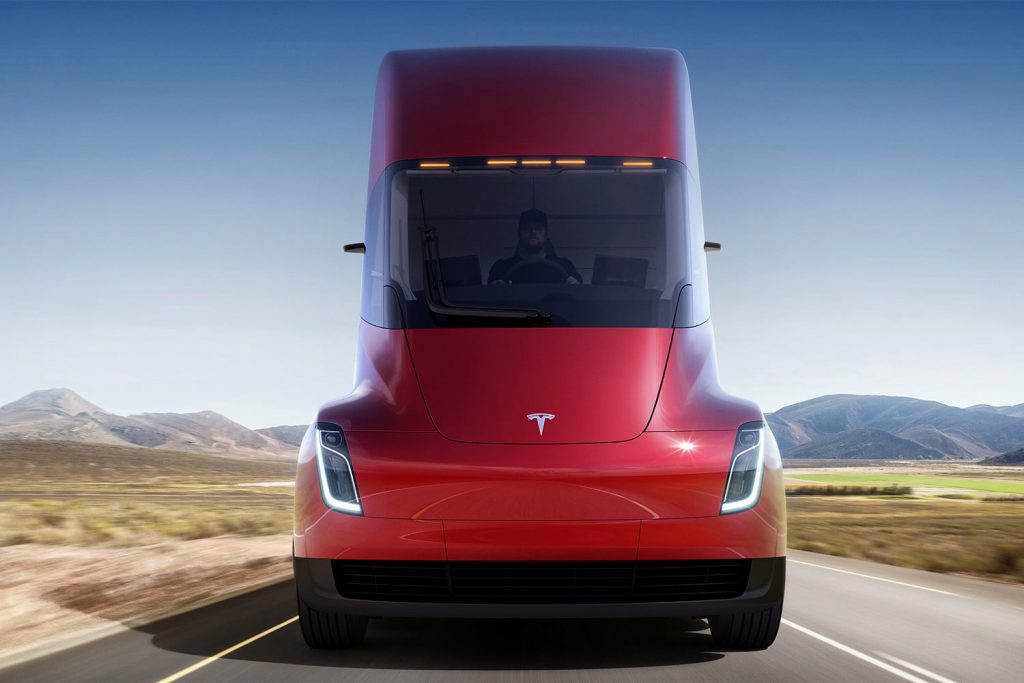 Musk compared the Tesla Semi to a diesel truck, and touted that it could blow the doors off of a diesel. When loaded to the 80,000-lb maximum gross vehicle weight, the Semi is able to accelerate to 60 mph in 20 seconds, which leaves conventional trucks eating its dust. When it comes to hauling freight up a 5-percent grade, the Tesla can manage 65 mph compared to a diesel's 45 mph. And while the Tesla Semi might have a shorter range, which is around 300 or 500 miles depending on configuration, these numbers are much higher than expected and more than sufficient for short delivery operations. According to Tesla, 80 percent of freight routes are shorter than 250 miles, and the plug-in rig can replenish 400 miles of range in just 30 minutes while it unloads or loads.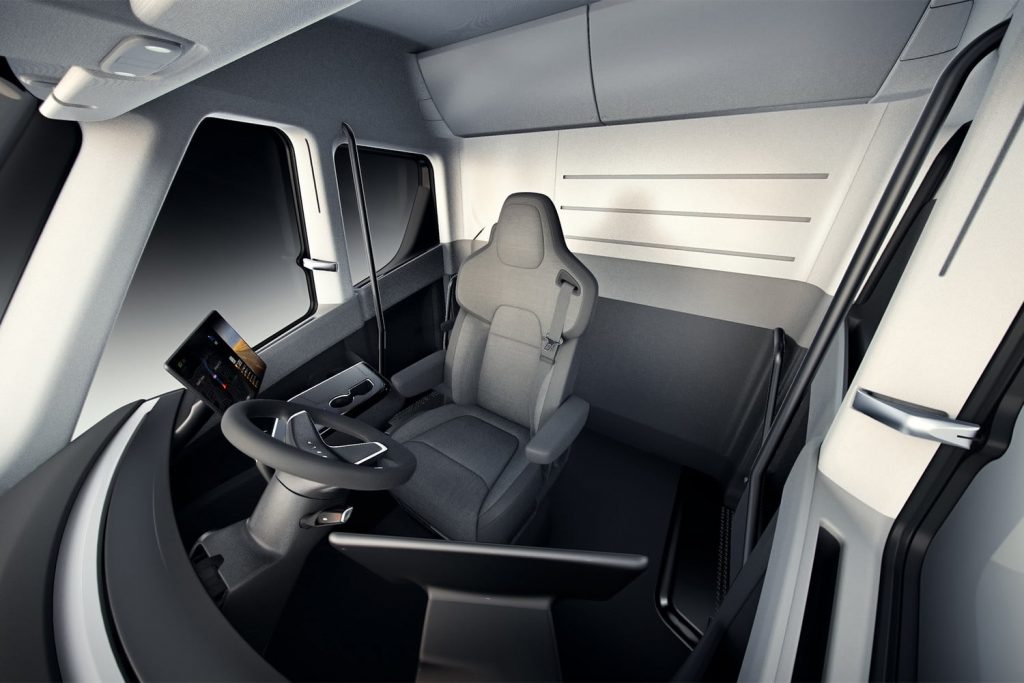 The Tesla Semi also has some major safety features, including automatic emergency braking, lane keeping assist, and forward collision warning as standard, and the infotainment system can seamlessly integrate into fleet systems. Even the powertrain adds safety. Because of the floor-mounted battery layout, the center of gravity is low, reducing the chance of rollovers. Also, each wheel gets its own independent motor, and because torque is distributed to each hub independently, jackknifing risk is dramatcially reduced.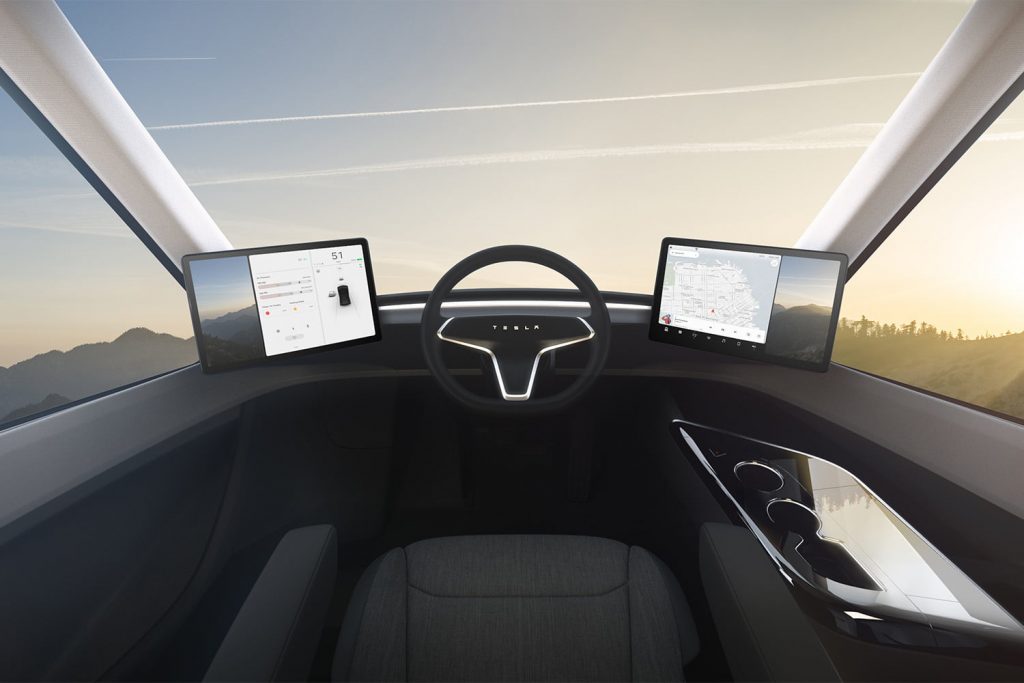 Finally, the Tesla Semis will be capable of something called "Convoy Mode", which involves groups of vehicles huddling together on the freeway, but instead of sharing warmth, they link their safety systems together to follow each other very closely. Not only is this more efficient from an aerodynamics standpoint, when the computers handle the driving, it's 10 times safer than when a human drives. Production is scheduled for the beginning of 2019. The world of zero-emission freight transport is about to become a reality, both with Tesla and a couple other of big manufacturers planning their own electric rigs.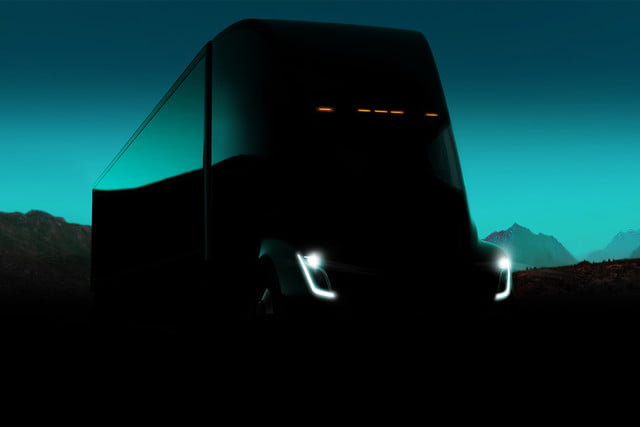 Comment on this article and other GadgetGram content, visit our Facebook page, or our Twitterand Instagram feeds.