Check out the new Smart Baraka, a fitness band that's as much of a fitness tracker as it is a fine piece of jewelry. The Italian company has been making men's jewelry since the '60s, including high-end necklaces, rings and bracelets, and the Baraka brand has a very unique and flashy look. The Smart Baraka is a little more tame then the rest of their line, but it's one of the few fitness trackers out there that is super stylish and looks good out on the town, not just at the gym.
Smart Baraka Design
The Smart Baraka fitness tracker is made from sandblasted gold or silver, with a similarly sandblasted metal clasp. The clasp alone is more stylish and visually exciting than most fitness bands out there, and the main unit reflects Baraka's style, with bold slashes across the top of the body, smooth edges and sharp lines. It's also fairly light and the underside is flat, so it's pretty comfortable to wear.
The band itself comes in two sizes and several colors including gold, blue, black and a series of less subtle versions available soon.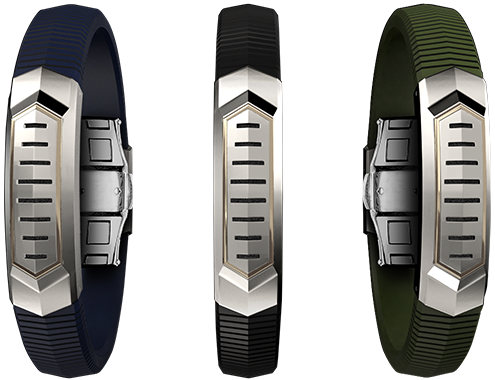 Features
The Smart Baraka also has a companion app, which gives you info like calories and steps, as well as some other interesting features such as controlling a PowerPoint presentation with gestures, stock data that vibrates when your stocks reach a customizable threshold. It also vibrates when calls come through, and these can be filtered to only alert you when it's someone important. Here's the coolest feature. You can say "Hey Baraka," and the band will start recording everything around you using a built-in microphone.

Availability and Price
The Smart Baraka runs $865, not your cheapest fitness tracker out there, but with the additional features, it definitely has a boardroom niche. The Smart Baraka's design is super cool and the materials that it's made from are premium. It's worth a good look.
Comment on this article and other GadgetGram content by visiting our Facebook page, or our Twitter and Instagram feeds.