If you don't have a pair of wireless earbuds these days, especially if you work out, then you're not cool. This tech category has hit the market by storm, and now we're seeing a new term associated with these called "True Wireless Earbuds". What does that mean? Essentially, they are wireless earbuds that offer real untethered freedom, with no wires or cables. They also have a battery in each bud, along with a charging case, and there's no wire connecting the two. The XFyro XS2 Earbuds are the latest to hit the market in this vane, and they definitely have competing promise.
XFyro XS2 Design and Features
The xFyro xS2 Earbuds are the successors to the original XFyro G, and the company has learned a thing or two since the first iteration, including better comfort, design, durability and battery life. In fact, these suckers, with their slimmer profile, boast an IP67 waterproof rating, along with quicker charging to boot, thanks to the magnetic case that doubles as a powerbank.
The IP67 waterproof rating means that these earbuds, including the case, are dust-proof and can be submerged in up to 3-feet of water for a half-hour. The earbud charge will last for up to 5-hours.
Speaking of charging, the included industrial-grade aluminum magnetic charging case looks like a tube of lipstick, measures around 6-inches in length, and is super durable. Besides a charging case, it really acts more like a power bank, capable of charging the earbuds or virtually anything else that's USB powered.
On one side of the case, you have the USB charge input to charge the case, and on the other side is a USB-out port that lets you charge anything that accepts USB. The case is actually a 850-mAh battery, so it does a good job of charging other devices, even tablets.
The earbuds nest within each end of the case magnetically. Pull each bud out, labeled "L" and "R", and you'll see a power button on each earbud, along with a microphone and an LED indicator.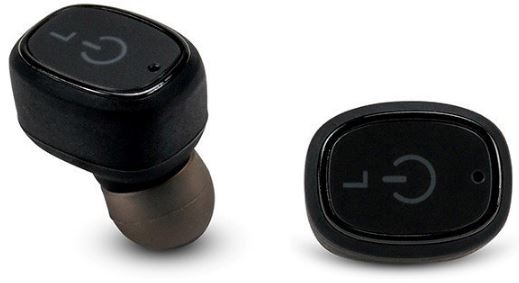 Pairing and Use
Pairing the xFyro xS2 earbuds is a breeze using the latest Bluetooth 4.2 radio. Simply hold the power button on one of the earbuds for around 4 seconds. You'll see an LED blinking intermittently between blue and red, indicating that the bud is in pair mode. Once you connect the bud to your phone, the LED on the earbud will now flash blue. For the other bud, hold down its power button for 2-seconds, and it will automatically pair with the first earbud. Once the second earbud is paired, both earbuds should flash blue simultaneously, and you're good to go.
Bluetooth range is over 30-feet, and even at that distance, the connection is solid. With the built-in microphone, you can use them to make hands-free phone calls as well, but phone calls only come through in one ear, supposedly for safety reasons.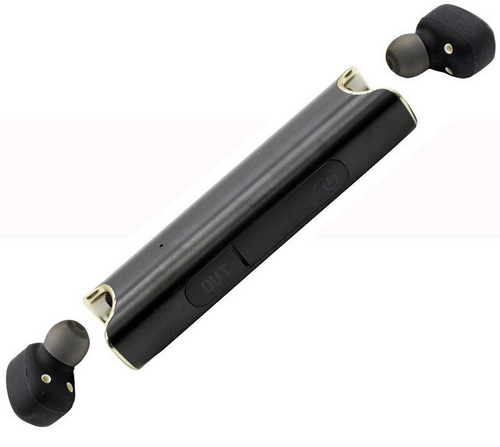 Besides pairing, the power button on each earphone also gives you control over some functions. For example, when you're listening to music, you can short press to play/pause, double tap for next track and triple tap for previous. There's no button shortcut to access Google Assistant, Bixby or Siri, but if you say "Hey Google", that will do the trick.
Fitting the xFyro xS2 earbuds into your ears is pretty straightforward. Stick them in your ear canal, and you'll notice a pretty snug fit. If they're a bit loose, you can interchange the tip set with one of the 2 extra sets of tips included. That makes 3 sets of tips you can experiment with, all three varying in size. The xS2's feel very comfortable and natural in the ear, thanks to the lightweight structure, and they're snug enough to wear for a long run or rigorous workout without falling out.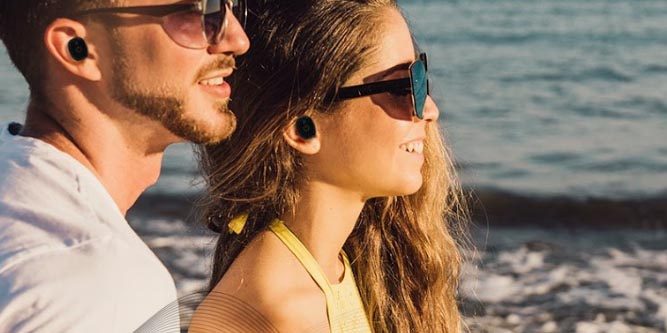 Performance
The Xfyro xS2s sound really good, with very crisp mids and highs, and rich bass, but not too overpowering. In fact, the bass created seems deeper than more pricey earphones we've tested, which is a pleasant surprise.
Volume levels also produce good sound, and the volume can go quite loud on the xS2s, a feature not usually found with competing buds. And with CVC 6.0 digital noise reduction technology on-board, the xS2's do a great job monitoring and eliminating ambient noise, thanks to the technology's ability to fine-tune the transmission and receiving path.
We touched on the battery life, but let's sum it up. It's impressive. With the 850 mAH power bank/bud case and the 45 mAH batteries built in to each earbud, you can squeeze out 6 full recharges with each earbud before you need to charge the case again. The earbuds themselves will last up to 5 hours, and when they need a charge, the case will fully charge them in about a half-hour. That's pretty nice.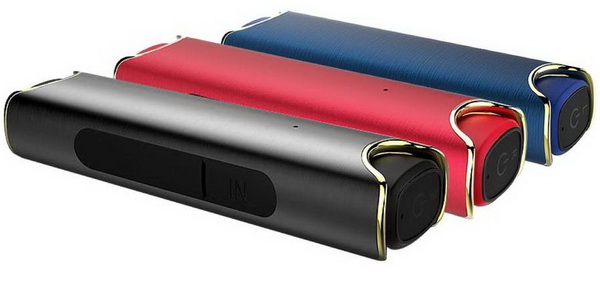 Bottom Line
The xFyro xS2 True Wireless Earbuds originally retailed for $250, but the company has them on sale for half-price at $125. They come in Black, Blue and Red. More importantly, the XS2's produce great sound, are extremely comfortable to wear, they're quite durable, and they're IP67 water and dust-proof, which makes them sturdy enough to last you a long time.
They're also easy to pair, easy to use, and the charging feature allows you not only to charge the buds 6 times on a single case charge, but also charge other devices in the process, which is a nifty additional feature.
We even liked the simplicity of the on-board earbud controls. Nothing too fancy, they give you all the functionality you need without having to fumble through multiple buttons on such small pair of earphones.
The xFyro XS2 Earbuds also include an instruction manual, a micro-USB charging cable and two extra sets of ear tips. For more information or to purchase a set, visit xFyro's website here.
Comment on this article and other GadgetGram content by visiting our Facebook page, or our Twitter and Instagram feeds.