It is really a high-tech TV player with powerful functions. Built-in quad-core processor and with the advanced Windows 8.1 with Bing, it ensures excellent stability and wonderful performance. Large capacity offers spacious room for data storage. Also, it comes with RC11 air mouse for easy controlling.
Minix NEO Z64 Windows 8.1 (Upgraded to Windows 10) Mini PC is a smart Streaming Media Player with Windows 8.1 authorised edition this box is also future proof, meaning it is Windows 10 ready. Once you connect this player to the HDMI interface of TV it will convert your regular TV into a Smart TV with Windows 8.1. It's powered by an Intel Z3735F 64-bit processor with 2MB of cache and a Turbo clock of 1.83GHz.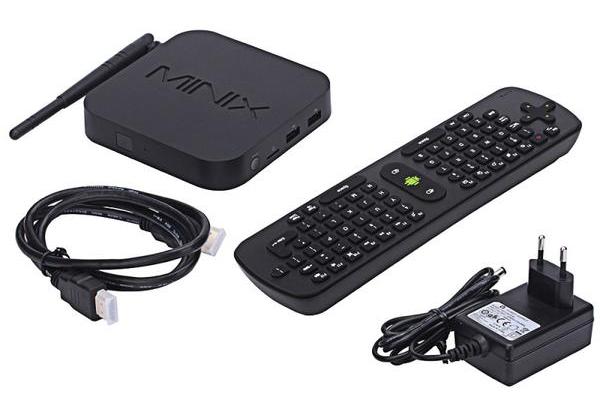 This is the same processor that powers most of the today's Windows-based tablets. Minix NEO Z64 Windows 8.1 Mini PC is the next generation streaming device, this is a fully functioning Windows 8.1 mini PC that connects to your TV through the HDMI port.
It's a PC that fits easily in to the palm of your hand, with a matte black plastic casing measuring (11.5 x 11.5 x 2)cm (L x W x H) which features a non-detachable WiFi antenna. Connections run around the rear and right-hand side of the box and include an HDMI port, 2 USB inputs, a 3.5mm audio jack, a LAN port and a mini SD Card slot. There's also an inlaid power button, to the side, and a blue power indicator at the front, which sits next to a redundant infra-red sensor. There is no remote control provided – unlike the Android boxes – as Windows isn't set up well to work with one so you'll need a USB/Bluetooth control.

The Minix Z64W runs on an Intel Quad Core CPU. There's also 32GB of fast EMMC memory on board (24.8 GB available out of the box) and 2GB of DDR3 RAM available. WiFi capability is restricted to the 2.4GHz band.
Booting to the desktop from a completely powered down state is under 10 seconds. This is about half the time of a heavily-modded desktop PC running Windows 7 Professional on a solid-state drive.