The Armani brand has gotten into the smartwatch big time, launching smart wearables with and without touchscreens. The latest comes from Armani Exchange, the more affordable part of the brand. Don't expect that to mean the Armani Exchange AX Connected is inexpensive at $295.
Design
The Armani Exchange AX's design is good looking and somewhat minimalistic. It looks like a watch, and it has a well-fitting metal band, plus it comes in a beautiful muted, metallic blue color. It has a 1.2-inch screen inside a surprisingly slim 12mm thick case. However, the case is still large at 48mm, so it's not one for those with very small wrists. That said, the design is clever and minimizes how large the watch should look, Overall, it has a superb build quality.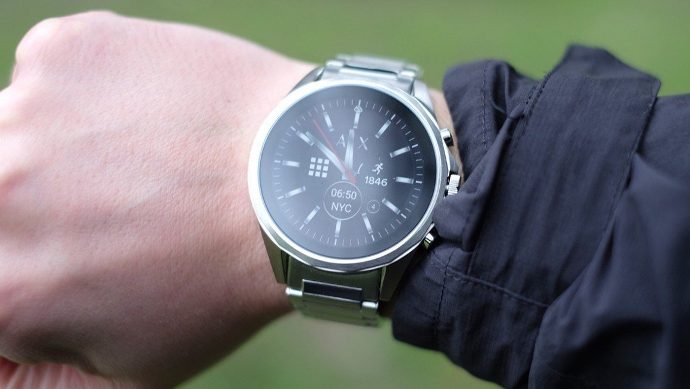 The Armani Exchange smartwatch is made from stainless steel and available in silver, gold, black, or blue. Each comes with a metal link bracelet in the same color, which is lightweight and comfortable.
Performance
While the design is somewhat ordinary, the technology inside isn't a whole lot better. The aging Snapdragon Wear 2100 processor is inside with 4GB of internal storage space, while the 1.2-inch OLED screen has a 390 x 390 pixel resolution.
It has GPS, a heart rate sensor, NFC for Google Pay, and the latest version of Wear OS. The vibration alert is like the design, very subtle, and the screen even at maximum brightness is difficult to see in bright daylight conditions.
Wear OS connects to both iOS and Android phones with the corresponding app.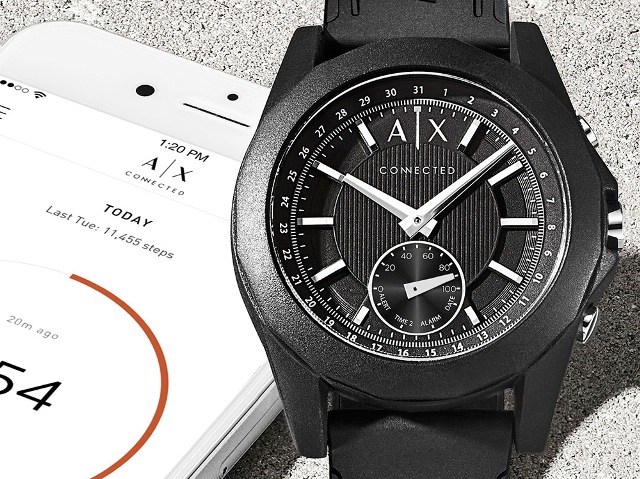 Speed-wise, it leaves a little to be desired. Things take time on a Wear OS watch, due to swipes, button presses, and delays caused by the slow processor. That's once you're used to the OS too, as finding settings and features takes a while to learn. The AX has a rotating crown to zip through vertical menus, which does help speed things up. Notifications arrive in a long list, accessed by swiping up from the bottom of the screen, and are interactive. Tweets can be Liked or replied to, as can emails and messages, for example.
Armani does not install any proprietary apps either. Something to distinguish the AX Connected from the other fashion smartwatches out there would have been nice. It all feels a little half-hearted.
On a positive side, music control for what's playing on your phone is helpful, and the notifications work well, despite being slightly unreliable. Multiple alerts for the same notification are common. Google Fit is great, and it's easy to track workouts with the pre-made settings, and it all transfers seamlessly to Fit on your phone. However, like the rest of Wear OS, it's slow getting to the right menus.
Battery
Battery life is also mediocre. Wear OS switches the always-on screen off by default, along with background heart rate tracking, to help mitigate the issue, but this does limit the watch's usefulness.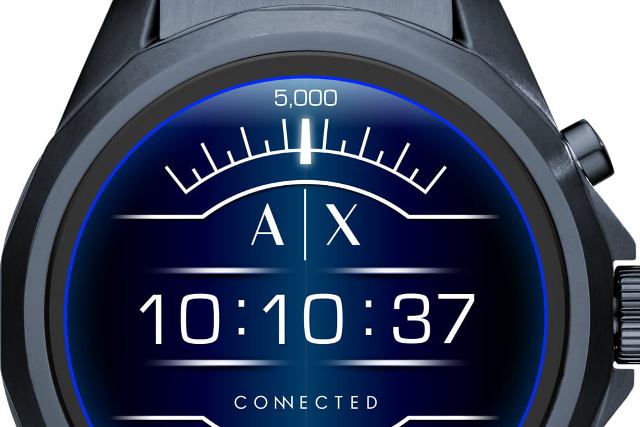 Additionally, this isn't a fitness watch, despite some of the features, and won't be anyone's first choice to wear at the gym. Charging is fast using the proprietary plastic plinth included with the watch. It magnetically clips to the case back, and zips to full in just over an hour.
Bottom Line
The Armani Exchange AX Connected costs $295 regardless of color choice, and is available directly from Armani's website, Amazon, and other retailer partners. The smartwatch doesn't knock your socks off, however, you do get a high quality product that performs its functions correctly.
The watch is water resistant, so it isn't afraid of getting wet, but it's not especially tough so you won't want to wear it when doing many outside activities. The battery's lifespan will limit the amount of time it remains functional.