Most of the smart home devices on your home network, like a smart video doorbell or a smart garage door, work great, but are they secure? Can they prevent others from hacking into them?  A new product called the Firewalla, a pocket sized hardware solution (1.2 by 1.8 by 1.8 inches) gives you total network security, providing insight into what's on your network, with features such as showing what computers and mobile devices are doing, ad blocking, simple parental control, and even your own VPN server, which you can use to program the device.
Firewalla doesn't attempt to replace your router; it becomes a part of your network, monitoring and managing traffic and devices, while applying simple rules to network traffic.  It's equipped with a quad-core 1GHz ARM CPU running Ubuntu, with 512MB of DDR RAM.  In the box you'll find the tiny Firewalla, a power adapter, an Ethernet cable, and a micro USB cable. There's an Ethernet port, a micro-USB port for power, a USB port, and a slot for a micro-SD card. The Firewalla website states a ton of uses for that SD card slot. Anyone with the necessary skills can get a bigger card and do programming on the device, using its built-in Python, JavaScript, and other languages. You can also re-flash the firmware image.
There's no manual, only an instruction card with a URL guiding you with installation instructions. Following these instructions, you can download the Firewalla app and register an email. Like any other network security box, you can only control Firewalla through an iOS or Android phone or tablet.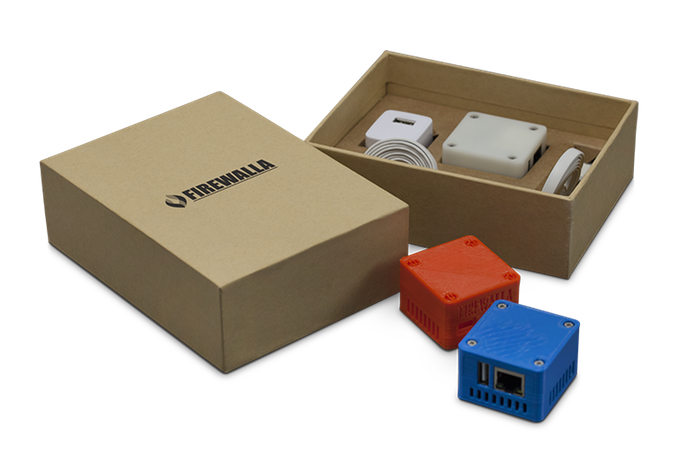 Power the Firewalla up and connect it to the network with an Ethernet cable. That's essentially all there is for setup. There's no need to connect it "upstream" from the router or make any network changes, and it takes a few minutes to finish its initial boot sequence.  You can then pair it with the app by scanning a QR code on the bottom of the box. Firewalla can either learn the network, or you can do to a manual setup. Within a few minutes, it's ready and working.
The first time you use it, you might get a boatload of notifications, as Firewalla detects everything connected to the network, each pointing out the device's name and manufacturer, if supplied, as well as the IP and MAC addresses. If you see something that you don't recognize, you can block its access with a single tap. And in case you block the wrong device, you can restore access very easily.
You can configure these notifications, receiving one when any device is turned on. You can also monitor gaming, video, porn sites, or access attempts to any dangerous website. It alerts you about "abnormal uploads," and when someone connects to the VPN server. When you receive a notification, you can tap on it and, for example, cut off access to it for a set amount of time or indefinitely. Each device has blocking icons for internet, games, social media, and video. One tap of the icon blocks the specified category for an hour. A second tap blocks access until re-enabled.
Firewalla lets you check whether a device is online, when it was last active, and when it was first detected. You can also configure Firewalla to notify you when devices come back online, or when going offline.
Firewalla is equipped with Cyber Attack Protection, notifying you whenever it detects evidence of an attack on your network. By default, it actively blocks known dangerous sites. It can scan any port or connection, looking for ports on your network that are accessible from the internet. It warns about available Universal Plug and Play (UPnP) connections, which can open your system to attack. Firewalla also probes the network from the outside.
Other features include Firewalla's Dynamic DNS (DDNS) capability, which allows you to host web server apps on your network without worrying about your ISP assigning you a different internet-facing IP address. The Social Hour feature lets you disable social networks on all devices on the network to encourage "real social life." Ad Block strips out ads for all devices. It clears up most ads on several ad-rich sites. Turning on Family Protect enables simple parental controls, and it also runs all DNS (Domain Name System) requests through the Family Shield servers maintained by OpenDNS.
Firewalla can list four sets of stats for each device. You can check these devices by history, connections, or uploads and downloads. The Apps tab lists apps that made a network connection. Firewalla RED works with internet speeds below 100Mbps and up to a maximum of 50 devices. The Firewalla blue, shipping only to its crowdfunding backers, manages higher speeds and more connections.
FIrewalla RED runs around $119, while the BLU runs $179. No subscription necessary.