Considering the amount of time that people spend working behind desks, it would be nice to have integrated airflow solutions within our workspace. The Kensington CoolView Wellness Monitor Stand with Desk Fan combines the ergonomic benefits of raising your monitor height with the wellness benefits of circulating airflow.
The Kensington CoolView Wellness Monitor Stand with Desk Fan features an ergonomic design that helps improve employee wellness and increase productivity, mainly thanks to its steel base, which elevates your monitor to an optimal viewing height, ultimately promoting a healthy posture and optimizing comfort for the neck and shoulders, which consequently increases productivity. This monitor stand comes equipped with a Dual-Fan Airflow System (ideal for energy-efficient cool air circulation), an integrated desk fan that provides a gentle, wide and natural airflow with 2-speeds and optimal indirect blowing angles for a more comfortable workspace. Cooling with this low decibel (<37dBA) fan also lowers noise distractions, which also increases productivity and well-being.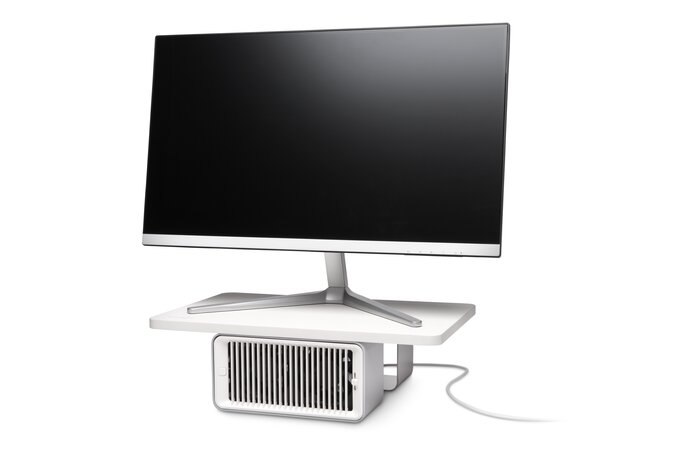 The Kensington CoolView Wellness Monitor Stand with Desk Fan offers a stylish look for the modern office, featuring a steel base and durable support for iMac, external monitors and all-in-one PC's up to 27" and a maximum load of 200 lbs. The sleek 2-in-1 patent-pending design offers users an organized working environment within a small desktop footprint. It's the ideal monitor riser for modern offices focused on employee wellness.
The integrated desk fan is a Portable USB Powered Fan that easily connects to a USB port on a docking station, laptop, power bank or mobile USB power adapter for a quick and easy setup. Since the fan is portable, this offers additional flexibility, meaning the fan can be removed from the stand and used as a standalone fan anywhere else. This portable fan measures 7.6 inches long by 3.6 inches wide 3.2 inches tall (194mm x 92mm x 82mm). The stand comes with two repositionable magnetic cable clips that work as a Cable Management System, keeping your cords organized for a tidier workspace. The clips can be positioned anywhere on the frame of the monitor stand to keep the cables for your keyboard, mouse and other desktop accessories organized.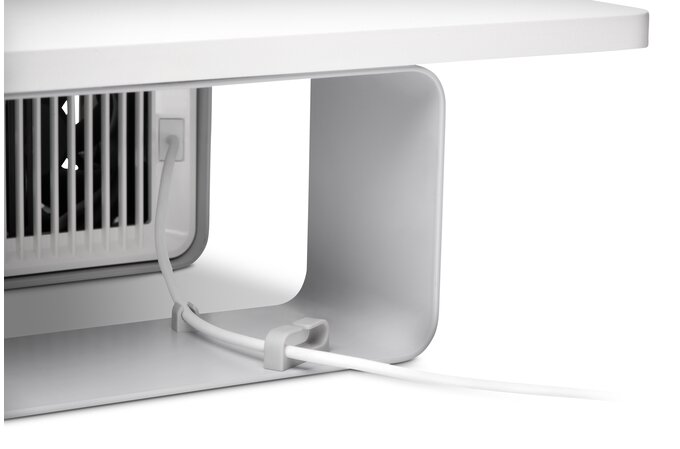 Kensington's Modular Design supports both comfort and productivity and the company will soon release an integrated heater (Coming Soon: K55465NA), as well as an air purifier (Coming Soon: K55462WW), allowing users to accommodate to different seasons, environments, or personal preferences.
If you're interested in getting your own Kensington CoolView Wellness Monitor Stand with Desk Fan, each unit is priced at $90, and you can find it on Kensington's website, by clicking here.