While listeners are told that incredible sound quality is only available from a few special places like brands with decades of audio heritage or speakers that costs more than most people can afford, Soundcore helps consumers to break this illusion. Soundcore is a smaller company that's part of a bigger brand (together with Anker, Eufy, Nebula, and Roav) known as Anker Innovations. Soundcore uses innovation, experience, and pioneering listener analysis to create products that revolutionize expectations for audio quality. One of the company's latest releases in the Soundcore Motion+ Speaker.
The Motion+ Speaker features Ultra-Wide Frequency Range to deliver remarkable sound, allowing users to experience Hi-Res audio with phenomenal detail and clarity. It's rated IPX7 waterproof, giving users the peace of mind that if drinks are spilled or rain pours, no liquids will get inside the speaker. The Motion+ Speaker uses Anker's proprietary battery technology, able to deliver 12 hours of continuous playtime. The speaker features USB-C Connectivity, allowing the Motion+ to be charged via the latest USB technology for easy charging and greater compatibility. The USB port is located on the right side of the device.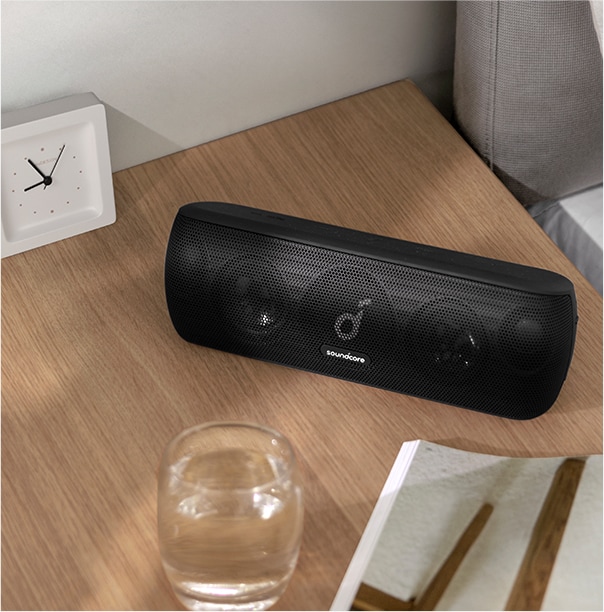 It also features Bluetooth 5.0 for Bluetooth connectivity, allowing users to enjoy seamless streaming of music, podcasts, and more, as well as Wireless Stereo Pairing, meaning that by pairing two Motion+ speakers together, you can expand your options, providing you with full stereo sound or double the volume, while also letting you control both speakers via a single device.
Motion+ is the "Pure Audio Power". It's loaded with two 40kHz ultra-high frequency tweeters, neodymium woofers, and oversized passive radiators that deliver 30W of sound. Qualcomm® aptX™ technology preserves sound quality when streaming via Bluetooth, and its Hi-Res Audio certification guarantees every song sounds spectacular. It comes equipped with BassUp™ technology to enrich and intensify a song's low frequencies, adjusting and enhancing the bass in real-time. The Motion+ Speaker also features Active Crossover, by using an advanced DSP and amplifiers with individual power sources to preserve the accuracy of highs, mids, and lows. There's also Extended Treble and Bass, meaning the Motion+ offers an ultra-wide frequency range that extends from 50Hz to 40kHz, ensuring you hear all of a song's details and nuances.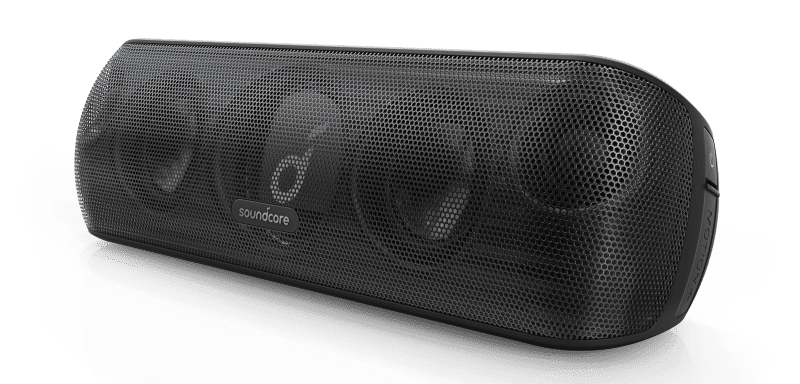 The Motion+ Speaker also features Enhanced Sound Dispersion, which gives you a front-row experience with Motion+'s dual tweeters, woofers, and passive radiators, which have been installed at a 15° angle to send sound up and out into your space. Lastly, the Motion+ Speaker features a Customizable EQ that allows you to ultimately fine-tune the speaker, offering you multiple preset modes or a fully-customizable EQ experience.
The Soundcore Motion+ Speaker is only available in Black. It's currently priced at $100, and you can find it at Soundcore's website. If you're interested in getting yours, you can find it here.