Soundcore is a smaller company that's part of a bigger brand (together with Anker, Eufy, Nebula, and Roav) known as Anker Innovations. Soundcore is focused on creating products that revolutionize expectations for audio quality, while providing consumers with accessible solutions when it comes to price. Meet the Soundcore Wakey, an all-in-one bedside speaker.
The Soundcore Wakey features an all-in-one design, equipped with Wireless Fast Charging, Alarm Clock, White Noise Mode, and more. The front panel features a soft fabric-covered display which intuitively adjusts to varying levels of ambient light. There's also a touchpad along the curved base that allows you to control the volume and access FM radio, Bluetooth (Bluetooth 5.0), and White Noise Mode. It weighs 1.19 lbs and measures 7.87 inches long by 3.62 inches wide by 3.23 inches tall. The Wakey is equipped with Dual 5W Full-Range Drivers, capable of delivering a combined output of 10W.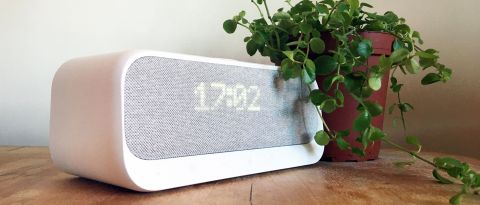 The Wakey features Fast-Wireless Charging, meaning users just have to place their Qi-compatible device down on top of the Wakey to recharge, proving great to recharge their devices during a good night's sleep. The built-in wireless charging pad is powered by Anker technology and delivers a fast 10W charge for Samsung phones and 7.5W charge for iPhones. There's also a USB Charging Output (5V/2A). The Wakey supports A2DP, AVRCP, HFP, and SBC connectivity, and there's also a 3.5mm Aux-in.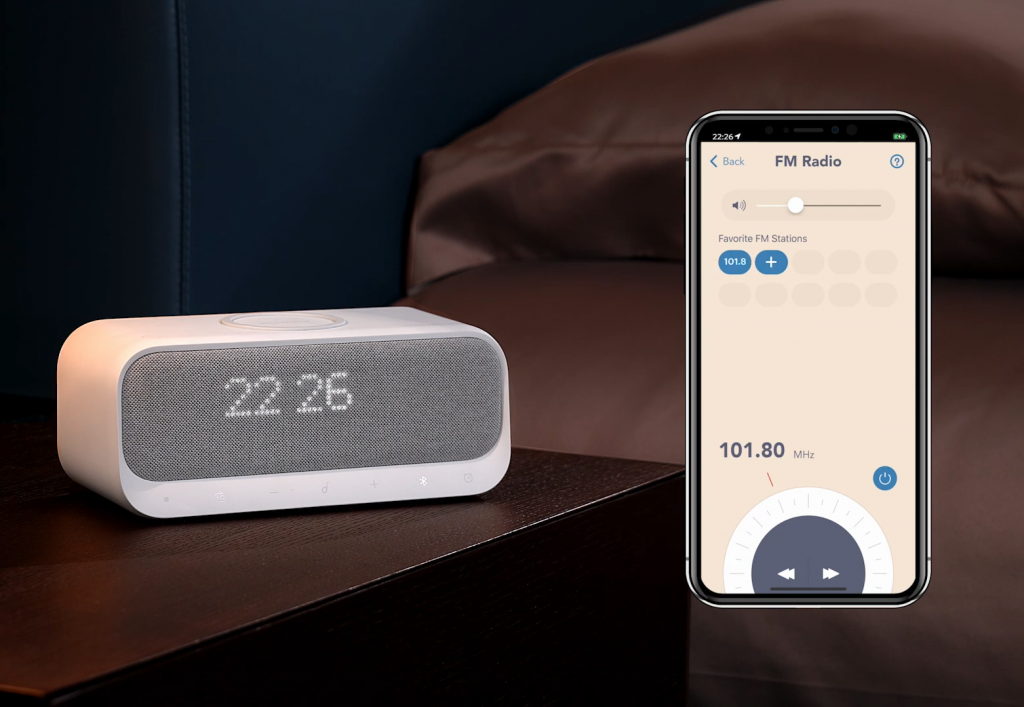 Its White Noise Mode lets the Wakey create a calming environment for a great night's sleep. Within the App, the Superior Sleep feature allows you to choose from a mix of up to 10 ambient noises. Select your favorite ones to improve sleep. The app also lets you set up to 15 unique alarms and choose from 10 custom tones to deliver a wake up call that won't ruin your morning, ensuring you're covered in case you need to wake up at different times on different days. Users can also pre-set up to 10 FM Radio stations within the app, allowing them to wake up to the latest news, music, and more, and are also able to set their favorite station as an alarm tone. The Wakey's FM Frequency Range goes from 87 MHz to 108 MHz.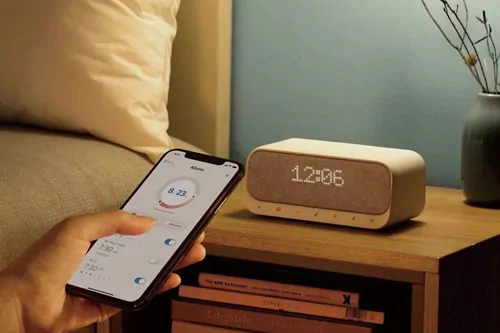 The Wakey's innovative design was awarded a 2018 Golden Pin Design Award. This all-in-one bedside speaker is only available in White. The Soundcore Wakey is currently priced at $100. If you're interested in getting yours, you can find it at Soundcore's website, by clicking here.