If you're looking for a new wireless phone charger, then you should take a look at the LumiCharge T2W LED Lamp.
This Stylish LED Lamp is based on its little brother (the original LumiCharge LED Lamp and Universal Phone Dock). This upgraded model comes with a built-in Wireless Phone Charger and Bluetooth Speaker, allowing you to charge different types of Qi-enabled Smartphones via Wireless Charging and listen to your music via Bluetooth.
Let's take a look at it and see exactly what it has to offer.
DESIGN & SPECS
The LumiCharge T2W LED Lamp features a sleek and stylish design with a beautiful high-gloss metallic finish. This cool desk lamp comes equipped with a smart LED night light that can be moved and adjusted to different positions. You can have it standing straight or you can tilt it backwards (to an extent). The lamp operates at 7Watts and offers a quality of color reproduction of 80RA (Brightness/Lumen).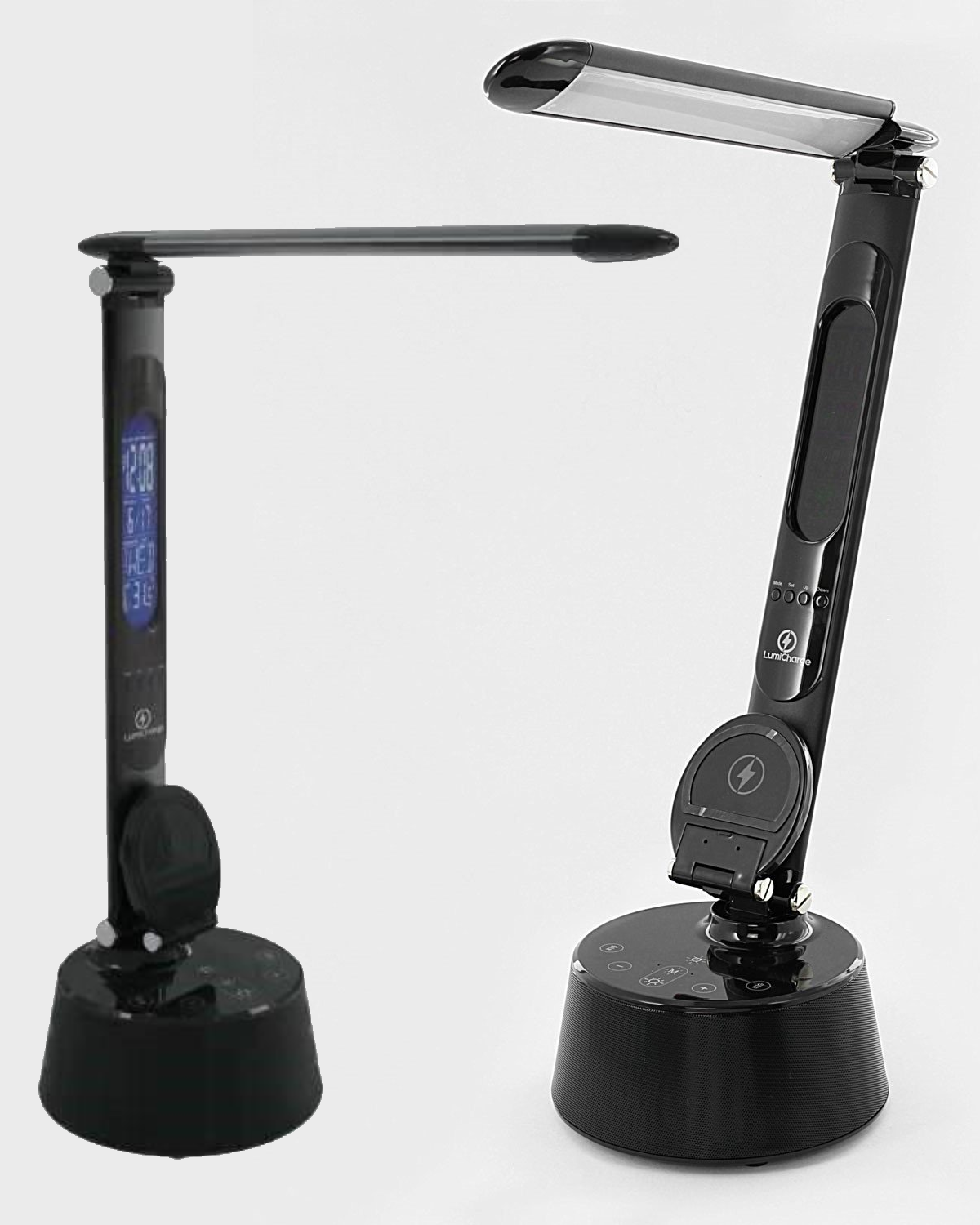 This stylish lamp comes with a built-in Wireless Phone Charger that's compatible with any smartphone that supports Qi wireless charging. That includes smartphones like the latest iPhones, Samsung smartphones and Google smartphones.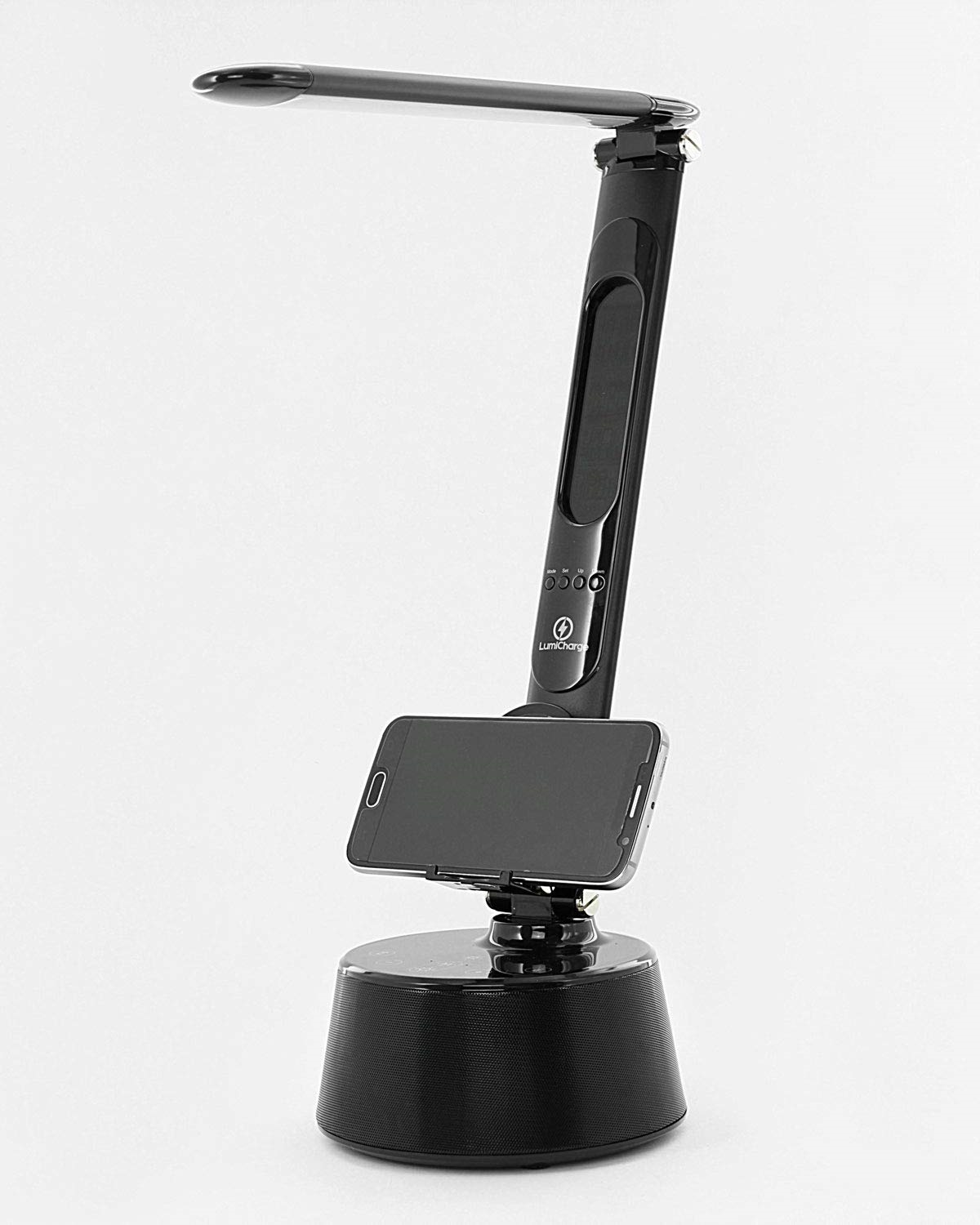 The LumiCharge T2W LED Lamp also packs a built-in Bluetooth Speaker that comes installed at the device's base. This allows you to pair your smartphone with the lamp's speaker and enjoy any of your playlists while working at your desk or during any gentle reading session.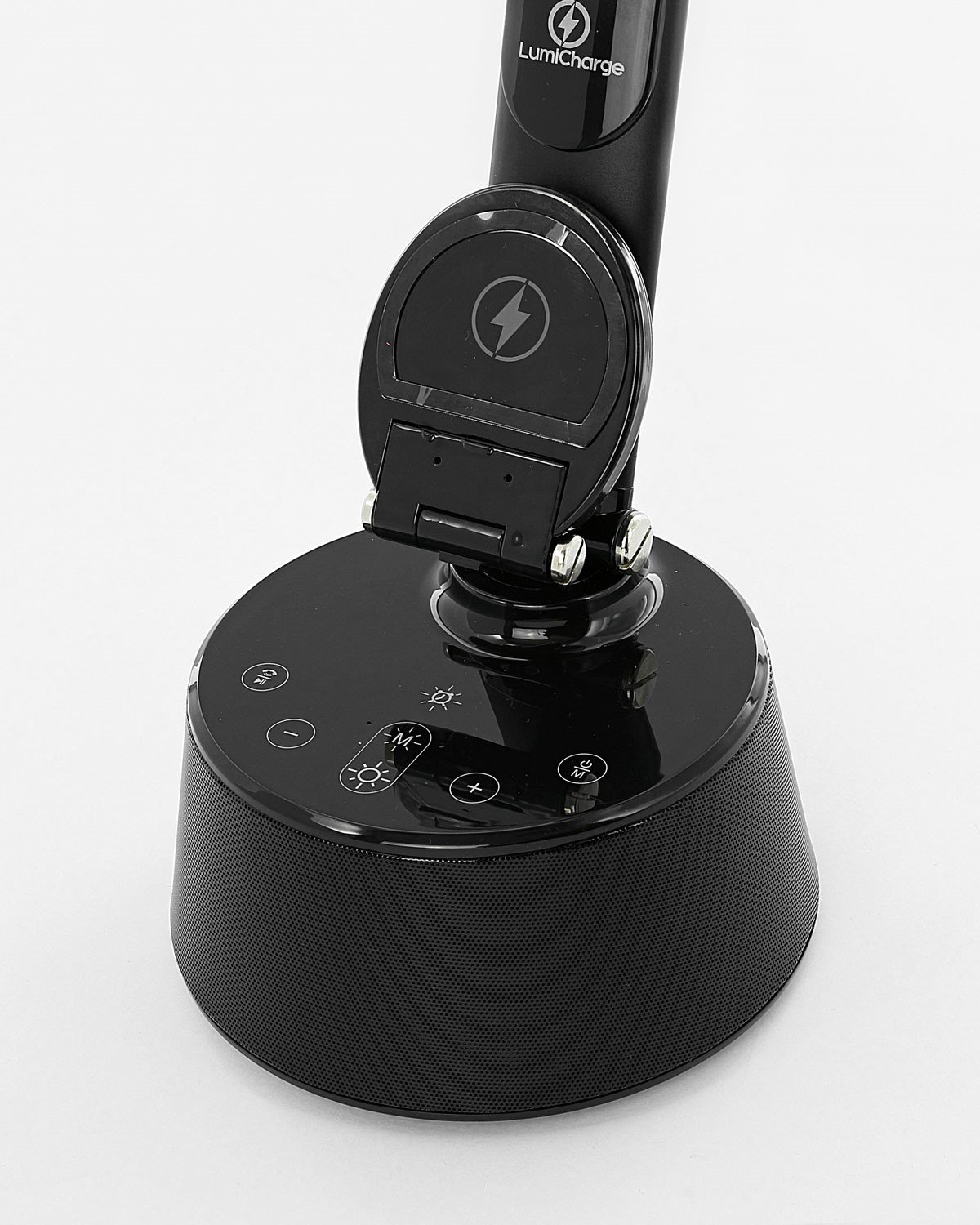 The Lamp also comes equipped with a large dimmable display screen that's located at the middle of its body. This display screen will show detailed calendar information, like the current Time, Date, Day of the Week, and Temperature. Right above the speaker (top side of the device's base) users will find some Touch Sensitive buttons (discussed at the Features section).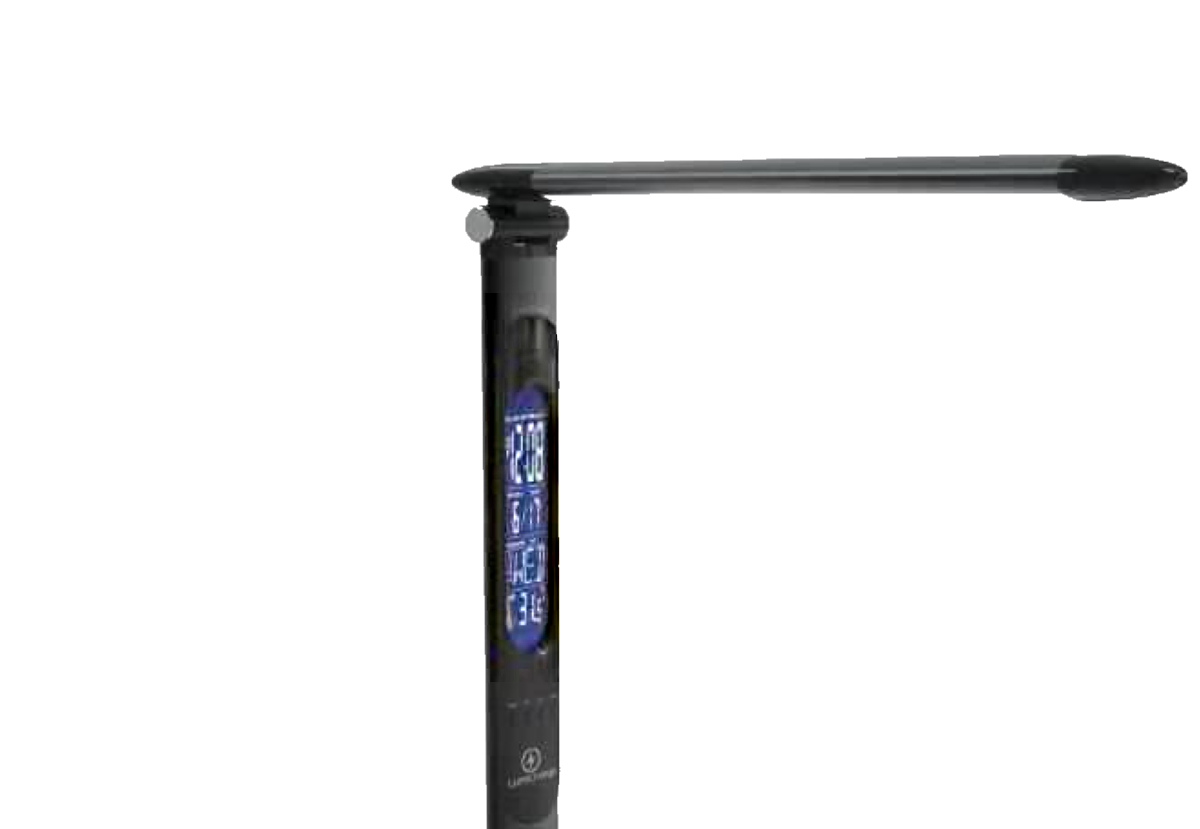 Lastly, located at the back there are a USB port, a DC 12V/2A input port, an Aux (3.5mm) audio input, and a small built-in Microphone.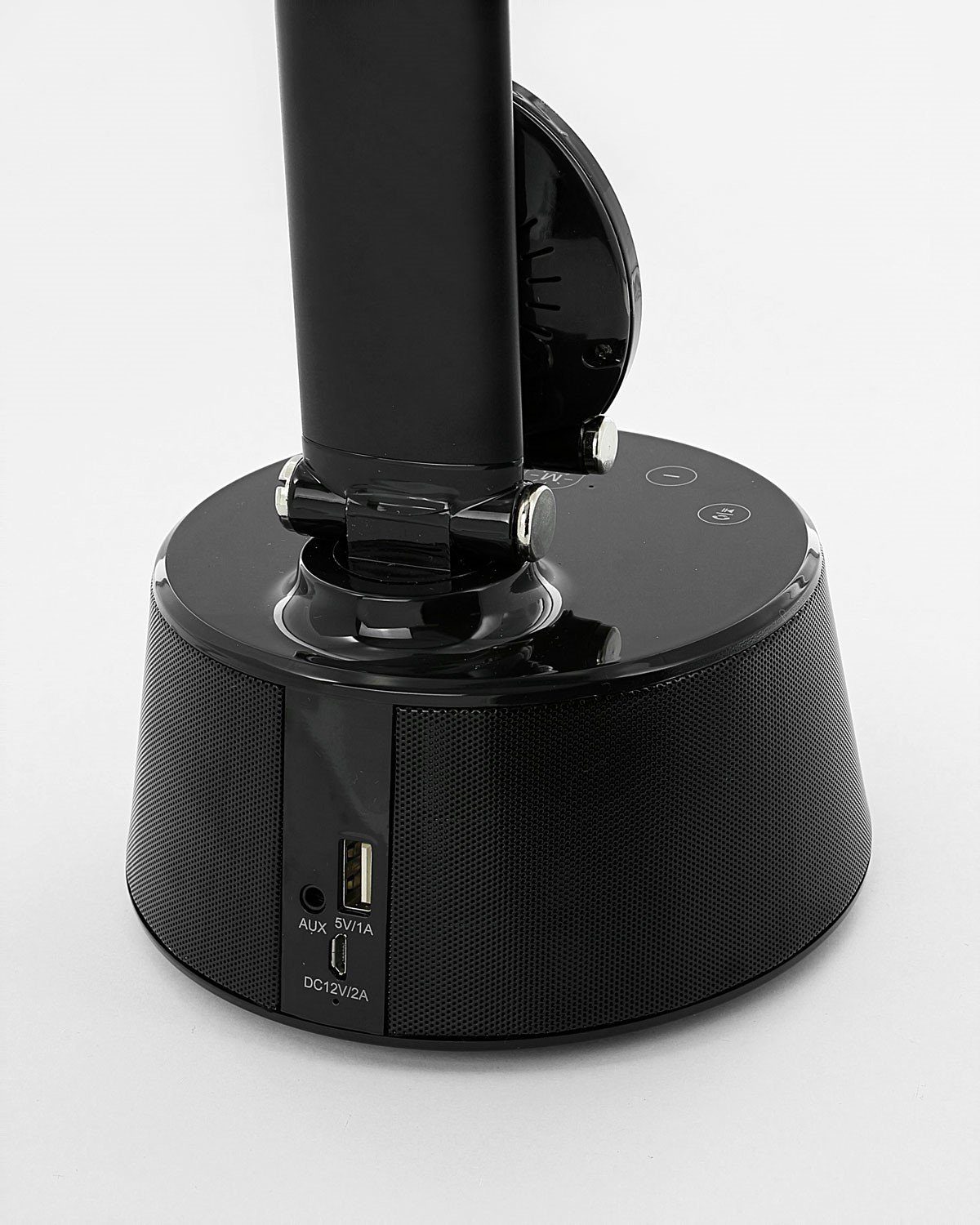 FEATURES
Touch Sensitive buttons
The LumiCharge LED Lamp's base comes equipped with Touch Sensitive buttons (located at the top). These allow you to control the T2W's LED Lamp to illuminate your desk with a quick touch, letting you easily turn it On or Off, control the color modes and brightness levels, and Play/Pause your music that can be played via the built-in Bluetooth Speaker.
3 Color Modes
The T2W's LED Lamp works in three different color modes: Bright White, Soft Yellow, and Soft White.
10 Brightness levels
The T2W's touch sensitive buttons allow for a quick dimming of the LED Lamp, which can be quickly cycled between ten different brightness levels. These multiple brightness levels work with each one of the 3 color options/modes.
Voice Assistant Support
This lamp also supports some voice assistants. After pairing your Amazon Alexa/Google Asisstant devices with the LumiCharge T2W LED Lamp you can access their voice features.
FINAL THOUGHTS
The LumiCharge T2W LED Lamp is a smart solution that's modern, stylish and cleverly designed. It packs together a Smart LED Lamp with quick touch controls, a Wireless Smartphone Charging Dock for Qi-enabled Smartphones and a Bluetooth Speaker.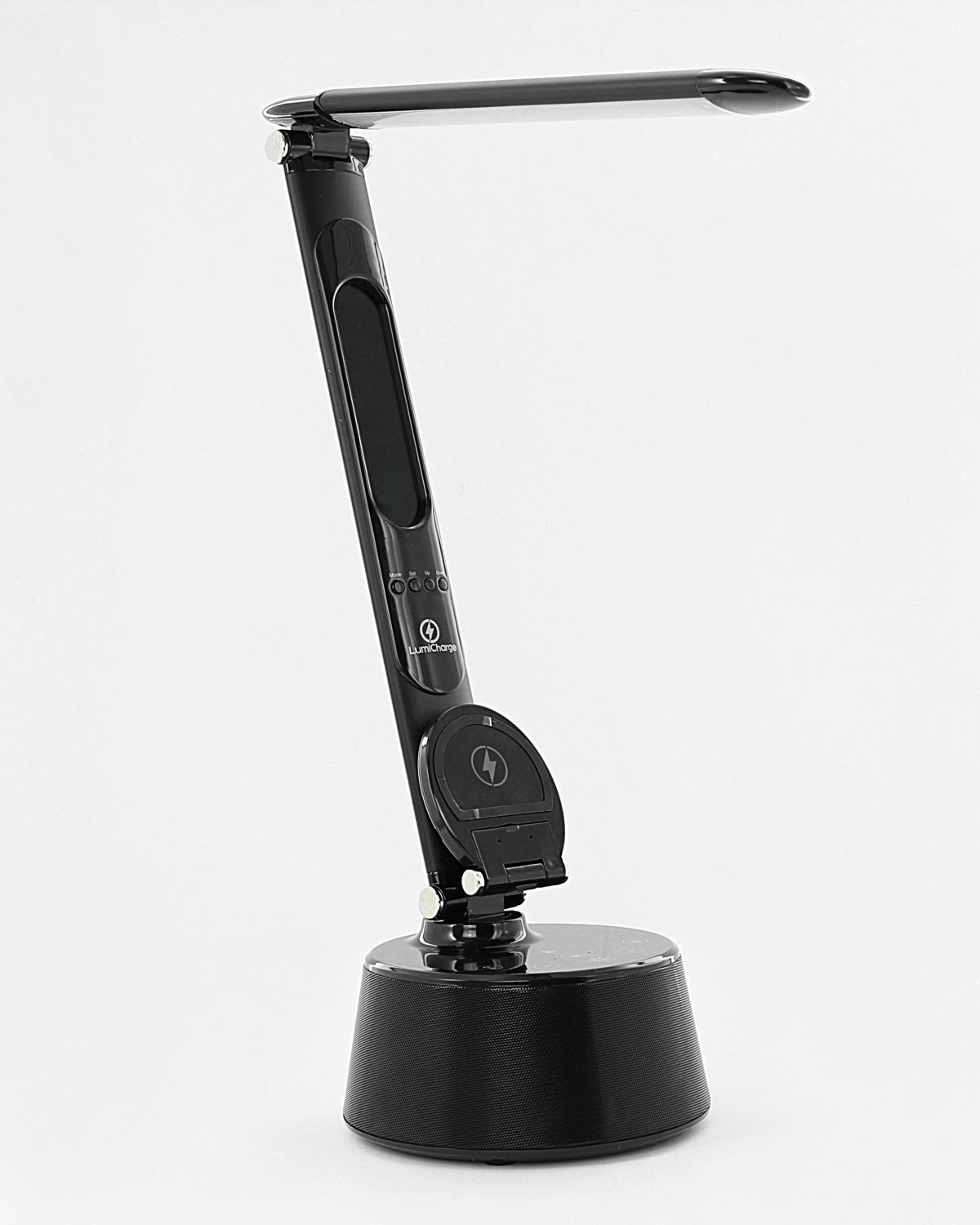 If you're interested in buying the LumiCharge T2W LED Lamp, each unit is currently discounted from its normal price of $99, currently going for $50 each (saves you $49). You can get yours right now, directly from LumiCharge's official website, which you can access via this link.