Having a good and healthy posture is extremely important for your health. A smart gadget like the UPRIGHT GO2 Posture Corrector can help you to correct a bad posture, improve it and achieve the best possible posture for your health.
A good and healthy posture helps you keep your bones and joints in the correct alignment so that your muscles are used properly. Having a correct posture also helps to decrease the abnormal wearing of joint surfaces and also prevents fatigue. This is because muscles are being used more efficiently which ultimately allows the body to use less energy.
The UPRIGHT GO2 Posture Corrector is basically an App-Enabled Posture Training Wearable that trains you and your muscle memory to improve your posture. It can be comfortably attached to your back and will vibrate whenever you slouch.
The UPRIGHT GO2 only needs to be worn between 5 minutes to an hour a day to help you train your body so that you can achieve healthier postural habits.
Let's take a detailed look at this cool smart posture correction gadget and see everything it has to offer.
DESIGN & SPECS
The UPRIGHT GO2 is a smart wearable that lets you train your posture. You can wear it discretly on your upper back by using either the included adhesives or the included UPRIGHT necklace (discussed further ahead), allowing you to get for immediate posture feedback.
Keep in mind that the UPRIGHT GO2 is not waterproof and you should also avoid getting its USB-C port wet. To ensure a secure fit, remember to train your posture with the wearable device in a cool, dry environment.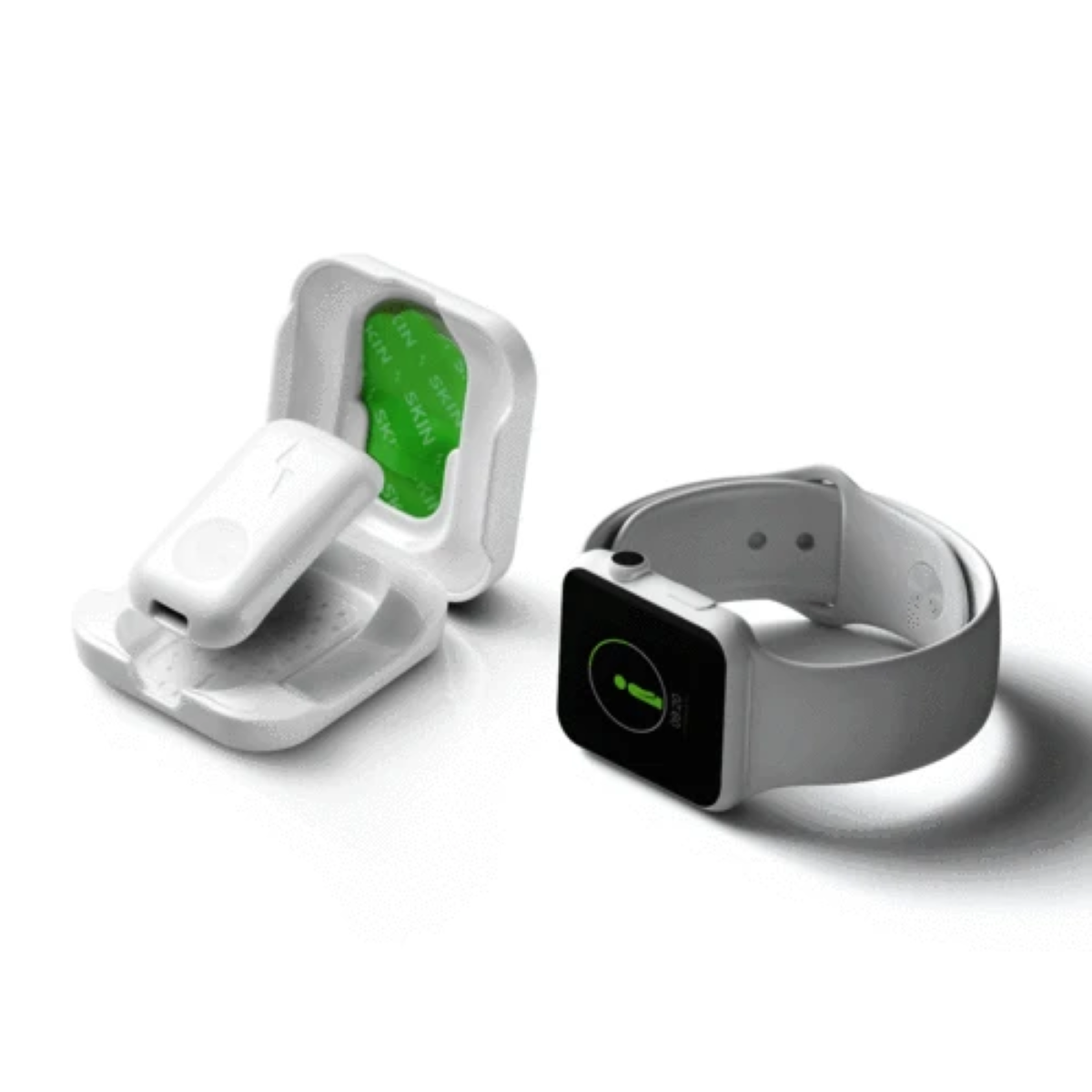 The same goes for its included adhesives which do not attach well to sweaty skin and may eventually fall off. The included adhesives can be used for multiple times and each one will last around 10 uses, but that will somewhat depend on your skin type as well as a proper maintenance.
Whenever you slouch the device will notify you with a gentle vibration, reminding you to correct your posture right at that moment.
The device can be paired up with its free Smartphone Companion App (the UPRIGHT GO App – discussed further ahead) via Bluetooth, which will provide you with personalized training plans, progress tracking, and daily posture stats.
Since this is the second model, this improved version of the original UPRIGHT GO comes at half the size, but offers twice the power.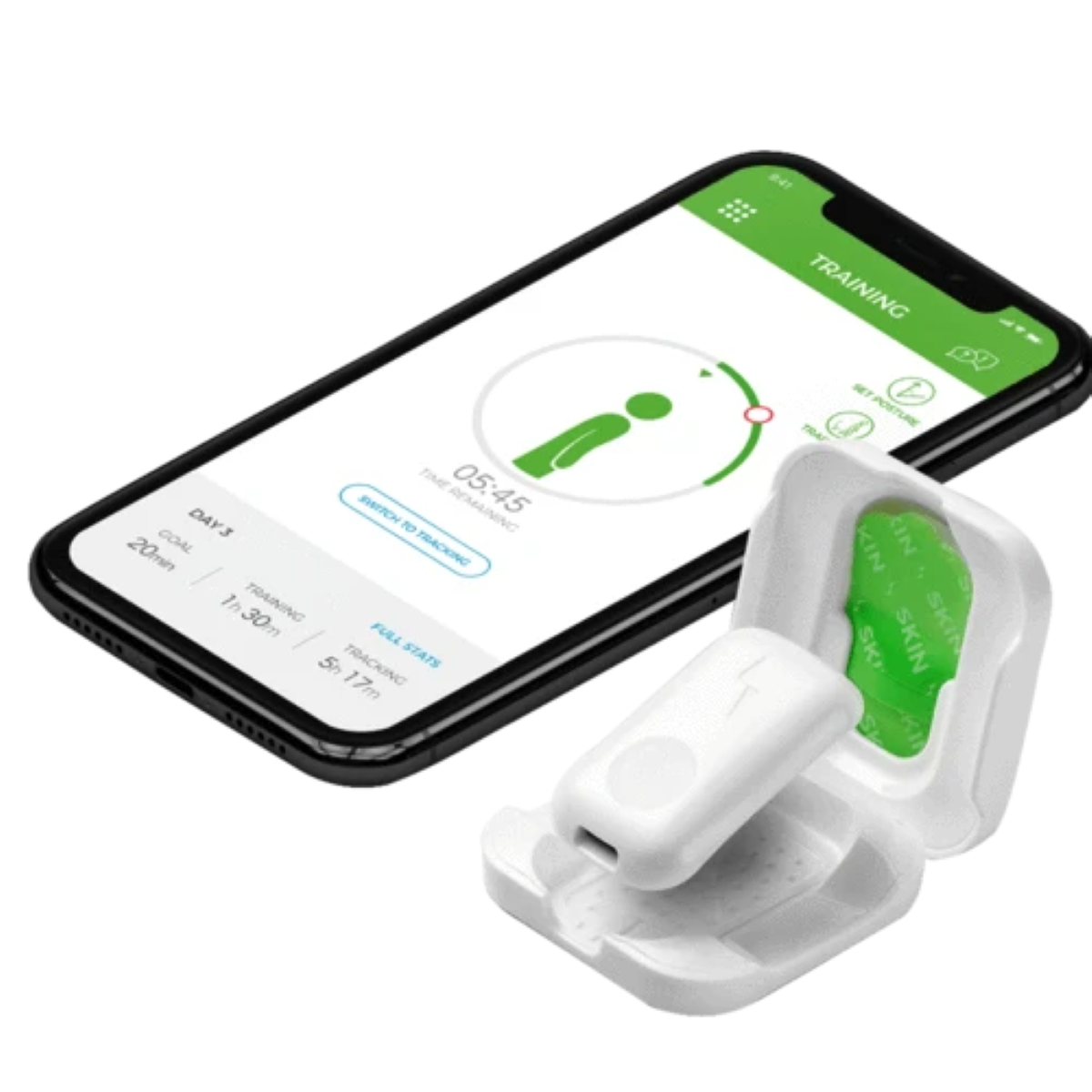 After you pair it up with its Smartphone Companion App you'll be able to get real-time stats and posture feedback on a 24/7 tracking schedule, allowing you to build both upper back and core strength while also training long-term muscle memory to ultimately achieve a correct and healthy posture.
WHAT'S IN THE BOX?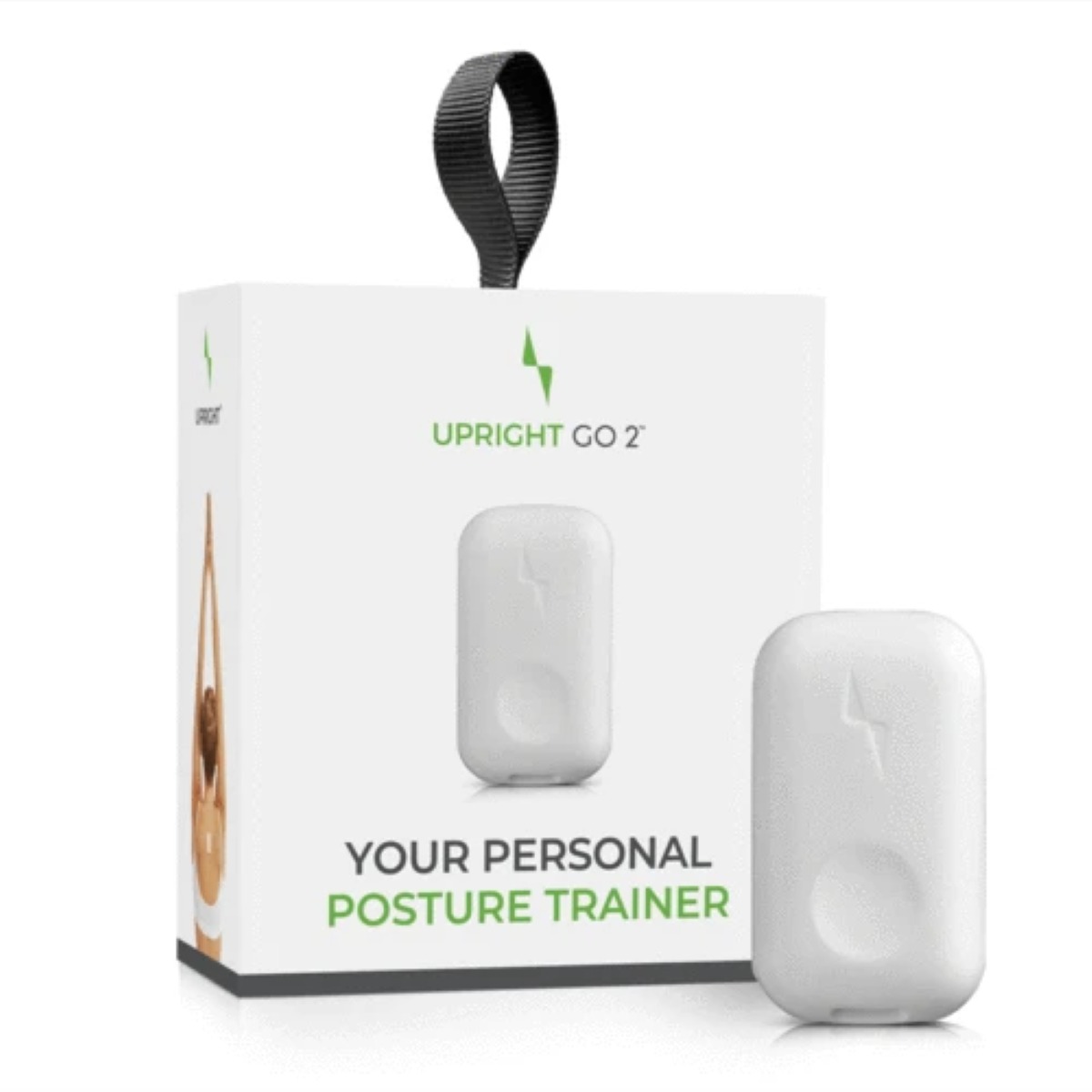 Inside each package users will find: their UPRIGHT GO2 device, some included reusable silicon adhesives as well as an adhesive removal tool, some included alcohol pads (to use on your back after you remove the adhesives), an included USB-C Charging Cable and a Carrying/Charging Case and the User's Manual.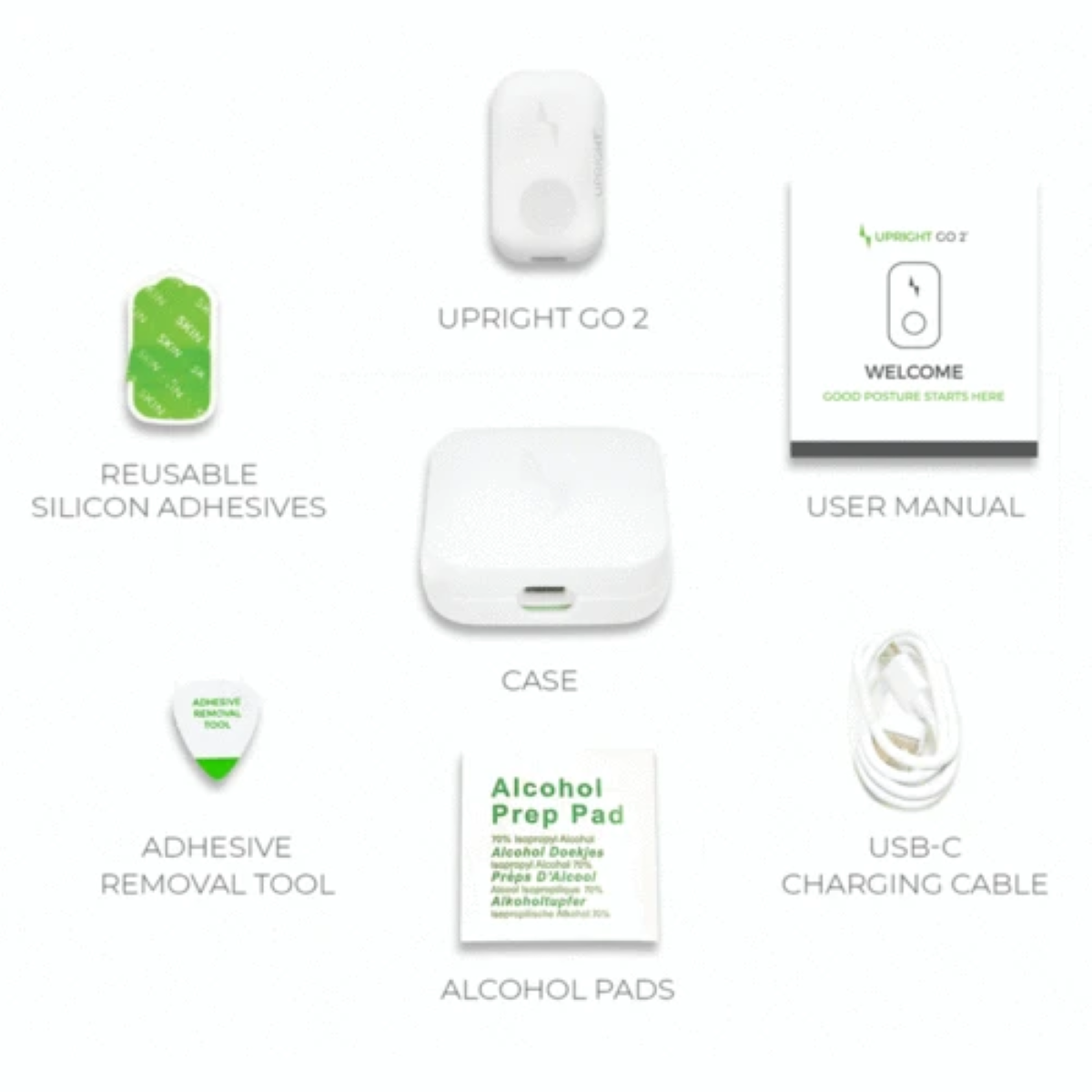 HOW TO USE THE UPRIGHT GO2 WITH THE UPRIGHT NECKLACE?
Using the UPRIGHT GO2 with its included UPRIGHT Necklace is also extremely easy.
All you have to do is connect your UPRIGHT GO2 to the necklace, then open the necklace's magnetic clasps to comfortably and properly position your UPRIGHT GO2 on your back, and then finish by connecting the magnets once again in front of your neck and letting them rest right below your collarbone.
Check the video embedded below which shows how simple and easy the process can be:
FEATURES
2 Different Working Modes – Tracking and Training
The UPRIGHT GO2 features two different operation modes which are Tracking and Training.
In the Training mode, the device will vibrate whenever you slouch while simultaneously monitoring your posture, which you'll get some detailed information about whenever you look at the UPRIGHT GO App.
In the Tracking mode, the UPRIGHT GO2 will constantly monitor your posture but will not vibrate when you slouch, allowing you to track your posture 24/7 without getting disturbed during important tasks such as during office work, a conference call, etc.
Users can easily switch between modes within the App or by pressing the easy-to-use button on the device itself.
THE SMARTPHONE COMPANION APP – UPRIGHT GO App
The UPRIGHT GO App is completely free and is available for both iOS and Android. With the App installed on your smartphone you'll have your own personal posture trainer, which will provide you with live feedback every time you slouch.
The App will allow you to track your posture throughout the day, fitting the vibration feedback to your current activity, which in turn also allows you to learn more on how to improve your posture by training long-term muscle memory so that you can achieve a better healthy posture.
FINAL THOUGHTS
The UPRIGHT GO2 Posture Corrector is an App-enabled posture training smart wearable device that vibrates whenever you slouch, allowing you to train long-term muscle memory to achieve a better, healthy posture.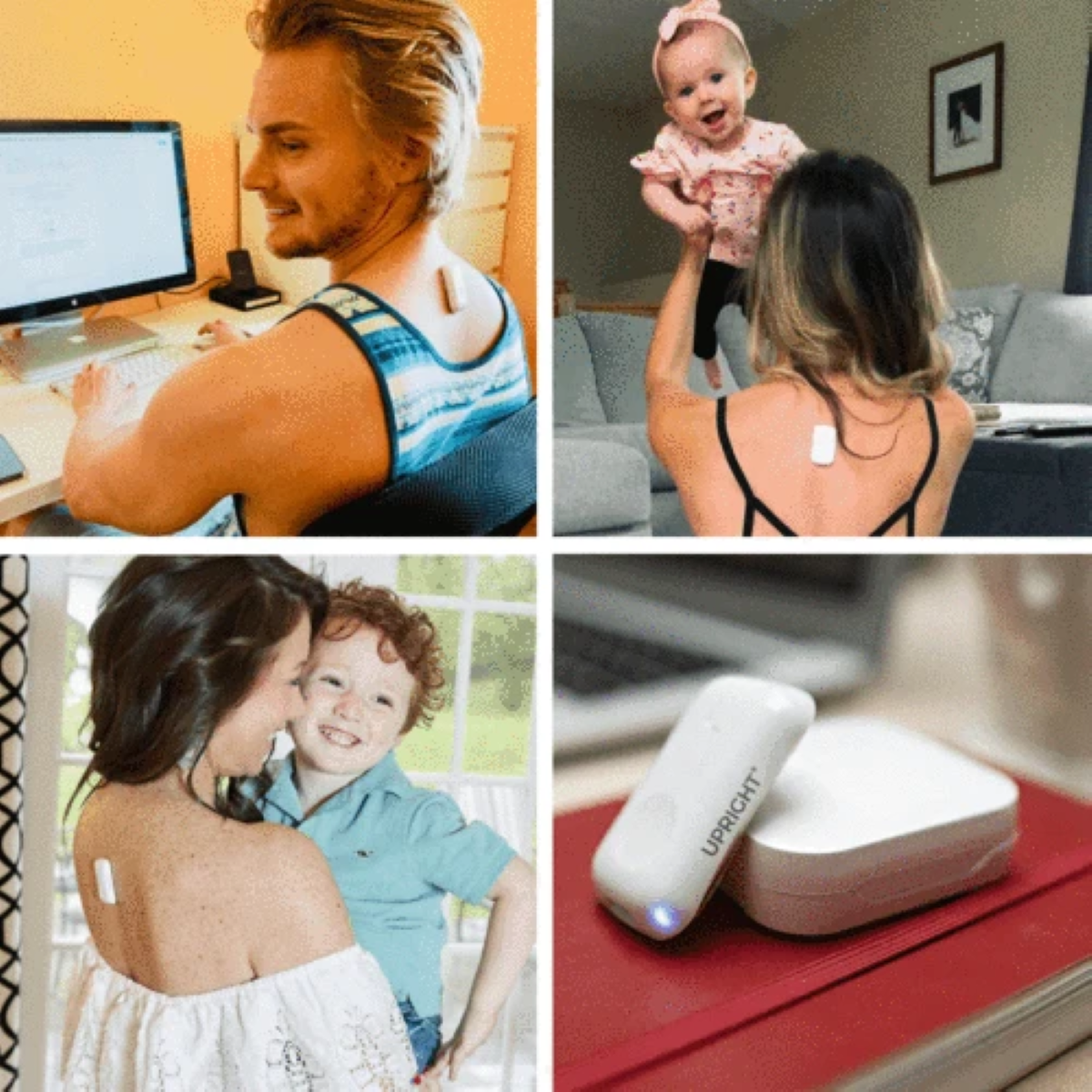 If you're interested in buying the UPRIGHT GO2, each complete package is fully discounted from its normal price of $120, and is now going for $110 each (saves you $10). There's also a Single Device Pack (just the wearable) available which goes for $100 each as well as a Double Pack that contains two devices, going for $190 (discounted from $200, saving you $10). You can order any of these packs at UPRIGHT's official shopping page, which you can access by clicking this link.