Personal audio gadgets mostly come either in the form of headphones or speakers, but each audio solution has its own advantages. While speakers provide a more realistic and often more immersive listening experience, headphones allow you to always have your audio with you, something that's obviously very useful for anyone who's constantly on-the-go. However, imagine if there was a speaker-like gadget that you could just wear around your house. That's where the Sony SRS-WS1 truly shines, as it looks to merge both audio solutions (headphones and speakers) into one portable speaker-like gadget that's meant to be used at home.
While wearable wireless speakers aren't really that new, they're still "niche" enough for Sony's recently released SRS-WS1 to feel something like a novelty audio gadget.
The SONY SRS-WS1 is somewhat of an ingenious audio solution, working like an Immersive Wearable Neck Speaker that users can comfortably wear around their neck.
The speaker can then stream audio from wired sound sources that are connect to its transmitter, allowing users can experience television, movies, and games like never before.
Let's take a detailed look at the SONY SRS-WS1 Wearable Neck Speaker and check everything it has to offer.
DESIGN & SPECS
The SONY SRS-WS1 was designed with both convenience and utility in mind, as this Wearable Neck Speaker features a comfortable, lightweight, and secure design.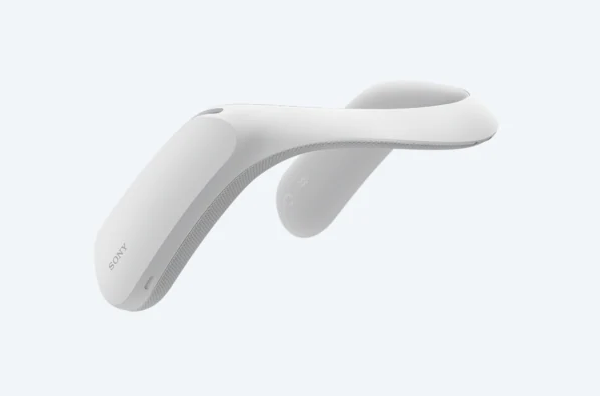 Sony's new Wearable Neck Speaker is actually super lightweight, weighing in at just 0.74 lb. Its super discrete weight makes it super comfortable to wear, while its arch shape and inner cushion promote that comfortable use.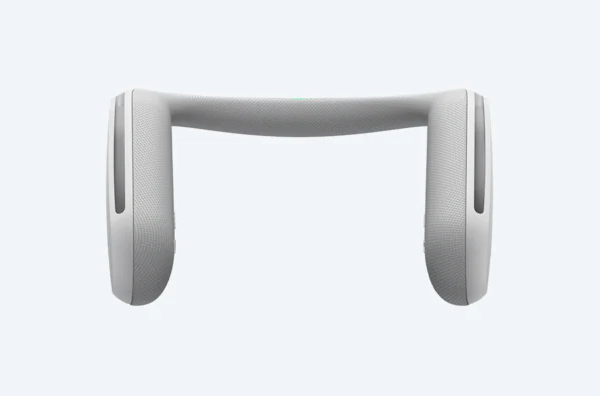 While its light weight makes its prolonged use an effortless task, its arch-shape design allows the SONY SRS-WS1 to rest on users' shoulders without any of the discomfort of regular headphones.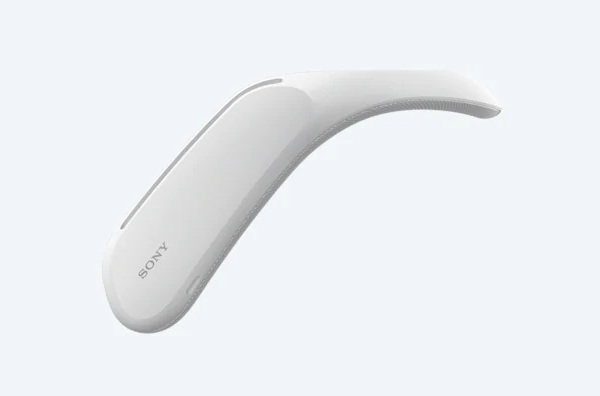 INTERNALS
The SONY SRS-WS1 basically works like a personal and portable soundbar that produces sound just for you. Since the speaker rests on users' shoulders instead of covering their ears, users can enjoy immersive and cinematic sound without feeling isolated from their surroundings.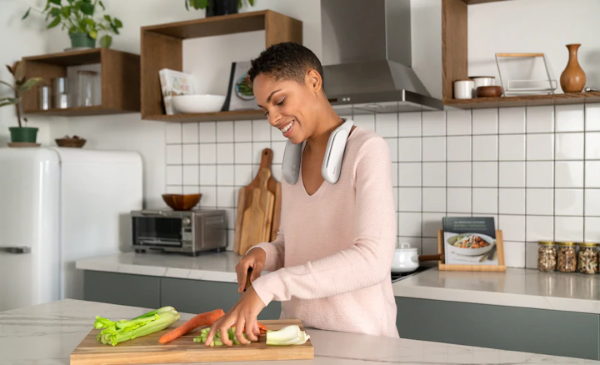 Unique Speaker-Slots Design combined w/ Digital Sound Processing
The SRS-WS1's unique design features speaker slots that are combined with digital sound processing, allowing this Wearable Neck Speaker to create a decent immersive sound field that fully surrounds its users.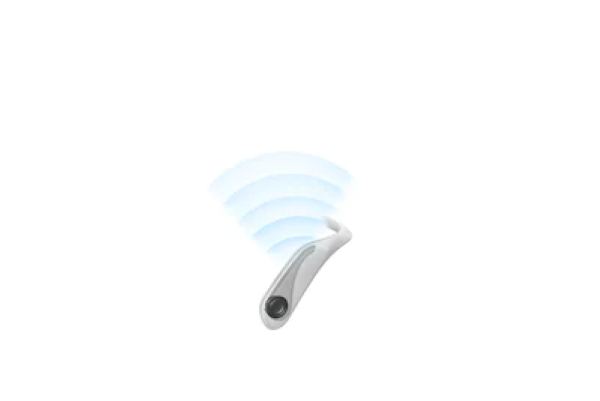 Thanks to the slotted design, the sound reverberates between the SRS-WS1's left and right speakers, while its sloped audio diffuser provides an intense, three-dimensional experience that totally immerses users in sound. The ducts on the lower part of the speaker reduce excess resonance to keep sound quality even clearer.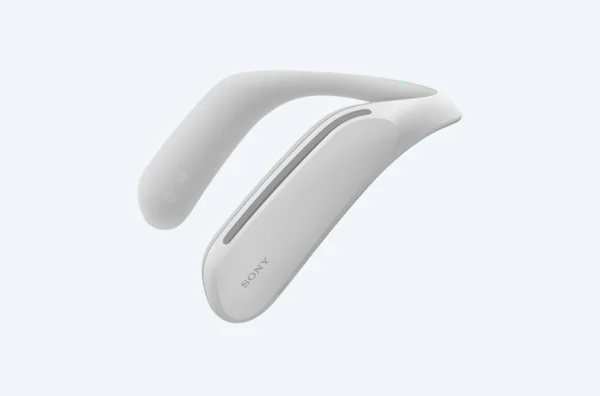 Special Compact & Powerful Dedicated Full-Range Speakers
Furthermore, the SONY SRS-WS1 also comes equipped with two specially developed compact and powerful dedicated full-range ø1.18″ speakers (one on each side) that can easily provide intense, high-quality sound. These two dedicated full-range speakers work together with a small diameter vibration board that provides excellent high-register playback.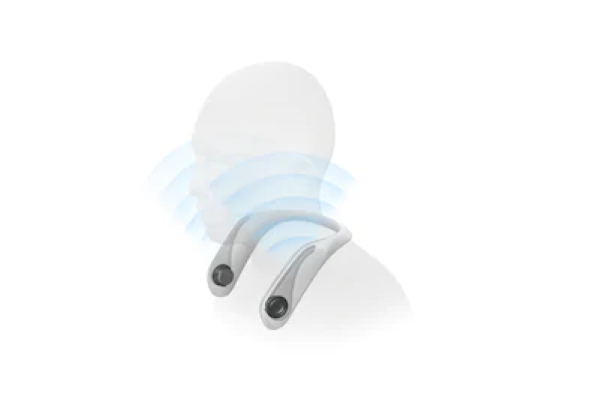 Whenever users place the SONY SRS-WS1 around their neck, that same small diameter vibration board is what allows the Wearable Neck Speaker to deliver a compact yet powerful dynamic listening experience that doesn't isolate users from their surroundings.
Passive Radiator Vibration Plate
Both speakers are also equipped with a passive radiator vibration plate that detects and then enhances low tones/frequencies. Those same low frequencies are then translated into natural-feeling vibrations after detected, producing vibrations together with bass sounds from film action scenes or at live venues, to ultimately provide users with an intense immersive experience.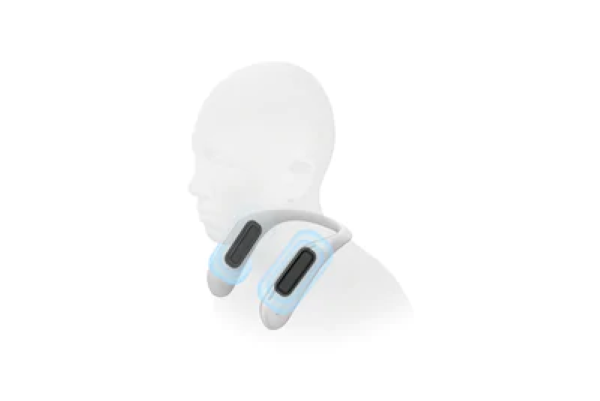 Lastly, this Wearable Neck Speaker was also designed with high-quality Acoustic Channels that allow sound waves to easily travel up the slots on both sides of the speaker, which get intensified as they are reflected off the speaker's hard interior surfaces.
Users will then hear not only the direct sound produced by the SONY SRS-WS1, but also the reverberations created by the reflection of those same sound waves, which once again, contributes to a more immersive sound experience.
SOUND QUALITY
Despite its compact size, the speaker combines the sounds and vibrations as they reach the ear to provide an intense experience that makes you feel as if you are really there.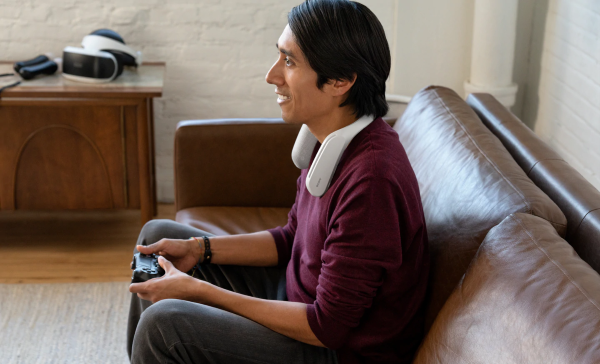 By using the easy-to-access quick-touch controls (found at the inner side of the device), the Vibration Intensity can quickly be adjusted to three different levels (high, medium, low), but users can also choose to turn it off entirely.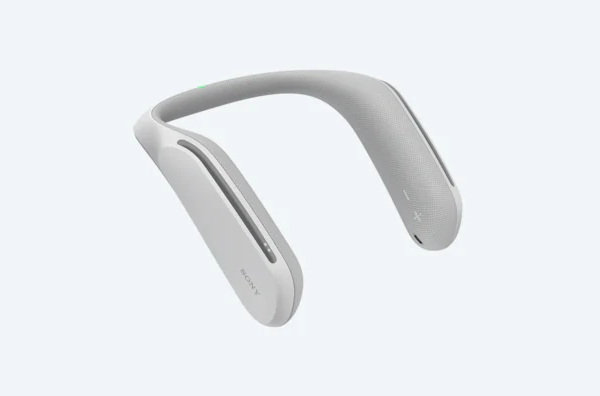 And don't worry when setting that function to low, as for situations or locations where you may need to keep the noise down for neighbors, roommates, or family members, the speaker still delivers great, high quality sound even at low volumes.
This ultimately allows other people to sit next to you and comfortably read a book or focus on any other task that requires silence, all without getting disturbed by the sound produced by your SONY SRS-WS1 when used at low intensity levels.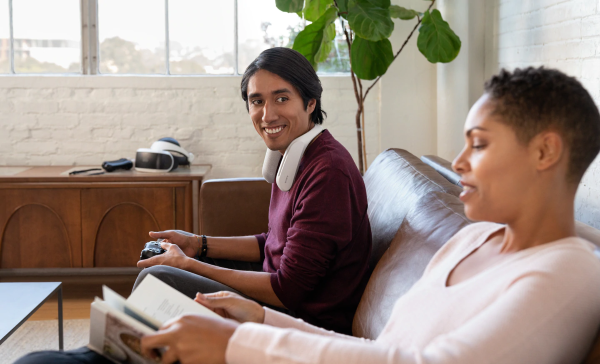 That's, once again, all thanks to the SONY SRS-WS1's unique design, which provides a personal sound experience that can also benefit those that have a difficult time of hearing at noninvasive sound levels.
The speaker rests on your shoulders and immerses you in full, clear sound and reactive vibrations, allowing users to enjoy a personalized sound experience while still being aware of their surroundings, as well as allowing them to easily join in any conversations with family and friends.
CONNECTIVITY
As mentioned before, the SONY SRS-WS1 Immersive Wearable Neck Speaker can stream audio from wired sound sources that are connect to its transmitter, a RF Receiver that works via Wireless RF technology for minimal audio lag.
The SRS-WS1 employs RF frequencies to ensure that users see on-screen exactly what they hear, meaning there's no audio delay at all, as all audio lag and any potential interference with other wireless devices in their home are both easily prevented.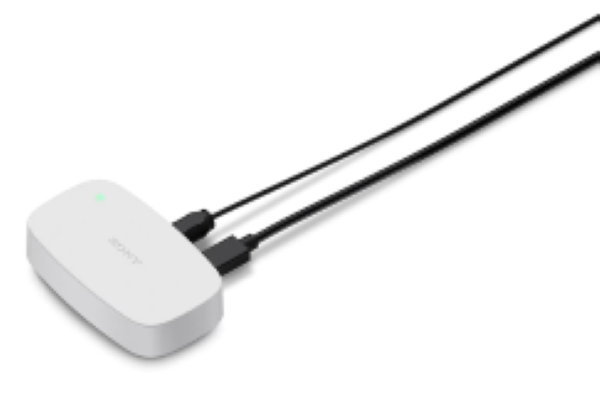 The SONY SRS-WS1's transmitter works at an Effective Operating Distance of approximately 100-feet range (98.43 ft.) – or 32.81-feet range approx. with 2 speakers – while featuring a Frequency Range of 2.402–2.478 GHz.
This RF Receiver is also small, compact and lightweight, measuring only 2.99″ x 0.67″ x 1.77″ and weighing just 1.06 oz. The SONY SRS-WS1's RF Receiver features two different Input Terminals, including a Stereo mini jack and an Optical jack (only fs = 48 kHz PCM), and is powered by its included USB-AC adapter.
HOW TO SETUP?
Setting up the SONY SRS-WS1 Immersive Wearable Neck Speaker with its RF Receiver is simple and super easy, offering you a quick plug-and-play-like connection to your TV and other devices.
All you have to do is plug the SRS-WS1's transmitter (RF Receiver) into a TV via its included digital optical cable or audio cable.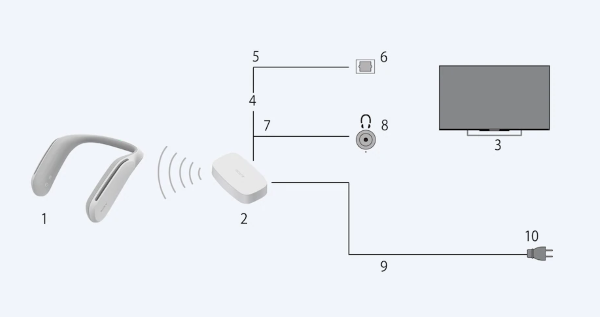 Furthermore, you can also connect it to the audio ports of your portable devices such as Smartphones or handheld gaming consoles to enjoy videos and music by using the supplied cable.
BATTERY AND BATTERY LIFE
As the SONY SRS-WS1 is a portable and wireless Immersive Wearable Neck Speaker, it is obviously powered by a built-in rechargeable battery. Its 1,000 mAh Li-ion Battery can provide around 7 hours of battery life.
One thing that's really cool about this Wearable Neck Speaker is that no cables are needed to recharge the device, as the SRS-WS1 fully supports Wireless Charging.
By placing the device on top of its included Charging Stand/Cradle, users can easily and quickly get their SRS-WS1 back to a full charge. This should take you around 3 hours only and no more than that.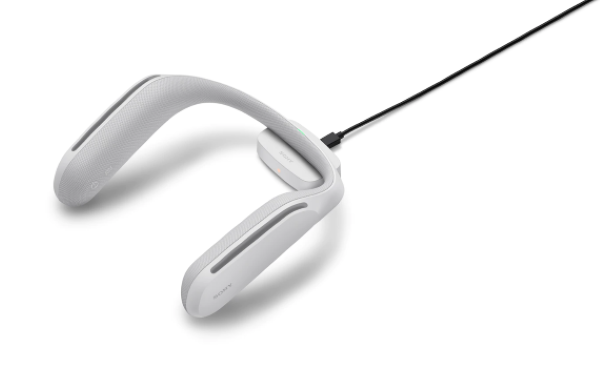 The included Charging Stand is powered by another USB-AC adapter (just like the speaker's RF Receiver), and is also quite small and lightweight, measuring just 2.99″ x 0.67″ x 1.77″ and weighing only 2.47 oz.
WHAT'S IN THE BOX?
Inside each package users will find: their SONY SRS-WS1 Wearable Neck Speaker, its proprietary Transmitter (RF Receiver) and an included USB-AC adapter for it, its proprietary Charging Stand with one more included USB-AC adapter for it, two (x2) included Micro USB cables, an Audio cable, a Digital optical cable, a Dedicated Audio Cable, the included Operating Instructions and Operating Instructions for Safety, and the Warranty Sheet.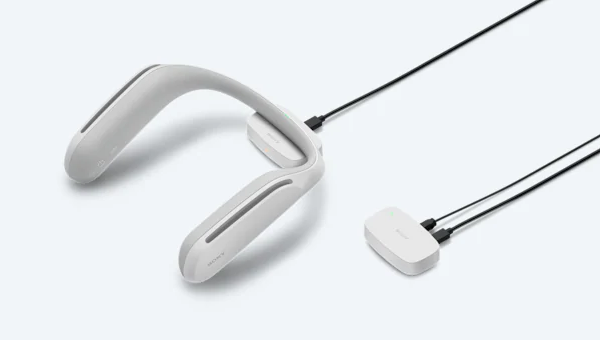 FINAL THOUGHTS
The SONY SRS-WS1 is an Immersive Wearable Neck Speaker that features a comfortable, lightweight, and secure design, while providing users with an immersive sound field so that they can experience TV, movies and games like never before.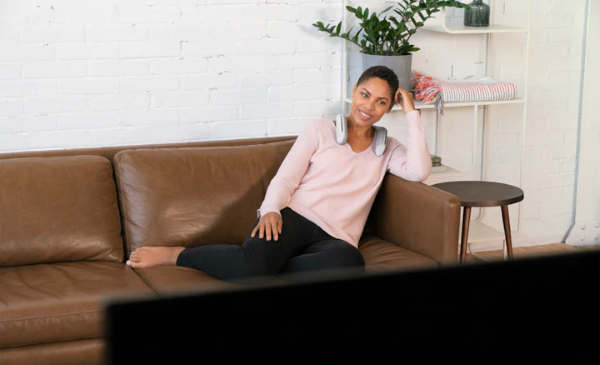 If you're interested in getting it, each set is currently going for $200. You can order yours online right now, directly from Sony's official website, which you can access via this link.