Sometimes we just can't be bothered going out to a club just to enjoy some party songs. Maybe we just don't feel like going out to the club that night, or maybe we are too tired from a hard day at work/college, or ultimately, we might just prefer to stay at home and have a smaller and less noisier party that we can enjoy with family and/or friends. And that's where having a portable party speaker like the JBL Pulse 4 Portable Bluetooth Speaker comes in handy.
With the JBL Pulse 4 you can kick start your party with JBL's signature sound, which comes accompanied by a dazzling LED light show all in 360 degrees.
While its waterproof design makes it great for pool parties, its rechargeable battery keeps the tunes flowing as well as its shiny, bright light show going, both staying alive for up to half a day on a single charge.
Via the JBL Connect App users can easily change the JBL Pulse 4's sound-responsive colors and patterns, as well as connect it with any other JBL PartyBoost compatible speakers to make their party an epic one to remember.
Let's take a fully detailed look at the JBL Pulse 4 Portable Bluetooth Speaker and check everything it has to offer.
DESIGN & SPECS
The JBL Pulse 4 is a small, compact and lightweight portable wireless Bluetooth speaker that measures 3.78 inches long by 3.78 inches wide by 8.15 inches tall, weighing exactly 2.78 lbs.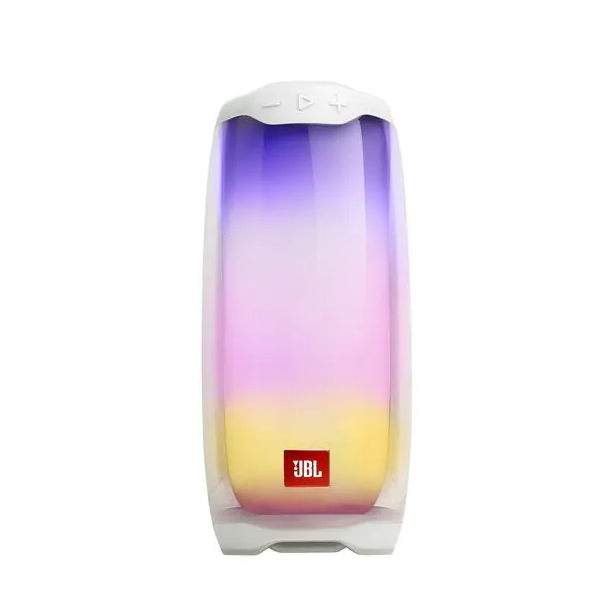 Thanks to its IPX7 waterproof design, the speaker is protected from accidental submersion in 1 meter (3.3 feet) of water for up to 30 minutes. That makes this portable party speaker great for any pool party you go to, or ultimately, host.
The JBL Pulse 4 comes equipped with a powerful and ingenious 360-degree speaker array that works at 20 W (Output power), allowing the speaker to easily deliver JBL's signature sound in every direction.
INTERFACE
The JBL Pulse 4 features a super easy-to-understand and mega intuitive user interface.
All of its action buttons are located at the very top of device, going around all its top cover.
Located at the top, at the very front, going from left to right, users will find a Decrease Volume Button, a Play/Pause button, and a Increase Volume button.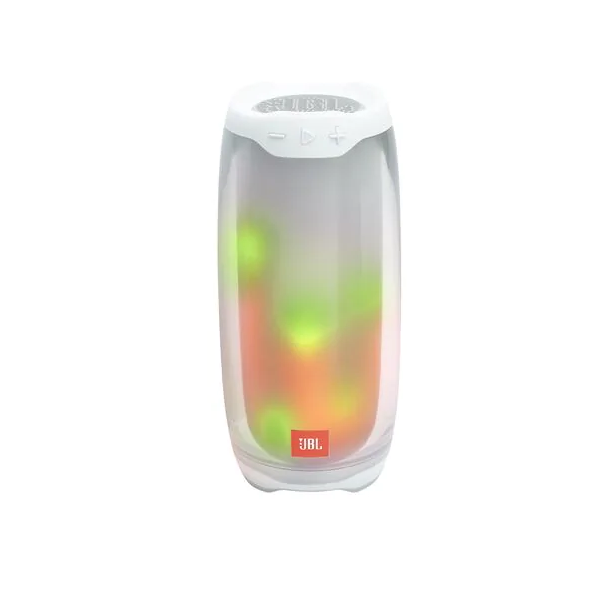 Going around its top cover, sitting on the opposite side (at the back), users can find the speaker's Light Show Button at the back left, and a Bluetooth Pairing button at the back right.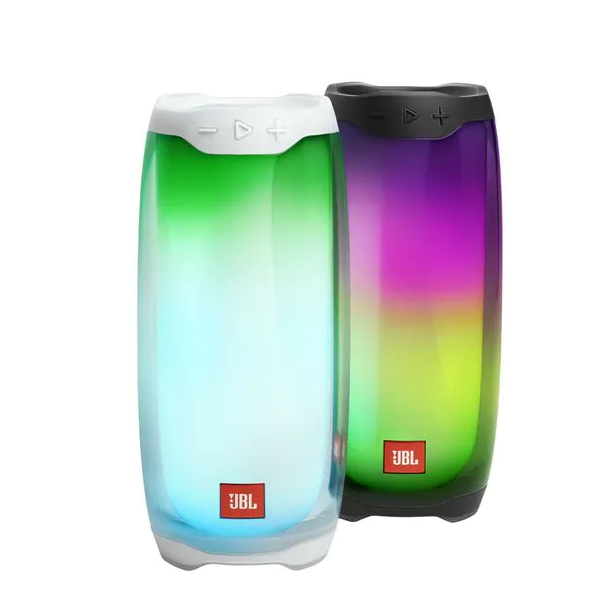 CONNECTIVITY
The JBL Pulse 4 is a wireless Bluetooth speaker, and as such, it offers a flawless connectivity to any of your portable devices via Bluetooth 4.2.
BATTERY & BATTERY LIFE
As a portable wireless speaker, the JBL Pulse 4 also comes equipped with a built-in 7,260mAh rechargeable Li-Ion Battery that can offer up to 12 hours of battery life/play time.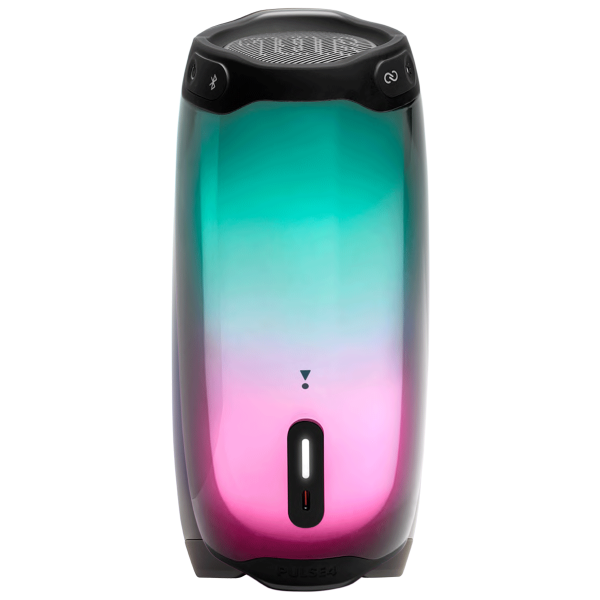 Recharging the speaker is also quick and easy. All you have to do is connect the speaker's included JBL branded USB-C cable to its USB-C port (located at the back of the speaker, near its base) and you can quickly recharge its battery back to a full charge within just 3.5 hours.
WHAT'S IN THE BOX?
The JBL Pulse 4 Portable Bluetooth Speaker comes tightly packed in a simple cardboard box.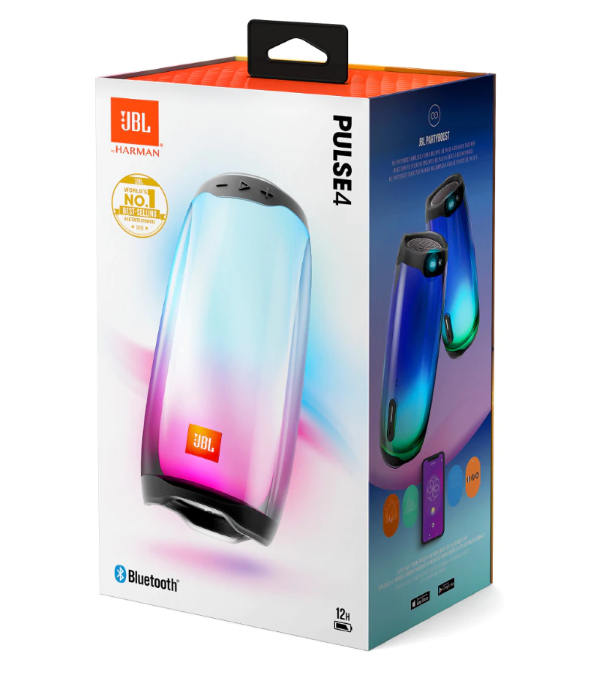 Inside each package users will find: their JBL Pulse 4 Speaker, its included JBL branded USB-C cable (to recharge its battery), a simple Quick start guide, a Safety Sheet, and the included warranty card (for its 1-year warranty).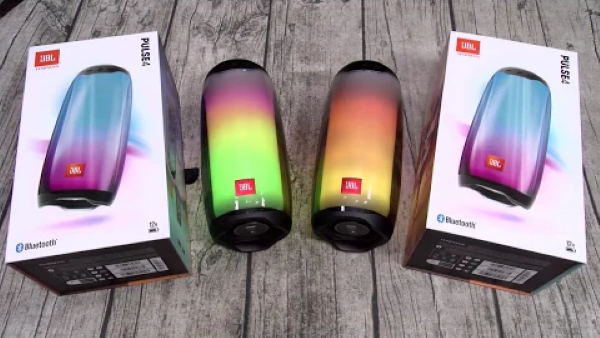 FEATURES
Auto-Power Off
The Pulse 4 speaker features an Auto-Power Off functionality that helps users to save some battery power, thus keeping some extra "juice" saved for future occasions.
Easy Speakers Pairing
Thanks to its featured compatibility with JBL PartyBoost, users can also connect their JBL Pulse 4 Speaker with any other JBL PartyBoost compatible speakers to make their party an even greater one.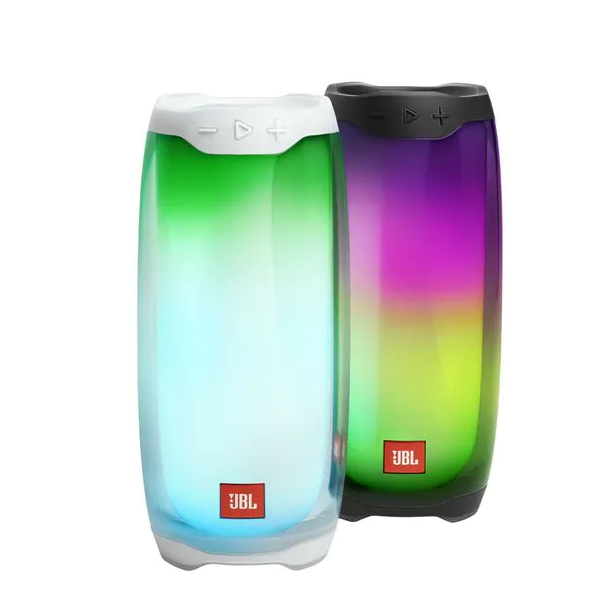 4 DIFFERENT LIGHTSHOW PATTERNS
The Pulse 4 speaker can shine through the entire night with an amazing, high-resolution, 360-degree LED lightshow.
That same LED lightshow can be quickly changed between one of four different lightshow patterns via the speaker's Light Show Button (located at the back left of its top cover), or by using the Smartphone Companion App (discussed ahead).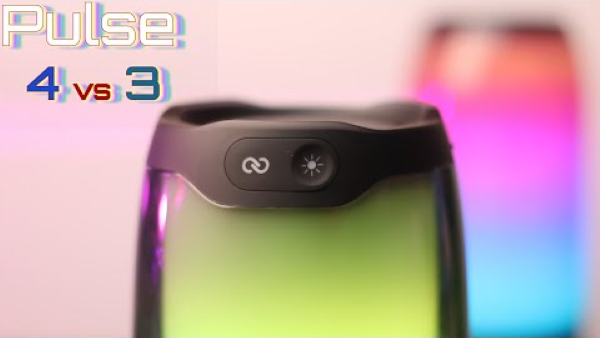 Easy Light Show Sync
By simply holding their Pulse 4 Speaker nearby and shaking it, users can sync up multiple Pulse 4 speakers together to have a wider and perfectly synced light show.
THE SMARTPHONE COMPANION APP – JBL CONNECT APP
By using the JBL Connect App, which is free for both iOS and Android devices, users can rule their party with ease.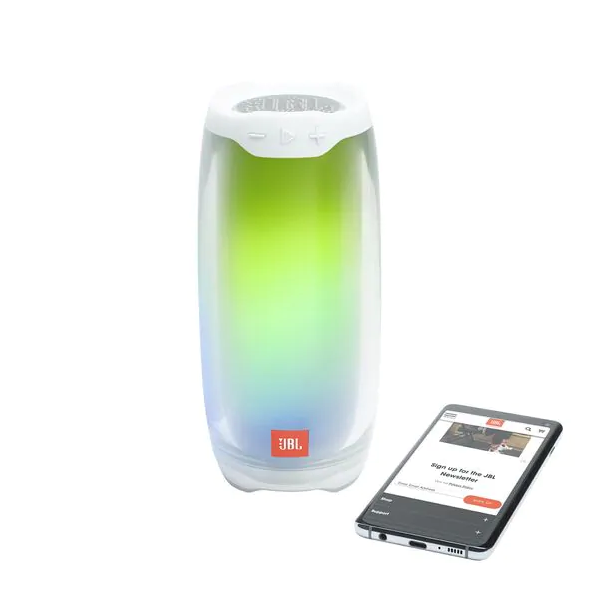 Via the App, users can visualise their music in a variety of light show themes or ultimately customize their very own.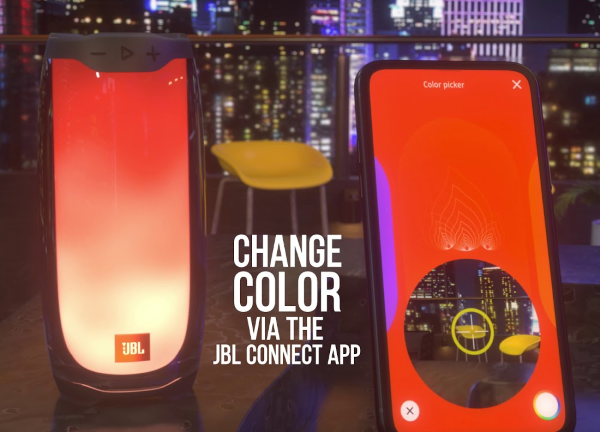 Furthermore, as the speaker's light show reacts to sounds, users can quickly turn their Pulse 4 Speaker into an ambient light show, whether their music is on or off.
FINAL THOUGHTS
The JBL Pulse 4 is a compact and lightweight portable Bluetooth speaker that's rated IPX7 Waterproof, featuring Auto-Power Off, Speakers Pairing, 4 Different Lightshow Patterns, and Easy Light Show Sync.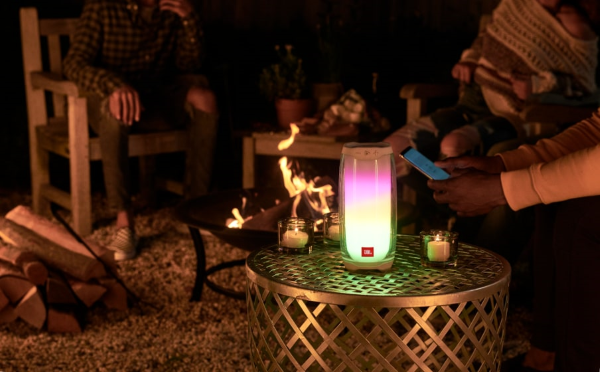 If you're interested in buying the JBL Pulse 4 speaker, each unit is currently going for $ and comes with a 1-year warranty. You can get orders online right now, directly from JBL's official shopping page, which you can access by clicking here.