Many Smart Home devices are already compatible with simple voice commands, and as such, allow just you and the power of your voice to make your home come alive. One of those devices is none other than the Leviton Decora Smart Voice Dimmer.
This is a smart voice dimmer that features a full range dimming performance, scheduling, and even Alexa Built-in. However, the best part about it is that in order to use it, absolutely no Smart Hub is required.
The Leviton Decora Smart Voice Dimmer is not only fully compatible with Amazon Alexa, but also with the My Leviton App, and both allow you to control your home's lights in many different ways.
Not only that, but thanks to its Amazon Alexa Voice Assistant Support/Compatibility, you can use your voice to not only dim and brighten your home's lights, but also to get Alexa to provide you with an easy way to listen to the news, get weather forecasts, play your favorite music, get answers to any questions you need to ask, and more; much, much more.
Let's take a look at this smart voice dimmer and all of its cool features.
DESIGN & SPECS
The Leviton Decora Smart Voice Dimmer is a somewhat small dimmer, measuring just 1.8 inches long by 1.3 inches wide (thick) by 4.1 inches tall after installed on a wall. It's also extremely lightweight, weighing only 8 oz.
This dimmer features a simple and stylish design that allows it to easily blend in within any Smart Home.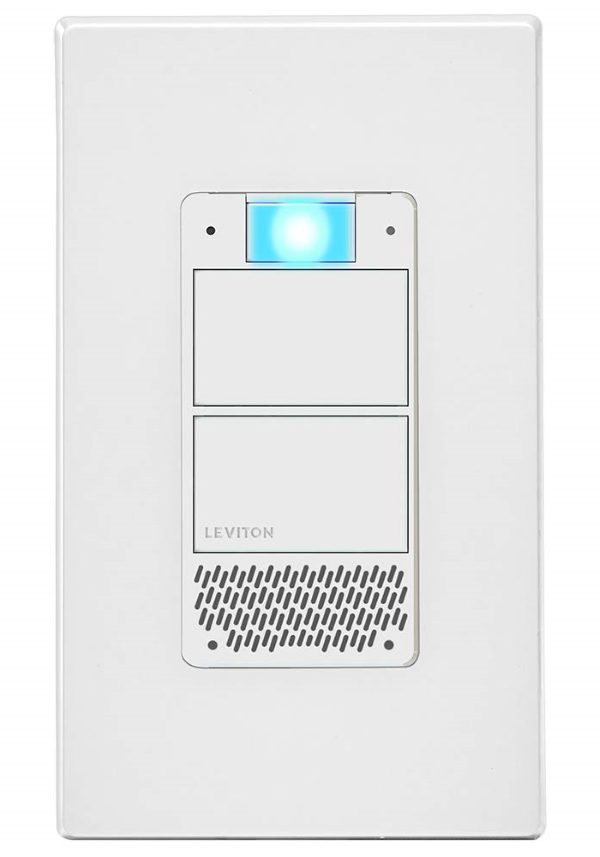 The smart voice dimmer comes equipped with an integrated speaker and microphone array (located at the bottom), thus providing users with a far-field voice recognition and acoustic performance within its small and compact design.
Furthermore, it also comes equipped with a bright LED unit (located at the top) that allows the smart dimmer to light up whenever it is being used with its supported Alexa voice features.
Lastly, this dimmer also features a built-in easy to use mute button and a pull tab to disable power.
It's also important to note that all Decora Smart devices are designed for countries which follow the NEMA standards, and that includes the United States, Canada and some parts of South America.
SUPER EASY SETUP, CONNECTIVITY & POWER SPECS
The Leviton Decora Smart Voice Dimmer is also extremely easy to install, as all it requires is the use of some neutral wire (a neutral wire will provide continuous power to the smart dimmer and is required for the dimmer's functionality).
Other than that, all you'll need to have in your home is a 2.4 GHz Wi-Fi network and Bluetooth connectivity (for setup purposes only).
Check out the company's setup guide video embedded below to see everything about the dimmer's installation process.
This smart voice dimmer is rated for dimmable LED loads up to 300W while also featuring Multi-location (3-way) dimming, allowing users to add up to 4 remote units (DD00R or DD0SR) to it.
This "Single Pole" or 3-Way Multi-Location design allows users to control the same lights from multiple locations by using either the Decora Digital DD00R for 3-way remote dimming or the DD0SR for 3-way remote switching.
FEATURES
Full Smart Home Compatibility for the Ultimate Smart Home
The Leviton Decora Smart Voice Dimmer is an high-quality smart voice dimmer that offers full compatibility with any Smart Home.
With it, users can not only control their home's lights, but also many compatible smart devices like thermostats, TVs, locks, and more.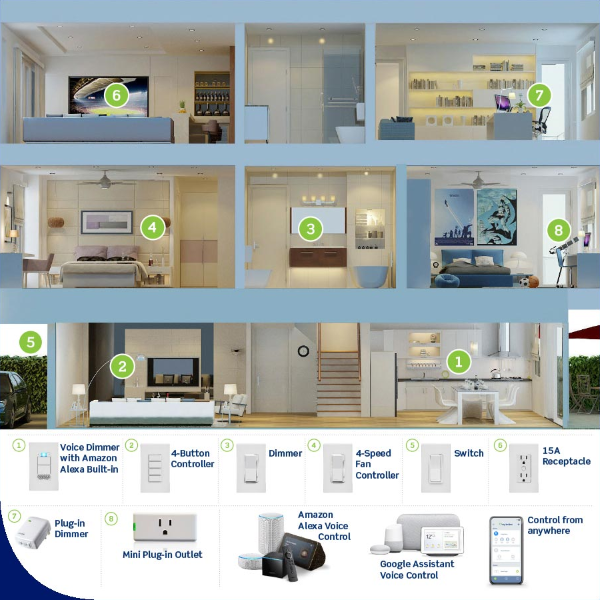 This ultimately allows users to have a super complete Smart Home setup that makes each and every home super smart, with a ton of included Smart Features per each setup.
Smart Light Turning Off
With the Leviton Decora Smart Voice Dimmer, "Off" really means OFF! This smart voice dimmer ensures that all of your low-wattage LED bulbs always turn off when you need them to go down.
Extreme IFTT Compatibility with tons of Smart Home IoT Integrations
This smart voice dimmer works with a ton of advanced Smart Home Integrations like Amazon Alexa, Google Assistant, IFTTT, and more.
By using the free IFTTT service to connect their My Leviton devices with other Internet Of Things (IoT) enabled devices and services, users can create a smarter home automation experience. This ultimately allows users to utilize auto-shutoff in their closets, hallways and bathrooms.
At the same time, users can also setup something that's called "Vacation Mode" via the free IFTT service.
This is basically a randomization smart mode that randomly uses different smart features to ultimately create a "lived-in look", thus giving people outside the impression that a family is still living their day by day lives inside their home, when you're actually abroad enjoying some very needed vacations with the ones you love the most.
The Ultimate Hands-Free Experience with Amazon Alexa Voice Commands
The Decora Smart Voice Dimmer with Alexa Built-in provides hands-free lighting control, as well as man other benefits of Alexa Voice Services integrated directly into your Home to make life simpler and easier.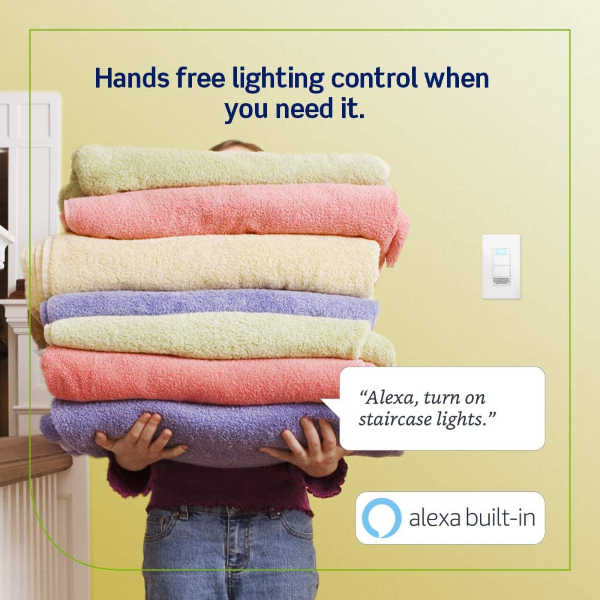 In addition to being a 3-way capable dimmer, thanks to the smart voice dimmer's built-in microphones and speakers users can also ask Alexa to play some music from a variety of music services, get updated on what's going on with flash news briefing, sports updates, and weather reports, set up cooking timers for smart cooking devices that are integrated within their smart home, and also configure alarms for waking up in the morning.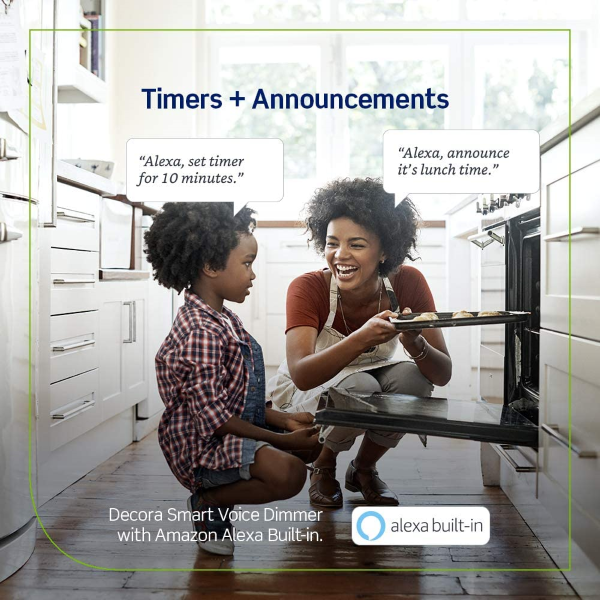 Furthermore, users can also have Alexa announce important messages across all compatible Alexa devices in their home or even bring out Alexa's fun side by asking her to play a game or tell a joke.
This ultimately allows users to control many of their Smart Home devices and more while using just their voice, meaning that no extra hardware is ever required.
Be aware that all of these Alexa voice interactions are only available in English, Spanish, and French – the language used to talk to Alexa and also get an answer back from the Voice Assistant in that same language.
SMARTPHONE COMPANION APP – MY LEVITON APP
By using the Smartphone Companion App, which is simply called the My Leviton App (available for free for both iOS and Android devices), users are offered a convenient and full range method of dimming their lights.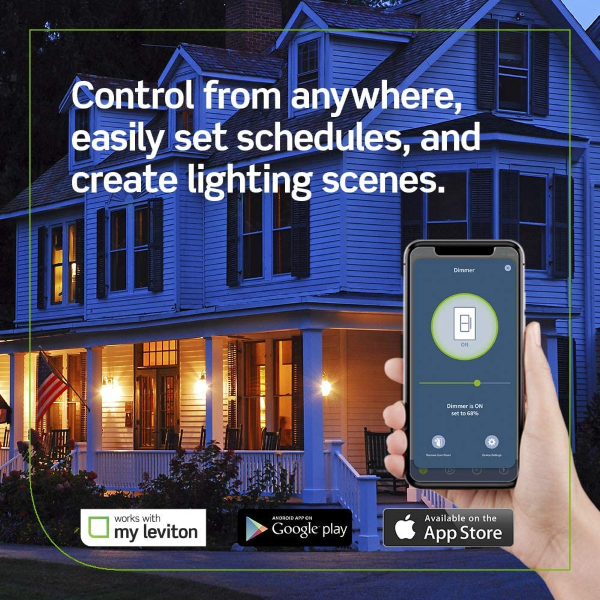 The My Leviton App brings users a best-in-class dimming performance with custom settings like preset lighting levels, fade rates, bulb types and much, much more.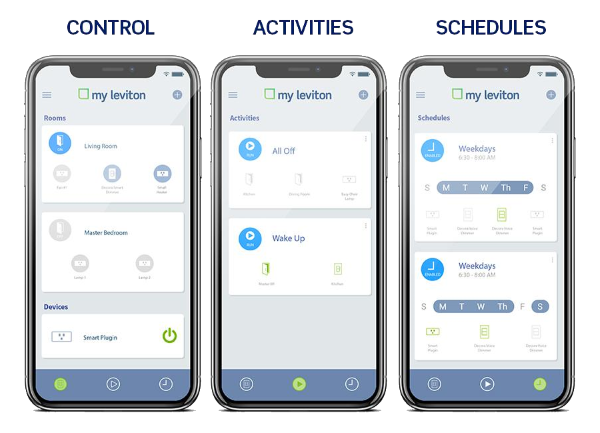 FINAL THOUGHTS
The Leviton Decora Smart Voice Dimmer is a smart voice dimmer that features a full range dimming performance and lighting scheduling via either its Alexa integration or the My Leviton App.
When combined with other Decora Smart Wi-Fi dimmers, switches, and smart plugs users can easily create a super complete Wi-Fi lighting solution with built-in voice controls, scheduling and lighting scenes and then use either their voice or the App to control the system from anywhere.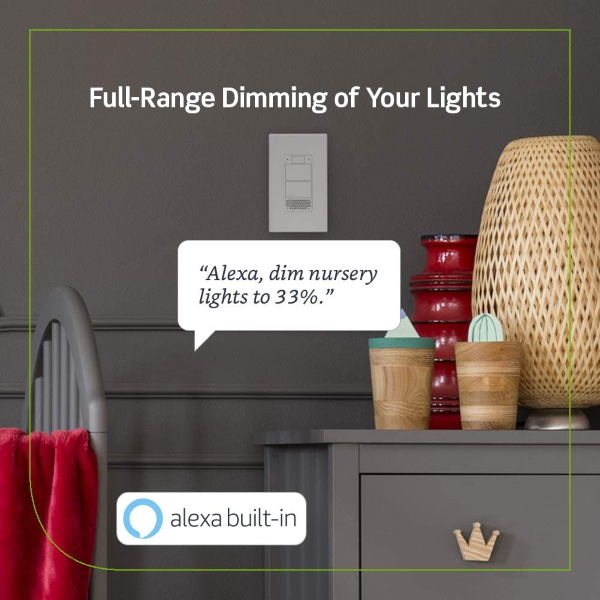 Not only that, but other thank connecting to Wi-Fi and the My Leviton App, this smart voice dimmer also works with many different smart solutions like Google, August, IFTTT and more.
If you're interested in buying it, each unit is currently going for $125, coming with a 2-Year Limited Warranty. You can get yours right now, directly from Leviton's official shopping page, which you can access by clicking this link.