By having a decent and high-quality cooler you can keep your food and drinks fresh all day long when looking to go out on a picnic, attending baseball games or any other kids' sporting events where you also might be tailgating, as well as going boating or camping in the woods. A very cool (no pun intended) high-quality cooler that certainly won't let you down is the Ergodyne Chill-Its 5170 Cooler.
Generally speaking, all commercial coolers use the same method of insulation, which basically includes some average-quality foam that's placed between the cooler's inner and outer walls.
Foam is a great insulator for coolers because it is filled with gas bubbles, and since gases conduct heat less effectively than either liquids or solids, trapping the gas in small bubbles prevents the gas from effectively transferring heat via convection. Furthermore, that foam is placed within the cooler in the shape of vertical "walls of gas bubbles", which are mainly composed by polymer molecules that are bonded fairly loosely, thus limiting the rate at which heat can be transferred from one molecule to another.
However, having a lower-quality foam used in a cooler basically means that after a couple of uses under direct sunlight, those coolers will simply stop working when looking to cool your food/drinks.
Nevertheless, that's something that will just not happen when using the Ergodyne Chill-Its 5170 Cooler. This is a high-quality industrial/jobsite hard-sided cooler that's extremely durable, featuring a super large 17-quart main compartment that can hold a ton of drinks, as well as delicious snacks that are already prepared and ready to eat.
This makes it the perfect jobsite lunchbox for those who are working in the heat, including in construction, maintenance, landscaping, HVAC or trades. Furthermore, it also makes this a great cooler for anyone that's looking to attend any sports games, go for a picnic, camping, and pretty much anything else you can think of that's related to enjoyable family and/or relaxing activies.
DESIGN & SPECS
The Ergodyne Chill-Its 5170 is an industrial hard-sided cooler that measures 16.2 inches long by 12 inches wide by 12 inches tall ( 41.2 x 30.5 x 30.5 cm), featuring a very durable build/rugged construction that makes it possible for users to use it as a stool/extra seat.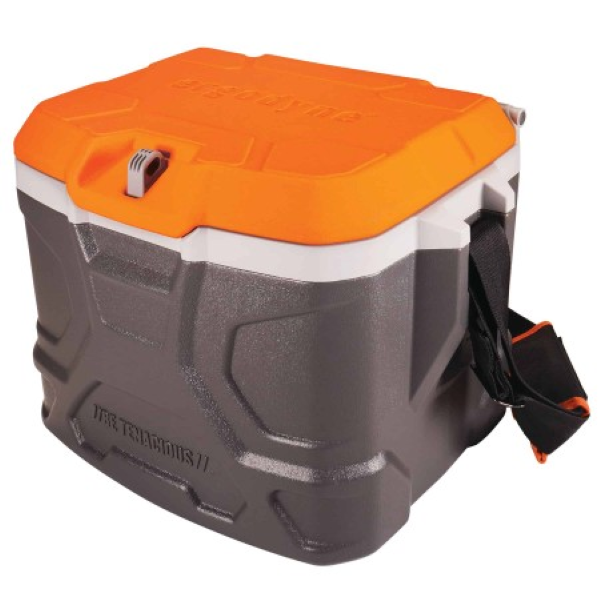 The cooler can ultimately hold up to/support 300 lbs. (136.1 kg).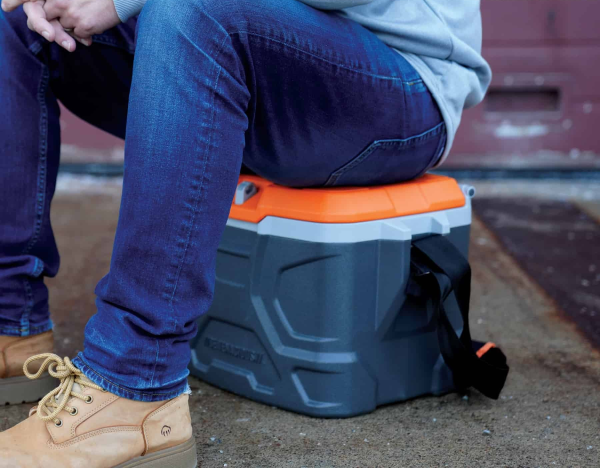 This huge cooler features a 17-quart (16.1 L) large main compartment that can hold up to 18 cans with ease, meaning that its durable walls will never get damaged, curved up and start widening out/losing their straight-up structural build.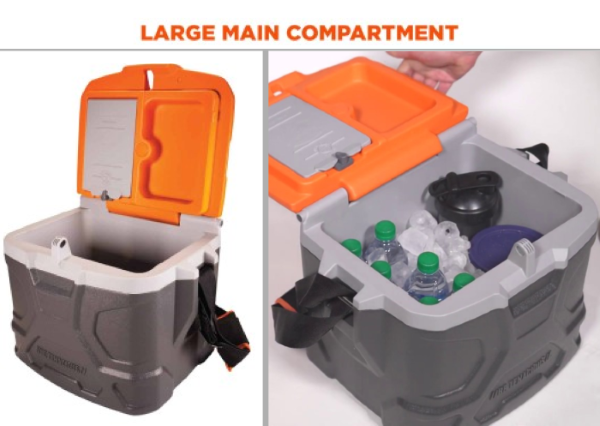 Furthermore, the cooler's lid is recessed, making the cooler's large main compartment tall enough to easily store/accommodate 1-liter bottles.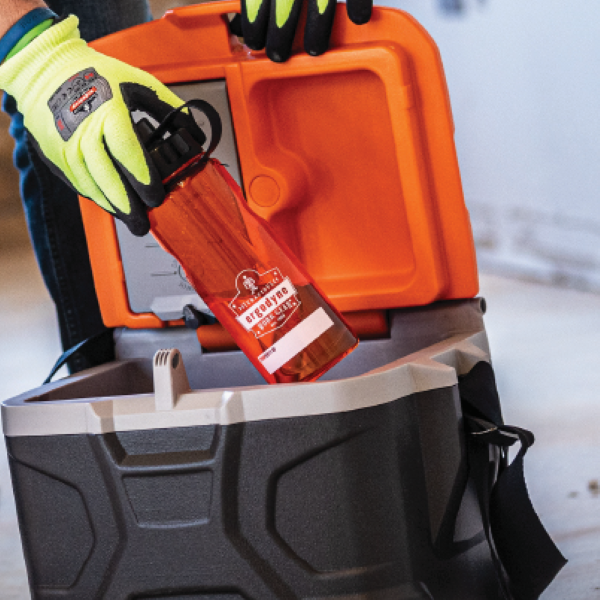 This high-quality cooler can easily keep both your food and drinks chilly cold up to 41°F (5°C) for up to 30 hours.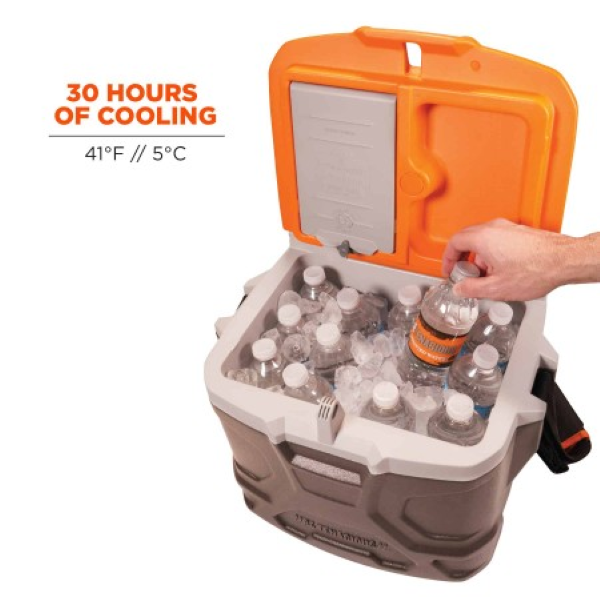 The cooler also features a no-rust stainless steel hinged lid that can be locked in place at either 90 degrees, or ultimately fully opened to a full 180-degrees to allow for uninterrupted access to the cooler's interior compartment, which can be found on the left side of the cooler's lid (after opened).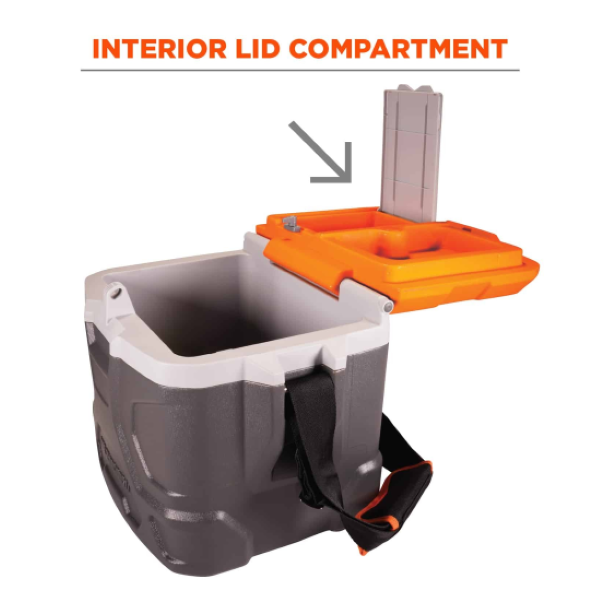 This small interior compartment is great for users to store their personal items like smartphone, house/car keys and personal documents, as well as utensils, napkins, medicine, etc.
The Ergodyne Chill-Its 5170 Cooler also comes equipped with an extremely durable fabric handle that can be easily converted to a reliable and comfortable-to-use shoulder strap to ultimately allow users to have an easy way of transporting the cooler around from place to place.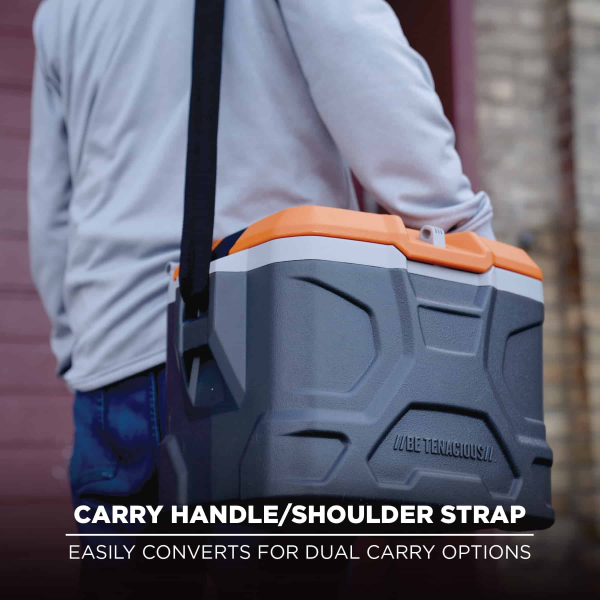 Lastly, the cooler's lid also integrates a lock hasp that can be optionally used to accommodate a Master Lock, allowing users to keep all of their cooler's contents safe and sound.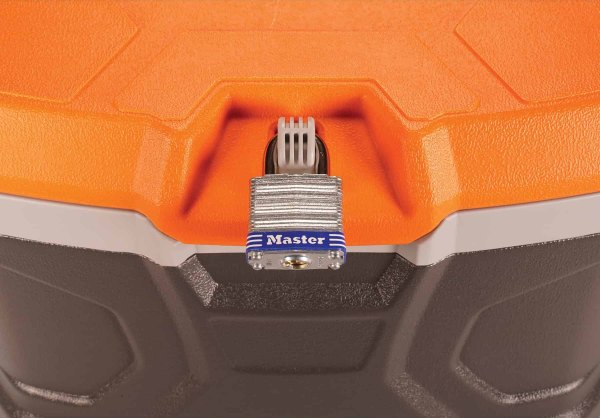 That's something that users should obviously do when using the cooler's smaller interior compartment to store valuable personal belongings like a smartphone or important personal documents.
NOTABLE FEATURES
Activate Cooling Gear
This industrial-grade cooler can also be used to activate cooling products/gear, meaning this cooler can be used for soaking and/or storing towels, vests and head-wear.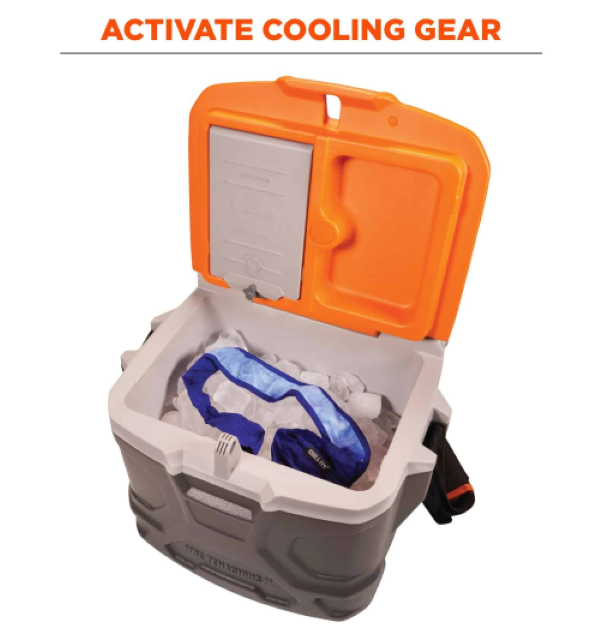 FINAL THOUGHTS
The Ergodyne Chill-Its 5170 Cooler is a durable industrial hard-sided cooler that features a large 17-quart main compartment that holds up to 18 drinks, an interior compartment for personal items, a fabric handle/shoulder strap that makes carrying the cooler an easy task, and a lock hasp that can accommodate a Master Lock.
This high-quality jobsite cooler can be used as the ultimate cooling lunchbox, and is perfect for those who are working in the heat (construction/maintenance/landscaping/HVAC/trades), but also works as a great weekend cooler for baseball games, kids' sporting events, camping, boating and more.
If you're interested in buying it, each unit is currently going for $78, coming available in one single color model (Orange and Gray). You can order yours online right now, directly from Ergodyne's official shopping page, which you can access via this link.