Whenever you're planning to go on an outdoors adventure, it's very important that you take a portable power source with you that allows to keep your personal devices (Smartphone, tablet, portable music player, portable speaker, etc.) juiced up, just to ultimately ensure that they never run out of battery while you're away from home. For example, taking a portable power bank with you will allow you to keep your devices charged for a while, but as soon as it runs out of power (its charged up battery), you'll be back to the same problem. Then, there's obviously solar-powered power banks, but once again, if there's no sun during one or more days of your outdoors expedition, you'll basically have no power source to draw energy from. However, there's a new solution out there that can easily overcome all of those obstacles, and that is none other than the WaterLily Turbine.
The WaterLily Turbine is basically a portable power generator water-turbine that's equipped with a USB connector, allowing any outdoors adventurer to easily charge any of their small portable devices in the exactly same time they'd be able to do so at home.
Since this portable power generator was designed as a small turbine, outdoors adventurers of all sorts (like campers, RVers, or even paddlers) can conveniently take it with them to any location that has a flowing body of water – like a river, small water streams, etc.
That way, outdoors enthusiasts can not only use it as a water turbine to generate power and charge their devices, but also take it to any other location that doesn't have a water stream around, and ultimately use it as a wind turbine to generate power and charge their portable devices during windy days by drawing energy from any potential strong gusts of wind.
All this makes it perfect for all types of off-grid use, starting from camping expeditions all the way to afternoon canoe trips by yourself, or with family and/or friends.
Let's take a more detailed look the WaterLily Turbine and check everything that this portable power generator has to offer.
DESIGN & SPECS
When examining the WaterLily Turbine, this ultra-lightweight portable power generator features a very ingenious design that allows it to be used either as a water turbine or a wind turbine to ultimately generate power to recharge any of your portable USB-compatible devices, including Smartphones, power banks, portable speakers, LED camp lights, etc.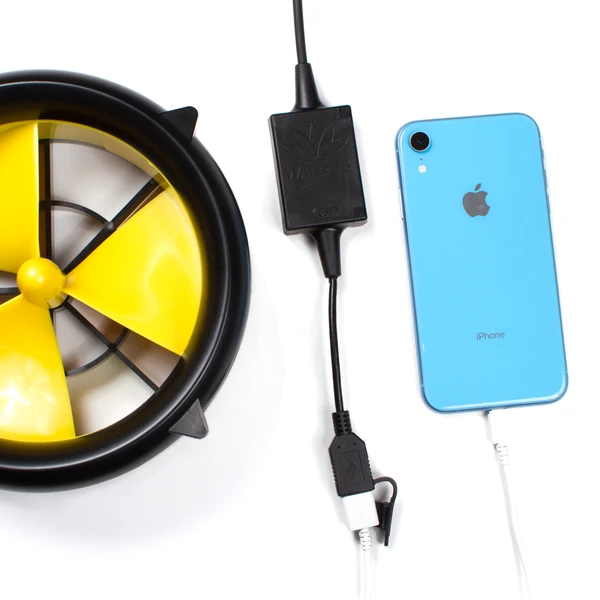 Thanks to its clever design, the WaterLily Turbine can be very easily installed / set up within a river or any other water stream.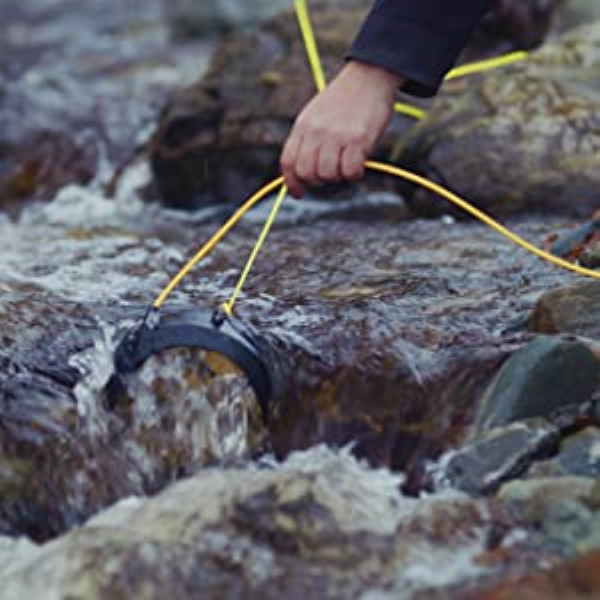 Then, once you have your WaterLily placed in a desired position, just plug-in your Smartphone, power bank, portable USB speakers, or any other USB-compatible device, and happily go about your day exploring Mother Nature. This ultimately makes the WaterLily work exactly like a plug outlet for your campsite.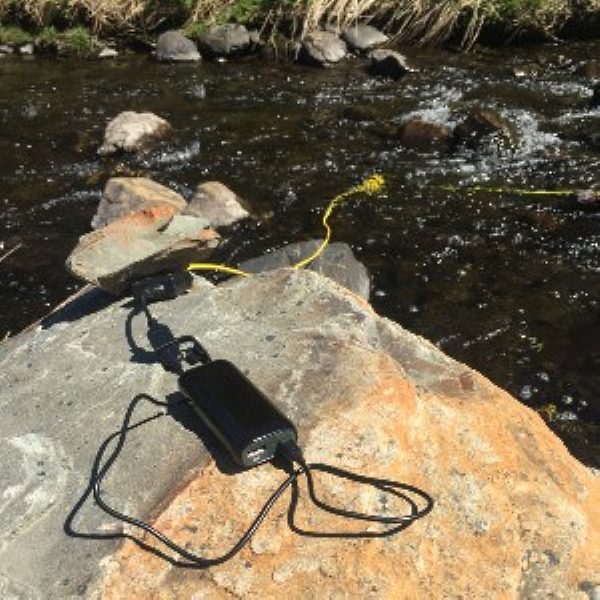 That same ingenious design is composed by a total of 8 features that allow this portable power generator to work in a flawless manner.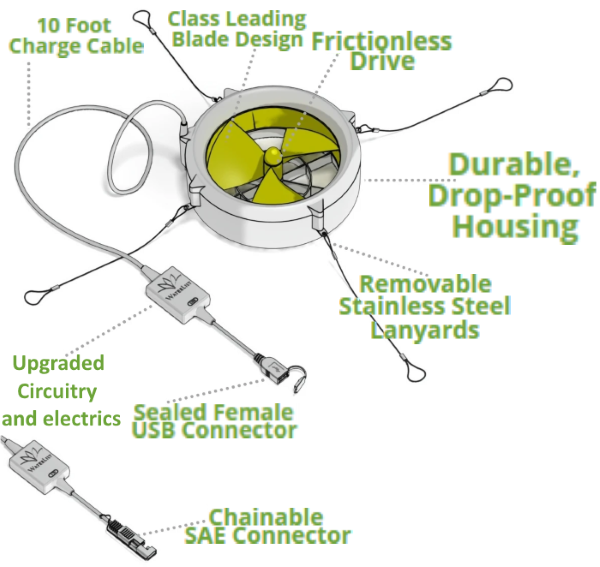 Starting at its center, the WaterLily Turbine features a class-leading blade design that's based on the company's patented HydroElectric Charge System that has been perfected from nearly 10 years of research and development. That same water-based power generation system comes from a total of 7 years of subsea research.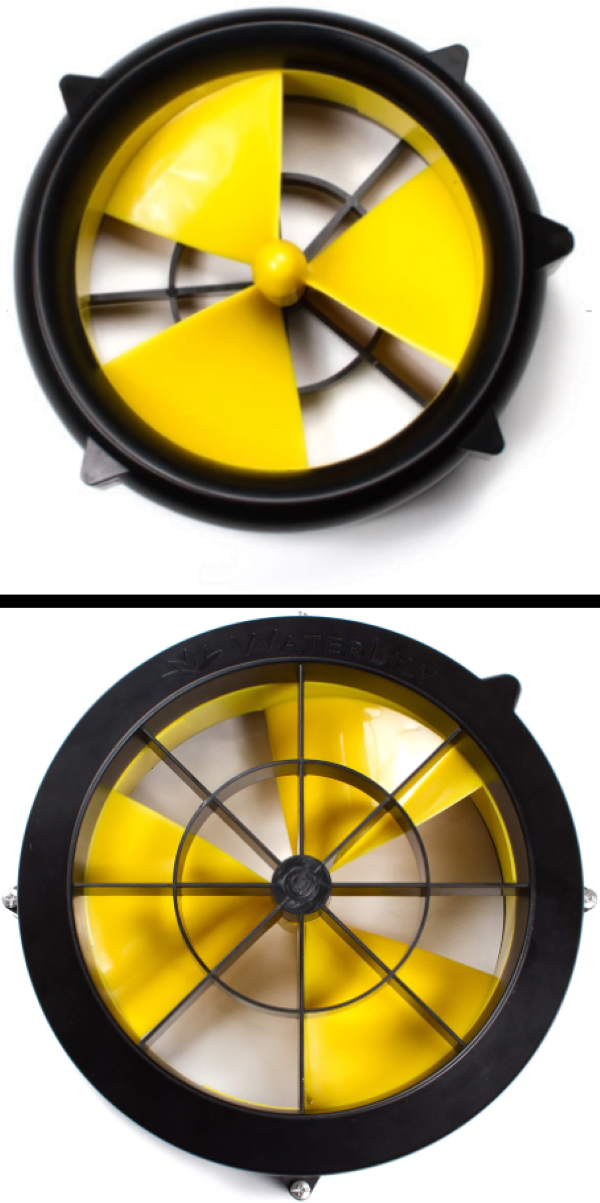 As said, the WaterLily's design is based on a long-time developed power generation system, which means that this is not the company's original model anymore. Nope. This is an improved generation that offers a much better power delivery than the original model ever did.
As mentioned before, the WaterLily can be used both as a water turbine and a wind turbine, and it's all thanks to its Frictionless Drive.
When used as a water turbine, this portable power generator can quickly recharge any of your USB-compatible devices when placed inside water flows that go at less than 1mph.
When used as a wind turbine, the only thing you'll need, obviously, is to have a windy day and some strong gusts of wind to recharge any of your portable devices.
Connected to the main unit itself, you'll find a 10-foot Charging Cable that will keep any and all of your devices safe while their charging, as this is an abrasion resistant cable. This basically means that you won't have to worry about your devices being taken away by the force of a water stream or river (when using the WaterLily as a water turbine) as well as by any strong wind gusts (when using the WaterLily as a wind turbine).
At the very end of its 10-foot Charging Cable you'll find a sealed Female USB Connector that's equipped with reliable high-quality waterproof flaps that keep the cable's USB port clean and dry during any times that you're not using it. This USB Connector can provide up to 15W of power to recharge your portable devices.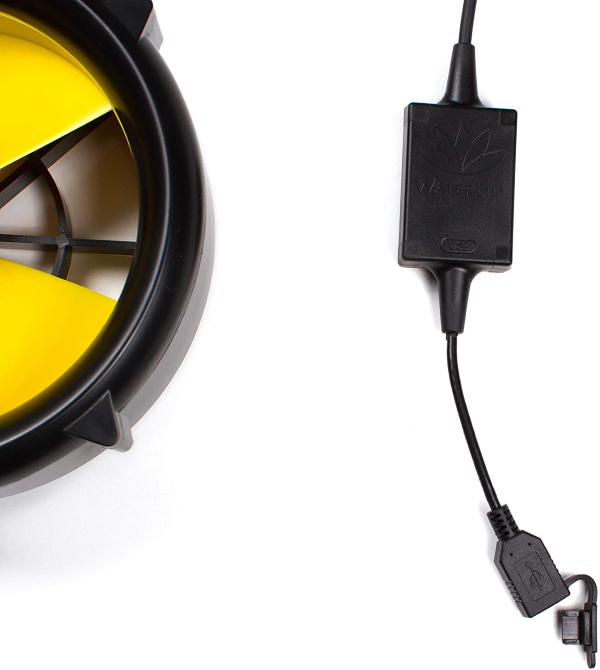 Integrated into the center of its 10-foot Charging Cable you'll find the latest generation of this product's upgraded circuitry and electrics, which allows this brand-new generation of WaterLily devices to produce up to 20% more power than the original model ever could.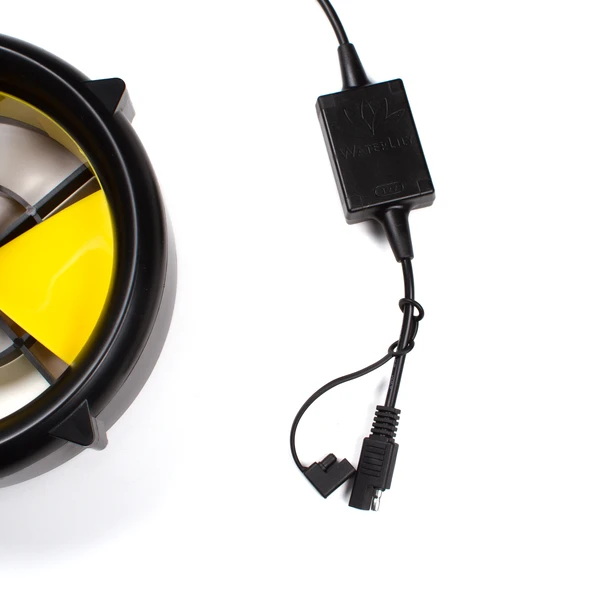 Each unit also comes with an included Chainable SAE Connector that's super versatile, featuring a total of 14.6V of power. This ultimately allows you to Daisy-Chain (chain multiple units) multiple turbines for even more power.
Furthermore, each unit also comes equipped with 4 flexible and removable stainless-steel lanyards that brings users tons of set-up and mounting options, ultimately allowing users to attach the WaterLily Turbine to just about any other camping/hiking/paddling gear they want.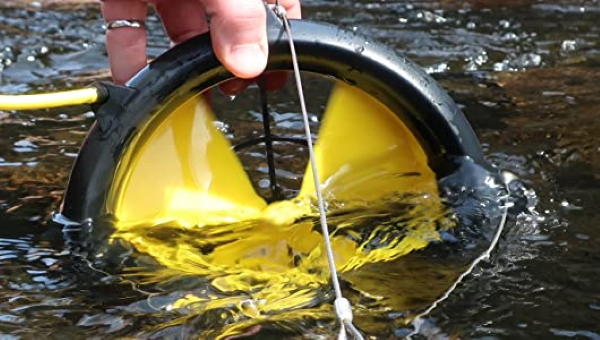 Additionally, the WaterLily Turbine can also be towed to a canoe, kayak, raft or sailboat so that you can ultimately take it with you to literally anywhere, including into the water of course.
Lastly, all of its internal electric and non-electric components are protected by a very durable and drop-proof housing that was built to keep the WaterLily Turbine's power going through any unexpected bumps and bruises that you might find in any of your outdoor adventures.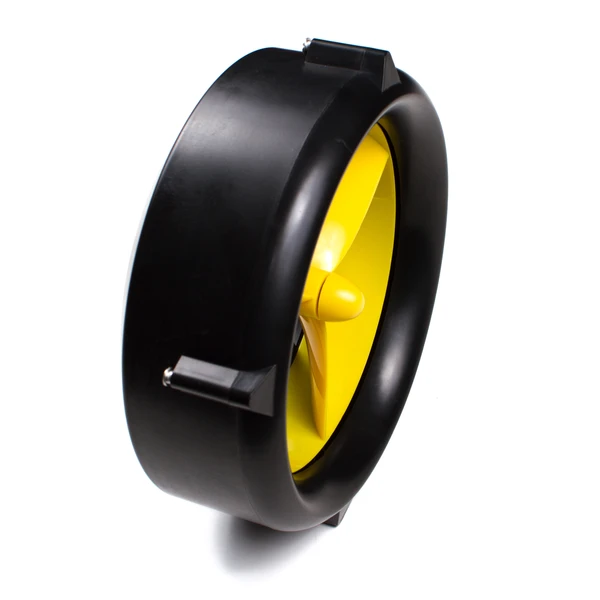 Thanks to the WaterLily's shockproof housing and weatherproof design, this portable power generator is not only durable, but also built for repeated use, as the unit can easily withstand any harsh river and/or wind conditions.
FINAL THOUGHTS
The WaterLily Turbine is an ultra-lightweight portable power generator equipped with a USB connector that can work both as a water turbine and wind turbine, allowing outdoors adventurers to easily recharge any USB-compatible devices while their out exploring Mother Nature.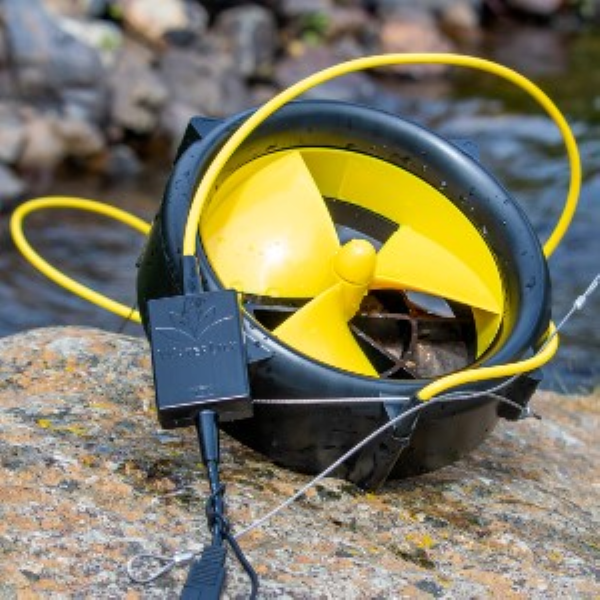 If you're interested in buying it, each WaterLily Turbine model w/ USB Connector is currently going for $160.
Additionally, there's another model available, which instead of coming equipped with a standard USB Connector, features a 12V Connector, costing $190 per unit.
You can any order any of those two models (or both) online right now, directly from the company's official shopping page, which you can access via this link.