For any "at-home chef" that's passionate about grilling and/or barbecuing, having the right grill is super important. Not only should that grill obviously fit your needs, including size, the amount of grill racks (A.K.A. cooking grates or simply "shelves"), and if it's an electric powered, gas powered, or charcoal grill, but should also fit your lifestyle and budget. This brings us to the Kenyon City Grill.
The Kenyon City Grill is an affordable high-quality handcrafted portable electric grill. As the name implies, this portable grill is targeted towards people that live in city areas and just can't light a charcoal or gas grill.
As such, this portable tabletop electric grill was designed solely with urban living in mind, thus allowing it to exceed the requirements of city fire codes where open flame grilling is simply prohibited.
Not only that, but its sleek engineering also makes it virtually smokeless and without any flare-ups whatsoever, which ultimately makes it the perfect fit for both indoors cooking within your kitchen as well as outdoors cooking on your balcony or backyard.
Let's have a more detailed look at the Kenyon City Grill and check just about everything it has to offer.
DESIGN & SPECS
Starting with its measurements, the Kenyon City Grill is available in two different models. You can get it with either a Faceted (Angular) Lid or with an Oval Lid.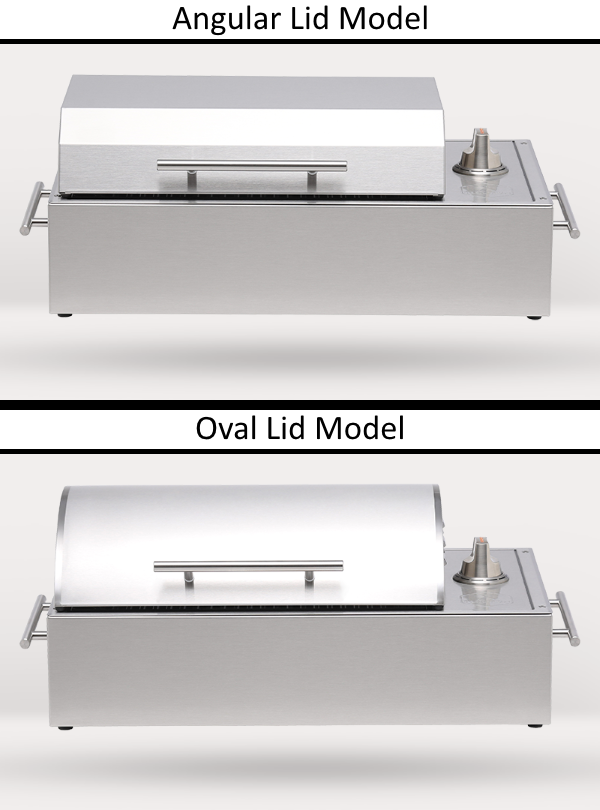 The Faceted (Angular) Lid model measures 21 inches long by 12 inches wide by 8.56 inches tall, while the Oval Lid measures 21 inches long by 12 inches wide by 9.37 inches tall.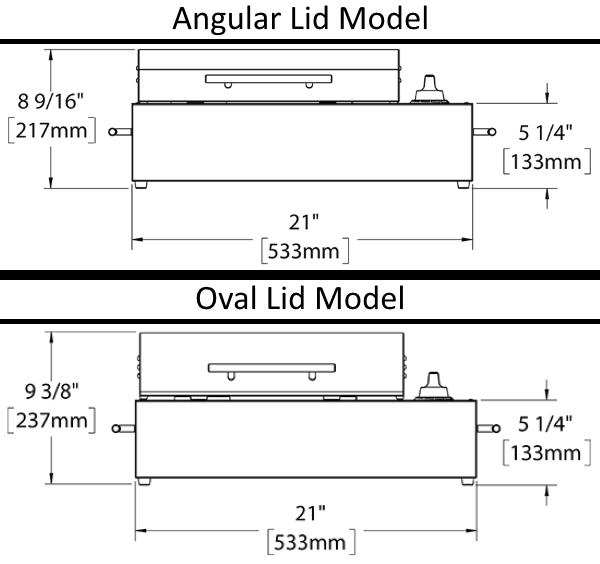 The first thing you'll notice when picking up this portable electric grill is its weight, as the grill itself weighs around 27 lbs., meaning that Kenyon City Grill is actually really bulky/stout.
While that may make it a little less portable, that also means that this portable electric grill is simply very, very sturdy, which just makes it more durable than most other portable electric grills out there.
Furthermore, the Kenyon City Grill features a really nice design, which not only includes a really nice stainless steel finish that really reminds you of a conventional gas grill, but also allows this tabletop electric grill to easily and seamlessly blend in with the rest of your kitchen when used indoors.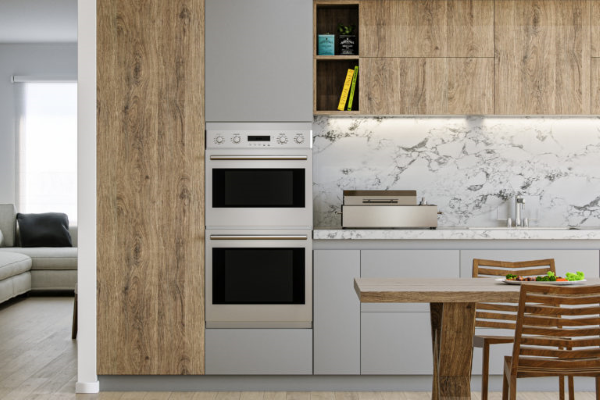 Additionally, its build is composed by a ton of high-quality and durable Marine-Grade Stainless Steel components, which help to ensure that this awesome cooking gadget has a really long lifespan.
Those include really sturdy stainless steel handles, a stainless steel knob that can be used to control the grill's temperature, which – going from left to right – can be set to Low, Off, and High, as well as a standard and very sturdy stainless steel lid, no matter what model (Faceted (Angular) Lid or Oval Lid) you decide to go with.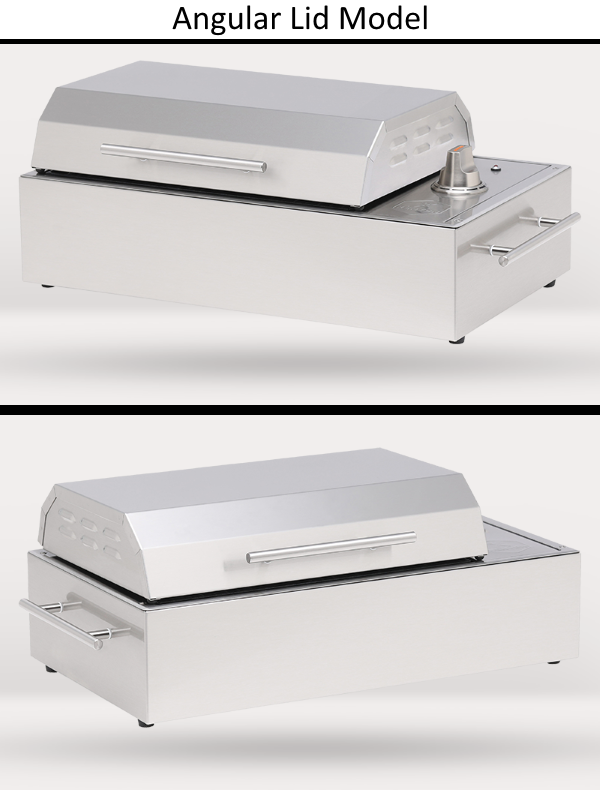 You'll probably want to play around a bit with the unit's stainless steel knob – which basically works as a standard knob temperature "regulator" (or "potentiometer") – and test different temperatures.
That will allow you to find just the right heat zone for the different foods you might want to cook. For example, you'd want to have it around the medium to medium-high level for something like a pork chop or a chicken breast, while for something more bulky, like a steak for example, you'd want to set its temperature knob all the way up to high (max).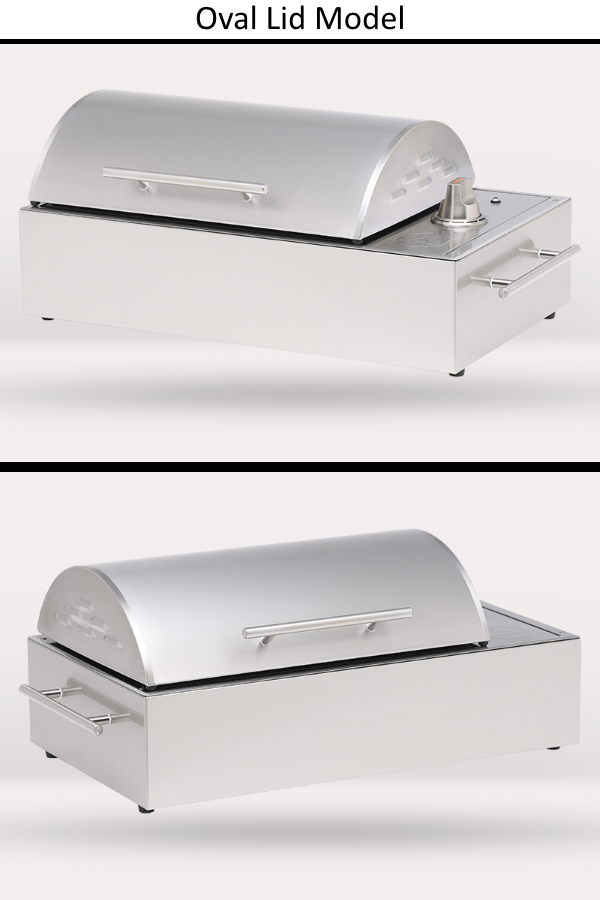 The lid itself comes equipped with a safety lock that ensures that the grill doesn't randomly stay opened, and the same goes for any unexpected/accidental bump that might knock over the device (while moving kitchen utensils and kitchenware around it for example) and end up opening the grill's lid.
Another great thing about this portable electric grill that makes it super safe/secure to use pretty much anywhere you can think of is its very bulky power supply, which features a power cord length of 6 ft. and can be safely used with any standard house AC outlet.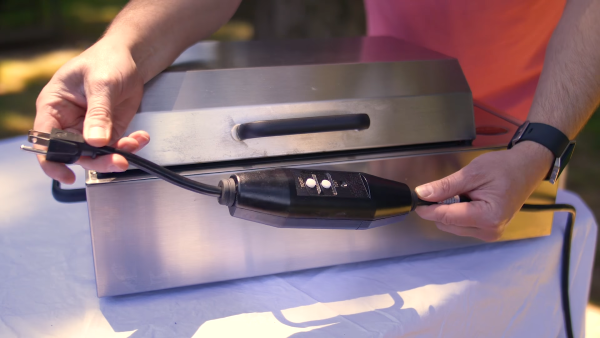 After popping upon the Kenyon City Grill's lid and taking a look inside you'll find a very reliable cooking grate that's very, very non-stick, which ultimately makes it very nice to cook with, especially if you're cooking specific foods like fish with the grill pan, and you don't want to necessarily oil it up too much. The cooking grate's super non-stick finish also makes it incredibly easy to clean.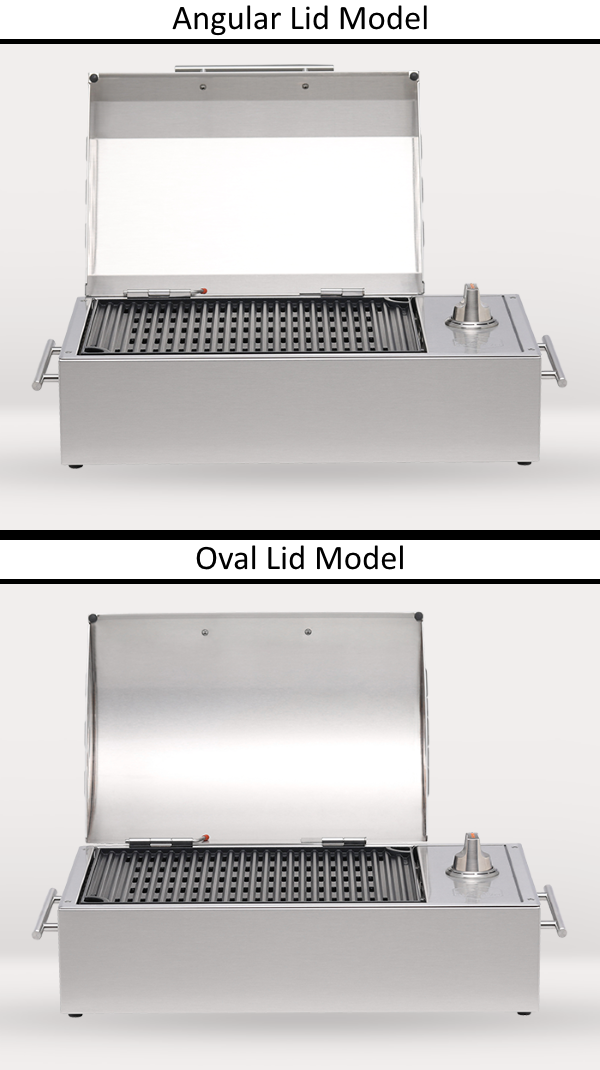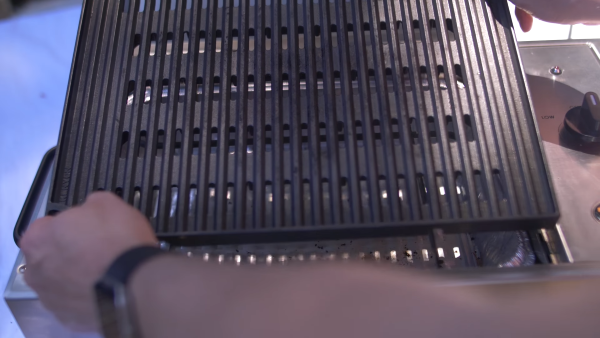 Furthermore, this cooking grate features a cooking area that measures exactly 155 square inches, making this electric grill spacious enough to grill any delicious meals for around 4 to 6 people.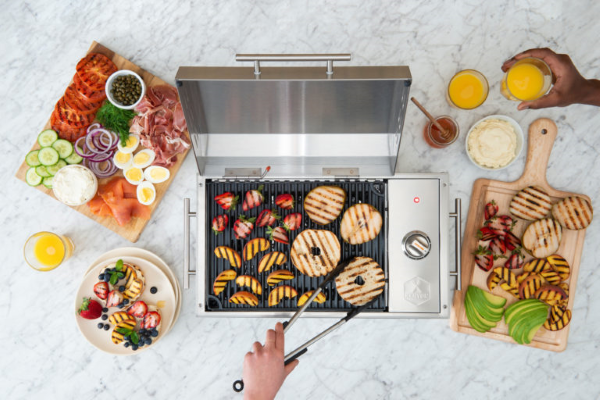 That includes pork chops, chicken breasts, stakes, sausages, burger paddies, and even any types of veggies you'd like to roast like red/green/yellow bell peppers, asparagus, etc.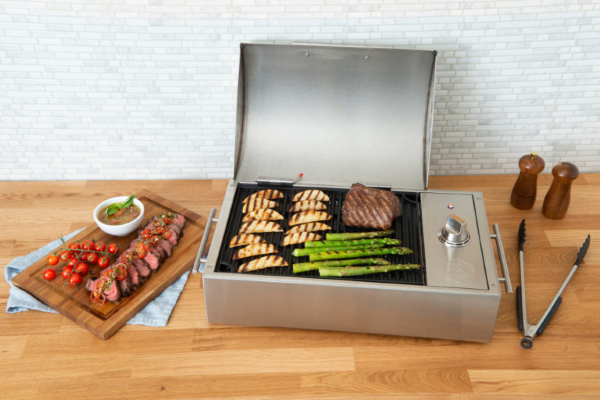 Speaking of electric grills, most electric grill models on the market face a common problem. Since there's a very limited selection of electric grills available out there, you've got to pick the very best one that you can possibly find, and that's mainly because most electric grills just don't get hot enough.
While you might actually get some decent and great looking grill marks in your food (whether that's veggies, meat, fish, etc.), you don't really get that strong sear that allows you to achieve that great brown crust that you're looking for when grilling delicious meals at home.
Gladly, that's not a problem that you'll have to worry about when grilling with the Kenyon City Grill, as its high-quality and very reliable cooking grate also features really deep heating channels at its bottom side – which you can see after flipping the cooking grate around.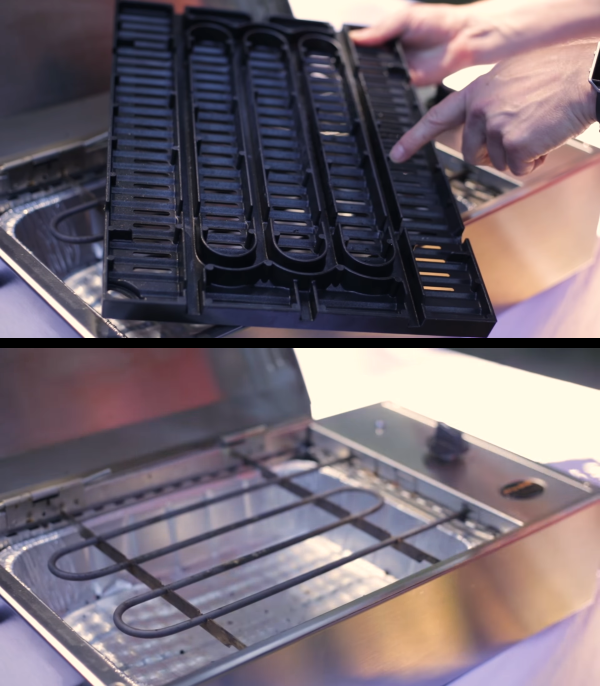 That's exactly what allows this portable electric grill to achieve such high temperatures to ultimately get both perfect grid marks and a high sear that lets you get a really nice brown crust on your food.
It's right at those deep heating channels that the grill's electric heating element (more commonly known as just electric resistance) will sit. That's what really heats up the grill's deep heating channels, providing the grill's entire cooking grate with a very, very intense heat. The grill's electric heating element features a max wattage of 1300W and works at a max amperage of 11 amp.
Then, under the grill's electric heating element we can find its drip pan/tray compartment, which is where all cooking and natural food oils will fall down to, going straight into an easy removable drip pan (or drip tray) that you can buy literally anywhere and at any store.
If you do end up getting any aluminum drip tray, just remember that it is highly recommended that you keep it in place so that your cooking experiences don't get messy and also replace it as often as possible, as you obviously don't want any of those accumulated oils dripping down to taint your next cook.
All this guarantees that the Kenyon City Grill will always do a great job at putting some gorgeous and delicious grill marks on your food, while also delivering a really uniform sear that gets you those delicious brown crusty bits you always want and love to see on steaks, as well as on any other meat types (burgers, ribs, etc.) or even on roasted veggies.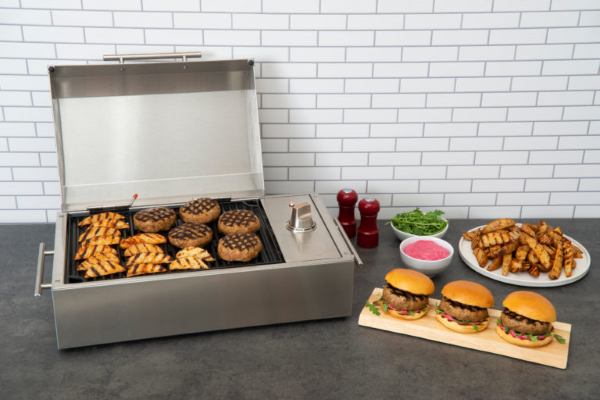 FINAL THOUGHTS
The Kenyon City Grill is a high-quality handcrafted portable smokeless electric grill that's perfect for anyone living in the city, as it can be used both indoors in your kitchen as well as outdoors in your balcony/backyard.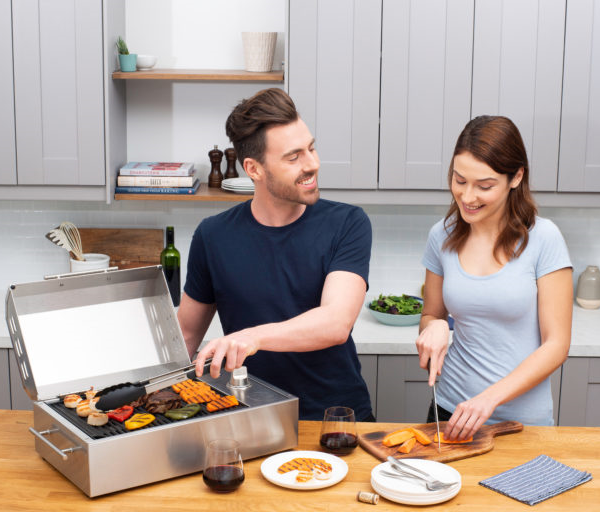 This portable electric grill is durable, reliable, super safe to use, works flawlessly and provides a very high heat that ultimately lets you get both perfect and delicious grill marks as well as a high sear that's guaranteed to always deliver some delicious and brown crusty bits, no matter what foods you decide to grill next.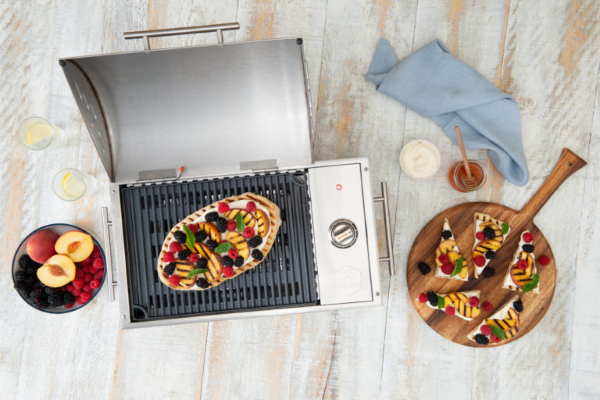 If you're interested in buying it, each unit is currently discounted from its normal price of $475 and is going for $425 each, no matter what model (Faceted (Angular) Lid or Oval Lid) you decide to go with. You can order yours online, directly from Kenyon's official shopping page, which you can access via this link.