Adjustable Height CPU Holders can help you to keep your workspace nice and tidy, while also allowing you to make your office space look as classy as possible. If you have a standing desk at your office, then it would be beneficial that you'd make good use of an adjustable height CPU holder, as you can get multiple advantages when using CPU holders.
First and foremost, using one of these handy gadgets can help you make your desk clear while also keeping your cables and wires in place.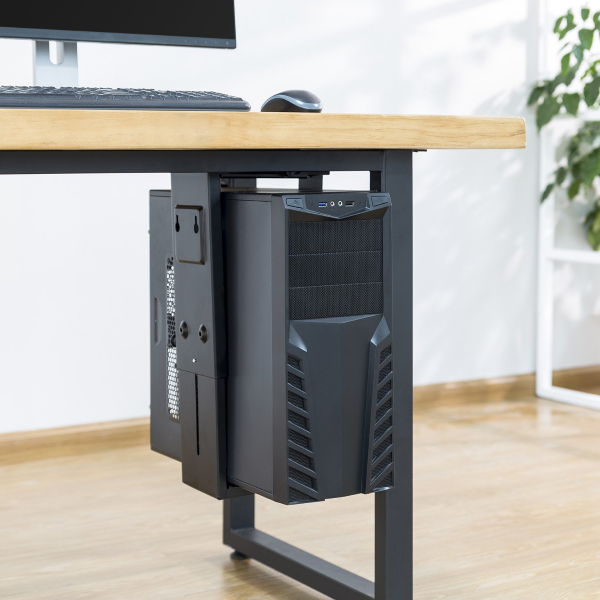 Additionally, you can also adjust your desktop as per your requirement without having the need to unplug some of your computer's electric cable wires.
Lastly, as CPU covers can take a significant area of your office space, using a CPU holder could easily help you to free up some of your workplace's space, which would end up making working a bit easier, all without having the need to kneel just to turn your CPU On or Off.
HAVING A LOOK AT THE LIST OF TOP ADJUSTABLE CPU HOLDERS
Before committing yourself for a monetary investment on anything, it's always a smart option to do an assessment beforehand.
Here we provide you with a complete list of the best adjustable height CPU holders that are currently available. So, pay some very close attention to it so that you do not end up missing out.
HUANO CPU – HNCPB1 Adjustable CPU Holder Under Desk / Wall Mount
If you sometimes end up feeling irritated whenever you're searching or adjusting some of your computer's cables, then this type of CPU holder is the perfect one for you.
This specific CPU holder's design can ultimately help you avoid some major accidents, while also offering you a very secure placement of your CPU under your desk.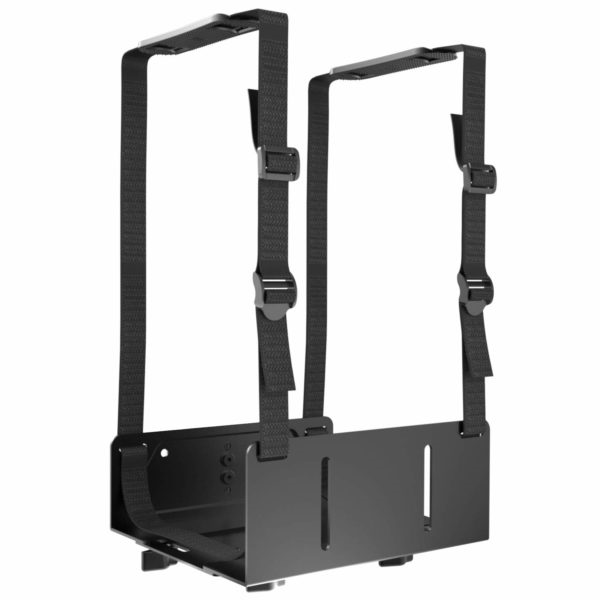 Basically, this type of CPU holder provides dual options to set it up (to install it). You can either place it on a close wall or under your desk with the help of some steel bracelets.
By using this type of CPU holder, you can very conveniently access the back-cable wiring of your computer.
3M – Adjustable Under-Desk CPU Holder w/ 360º Swivel
The 3M Adjustable Under-desk CPU Holder is one other type of the best adjustable CPU holders that are currently available on the market.
This specific type of CPU holder is constructed with highly durable steel materials and its best feature is the fact that the unit integrates a 360-degree swivel. Thanks to that, you're provided with an easy way to access your computer's back wiring.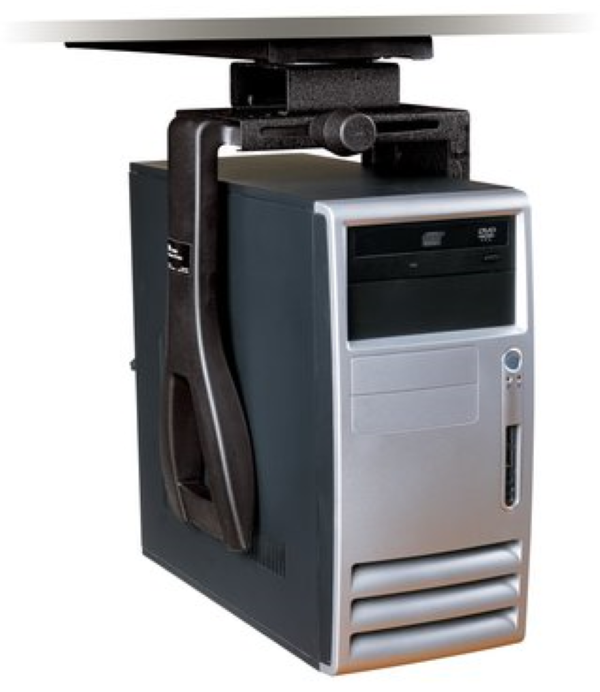 Furthermore, for this specific type of CPU holder, you can also easily adjust the unit's height between 12.5 inches to 22.5 inches, just to ensure that your CPU perfectly fits into the module.
Maintenance is still a big factor, so keep that in mind. However, specific dedicated CPU holder brands like Complete E can offer you great solutions, as their CPU Holder units come with a five-year warranty associated to each and every purchase.
Mount-It! – MI-7155 CPU Under Desk Mount Computer Tower Holder
This type of CPU holder is most likely the best you'll ever find, as this specific design can easily handle up to 66 lbs. of weight.
Furthermore, with the help of a desktop tower mount, you can very easily keep your computer free from those pesky and unwanted dust particles.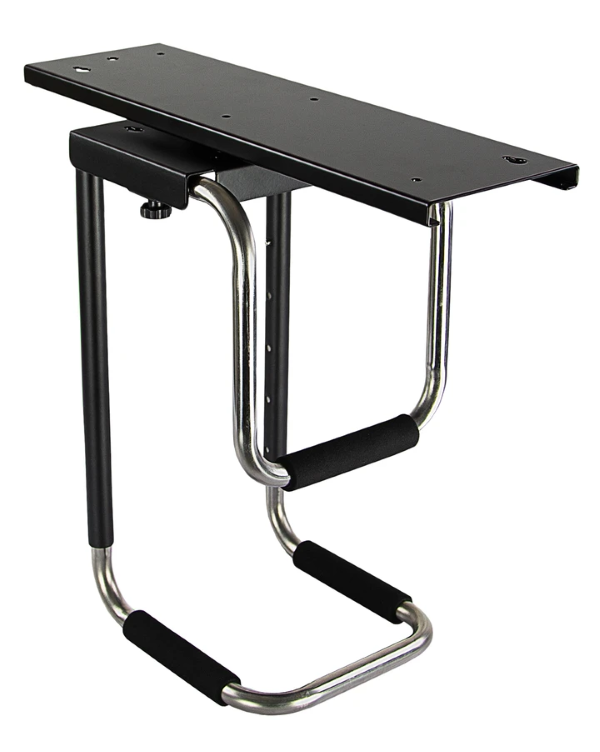 This specific CPU holder's frame is designed in a way that air is more easily able to flow without any resistance whatsoever, and that ultimately helps you to keep your CPU cooler than ever, which can obviously prevent it from having any overheating issues.
Installing this CPU Holder is also quite easy, as all you have to do is mount it right under your desk.
StarTech – Under-Desk CPU Mount (Adjustable)
This specific Under-Desk CPU Holder Mount can offer its users some very unique and super convenient features.
First of all, you can place this CPU Holder under a desk or flat surface, which will help you to keep your office space fully organized, meaning as nice and tidy as you'd want it to be.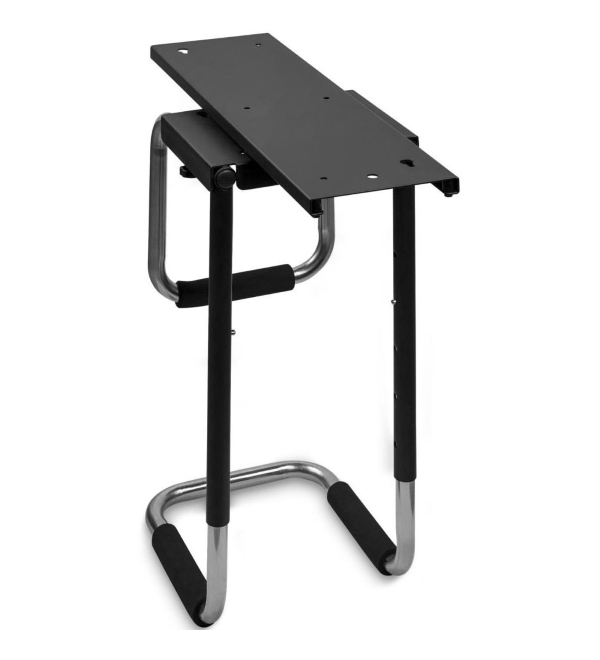 Furthermore, it can also help to prevent dust from settling down under your desk, and that's because since your PC will be lifted above the ground (when installed on the mount, that is), you'll obviously have an easier time cleaning under your computer.
This specific CPU Holder model features an adjustable frame that can provide support to a many different types of desktop cases. The mount's height can be easily adjusted from 14 inches to 21.9 inches.
HUMANCENTRIC – Adjustable Computer Case / CPU Holder (101-2018)
This CPU Holder is a bit more "special" than the others that were previously mentioned, as this is basically an Adjustable Computer Case that also works as a CPU Mount.
The entire unit is quite versatile, as it offers its users a lot of flexibility when it comes to its installation.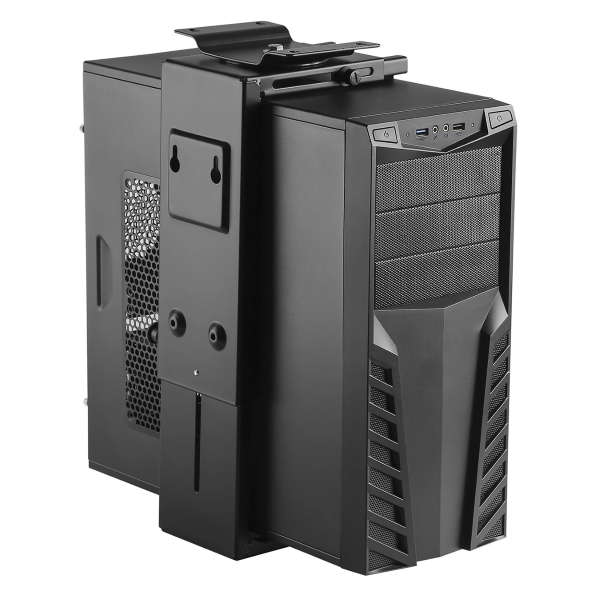 This CPU holder's frame can be fully adjusted to fit many different computer cases, as it was designed with adjustable sliding brackets that can be easily adjusted to quickly and conveniently adapt both the mount's height and width so that the unit can easily fit under your desk.
Not only that, but a 360-degree smooth-rotating swivel allows you to easily access your computer's ports and cables.
Ultimately, this specific CPU Holder can help you to keep your beloved computer free from any unwanted scratches.
Stand Up – Adjustable CPU Holder (SUD-CPU-1)
This is another ultra-reliable Adjustable CPU Holder on our list. This great CPU Holder comes in a very compact size, and that basically means that the entire unit can be fully adjusted as per your requirements.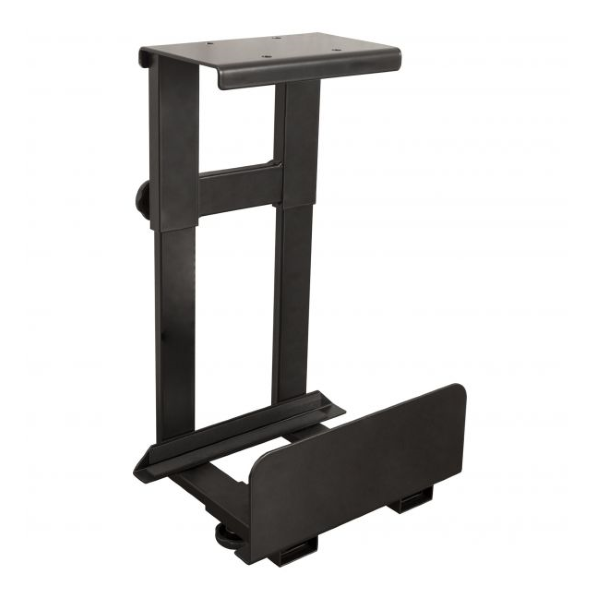 While its thick padding can ultimately prevent the CPU holder from ever scratching your computer (which also helps to protect your CPU from some accidental bumps), you can easily make some adjustments to the mount's height and width by using a simple thumb-screw tool (which this mount is fully compatible with, mind you).
FINAL THOUGHTS
These are our top picks for the best Adjustable Height CPU Holders that are currently available on the market.
Any of these CPU Mounts can ultimately help you to free –up some desk space so that you can keep your workplace neat and tidy.
So, if you're looking to better organize your workspace, just search for any of the mentioned products by their name and visit their corresponding shopping pages.
One last thing; remember to base your choice of CPU Holder based on your requirements.