When speaking of good health and personal hygiene habits, it's important to mention that the human body works like a complex system that's interconnected with all of its different parts as a whole. Because of how it is composed, a single area of the body can ultimately have a negative impact on one (or more) other areas. For the mouth and teeth for example, having a problem with your teeth and/or gums can pose serious health problems for other areas of your body. As such, you should drop by this Batavia dentist for fuss free dental services should you need some. Furthermore, we all know how important brushing our teeth is, as oral hygiene should be a daily personal hygiene habit to follow, and according to the American Dental Association, we should brush our teeth at least twice per day for about two minutes each time with a quality fluoride toothpaste. However, while brushing our teeth is necessary to remove all of the food and plaque that can stick to the teeth and cause cavities, that doesn't mean that everyone does it, as sometimes this can be a tedious task, especially for people that tend to work a lot. That's exactly when having something like the Y-Brush Toothbrush comes in handy.
The Y-Brush Toothbrush is designed to completely clean your teeth in just a mere 10 seconds. So, if you find brushing your teeth a bit of a pain, or if you sometimes find yourself extremely busy and/or too tired to brush your teeth throughout the day, then you should trust the French firm behind the Y-Brush, who genuinely thinks that they've come with the perfect answer for those two problems.
It's also worth to mention that having a poor oral hygiene can ultimately lead to severe health problems associated with diabetes, heart disease and even other health issues. That's why having a decent oral hygiene is super important, as that can help you to achieve and keep a healthy lifestyle, a healthy body, and a beautiful smile.
However, while the American Dental Association declared that it's very important that people brush their teeth for around two minutes during each and every time they follow this personal healthcare habit, we all know that brushing your teeth for those whole two minutes can sometimes feel like a chore.
That's exactly how the Y-Brush Toothbrush stands out from the competition, as this potentially miraculous dental-care solution offers something that other toothbrush brands don't, and that's obviously efficiency.
Now, let's have a more detailed look at the Y-Brush Toothbrush and check its design, see exactly how it works, and have a detailed look at all of its features.
DESIGN / SPECS
The Y-Brush Toothbrush basically works like an auto-cleaning electric toothbrush that offers its users an in-depth cleaning for all their teeth at once (meaning all get cleaned simultaneous) in only 10 seconds.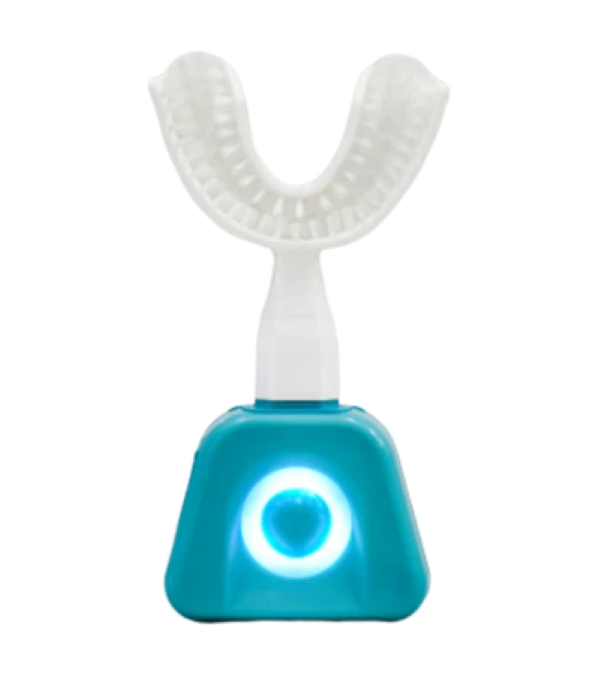 The entire unit consists of a small handheld unit that also integrates the "Y-Shaped toothbrush part" that users will be biting onto to have their teeth fully brushed in just a mere 10 seconds.
The toothbrush's "Y-Shaped part" consists of a single compartment (or tray) that integrates a ton of Nylon Filaments, which the company tested and now vows for that those are guaranteed to help users to remove up to 15 percent more plaque than when following the standard two-minute "teeth-brushing" routines while using a conventional toothbrush.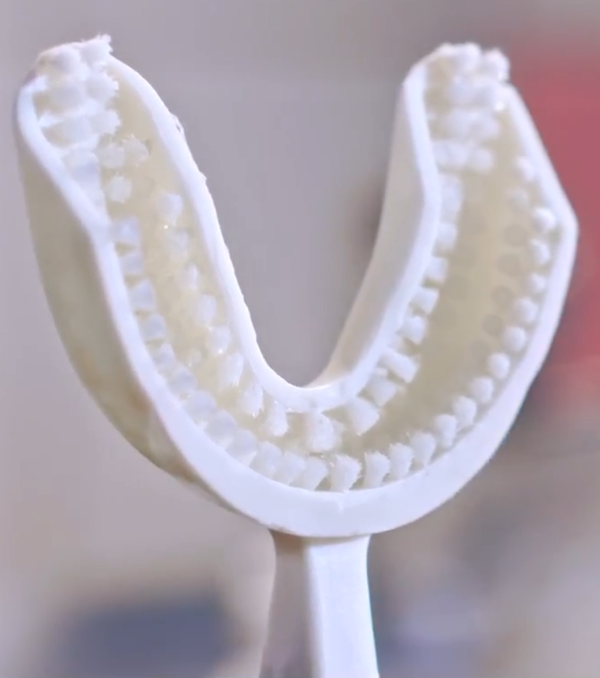 While you might think that this biting this Y-Brush's "Y-shaped" mouthpiece part would be somewhat hard, it is actually quite comfortable I may say, and that's because the entire top part of the unit is made of a very durable and super flexible antibacterial food-grade material that's super safe to use.
Not only that, but the company's tests also suggest that Nylon Filaments are way better for your teeth's health and safety than the big Silicone "Tips" that are found in several other competing dental-care products on the market, which not only tend to be inefficient, but also dangerous, as your teeth's dental plaque is most times not entirely removed when using silicone based dental-care products, which basically means dental plaque simply continues to accumulate.
Furthermore, as that same "Y-Shaped part" on the Y-Brush can fit one full row of teeth (meaning either your top or bottom row of teeth), all you have to do after you're done with one side is simply flip the unit to your opposite row of teeth that's still not brushed and just run the device for another 10 seconds, and you're all done.
That's literally all you have to do, which obviously beats using a standard toothbrush when it comes to time spent taking care of your pearly whites.
Lastly, as a dental-care solution, this ingenious toothbrush obviously has to come in contact with water at some point, and so, the entire unit also features IPX4 Water Resistance, which basically means that the entire piece is fully-protected against the already expected splashes of water when people are following their "teeth-brushing" routines.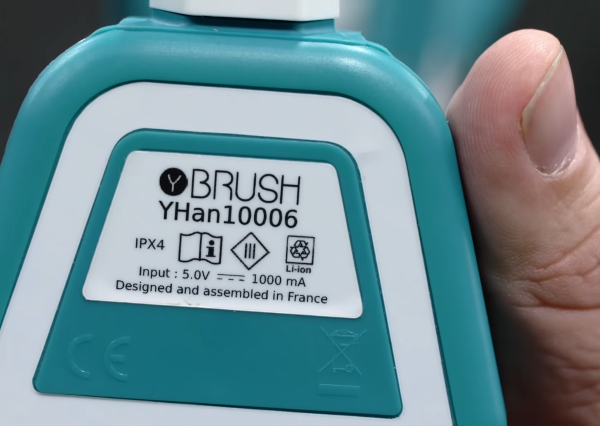 HOW IT WORKS?
Unlike your manual/electric toothbrush, the Y-Brush smart auto-cleaning electric toothbrush automatically cleans all of your teeth in-depth by having its patented Y-Brush technology reproduce the same gestures from the Bass technique, which is done by using sonic vibrations.
The Bass technique/method basically consists of tilting the brush head at a 45° angle while using vertical movements to remove plaque and bacteria from the gumline efficiently.
However, as the Y-Brush's Nylon Filaments are already tilted at 45°, all that users have to do is basically "chew" on the brush in a very gently way to fully-reproduce this method.
Pressing the Y-Brush's center button (located at the very center of the handheld part of the device) activates the unit's small internal motor. After that, the Y-Brush's sonic vibrations allow the 35,000 nylon filaments lining within the toothbrush's Y-shaped teeth compartment to accurately brush one full row of teeth in order to better remove any dental plaque within your teeth.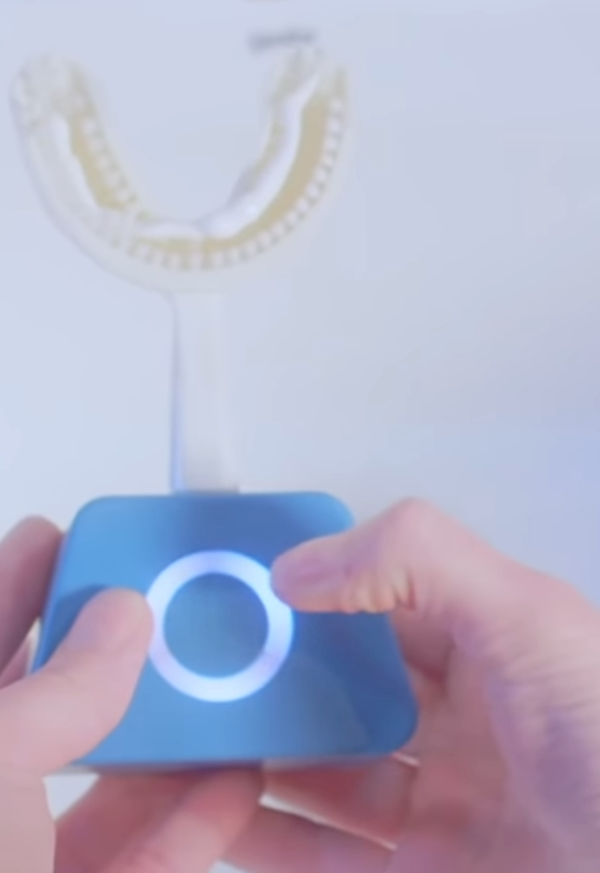 Lastly, it's also worth to mention that the actual brush part (the Y-shaped head part) that sits at the top of the Y-Brush just has to be replaced once every six months.
WHO IS THE Y-BRUSH FOR?
Since the company designed the Y-Brush as a very flexible toothbrush, the full device is ultimately adaptable to all jaw shapes, meaning that it can be used by pretty much anyone within your family.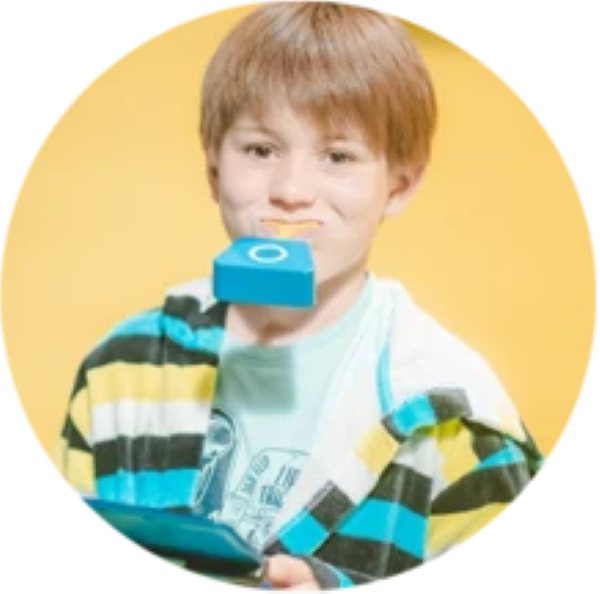 As such, you can get your Y-Brush in one of two (x2) different sizes: Brush Size S (for ages 4-12) and Brush Size M (for ages 12 and/or older), making the Y-Brush perfect for both children and adults alike.
WHAT'S IN THE BOX?
Inside their package users will find: one (x1) Y-Brush Handle, one Y-Brush Mouthpiece Brush Part (from your selected size), the Y-Brush's included USB charger (to recharge the electric-toothbrush's built-in rechargeable battery), one included Storage Stand.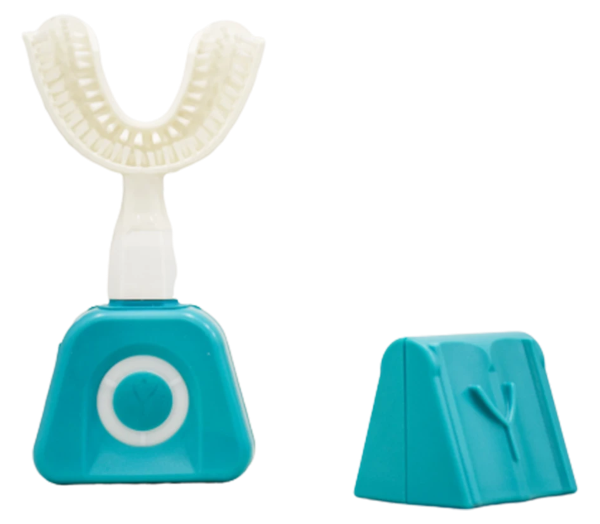 FINAL THOUGHTS
The Y-Brush Toothbrush is an auto-cleaning electric toothbrush that can deeply clean all your teeth simultaneous within one row of teeth in just a mere 10 seconds.
If you're interested in buying the Y-Brush Toothbrush, each unit is currently discounted from its normal price of $213.34, now going for just $158,02 (saves you $55.12). You can order yours online right now, directly from Y-Brush's official shopping page, which you can access via this link.
If you do decide to get it, we also recommend that you get the Y-Brush's proprietary Travel Case, which is sold separately for a measly $15. Thanks to the Y-Brush's super small size, you can easily take the entire unit (handle and mouthpiece) together with you, as well as its charger, all neatly packed inside its proprietary Travel Case while you're on-the-go.