This one is for anyone that's looking to build and/or improve their home theater, where you can sit back, relax, and watch both sports matches and movies in real high quality while accompanied by your family and friends, right from the comfort of your home. As any movie theater enthusiast would know, creating your own dedicated home theater room within your home can be a bit challenging, and that's because there are several components that make a home theater room. That may or may not include a Home Theater Receiver (aka AV or Surround Sound Receiver), a TV or a Video Projector with screen, one Antenna / Cable / Satellite Box (this is usually optional), a disc player that's compatible with Ultra HD Discs / Blu-ray Discs / DVDs and/or CDs, as well as a  DVD Recorder / DVD Recorder/VCR combo / VCR (only get this if you get the previous one too) a Media Streamer (another optional part), a couple of loud speakers (the number will depend on your speaker layout), a Subwoofer, a Sound Meter (optional but advisable), and some other stuff. So, if you don't feel like feel leaving your house every-time you want to watch a newly released movie and/or spending your hard-earned money on expensive movie tickets, then consider investing in a home theater projector like the BenQ HT3550 to make your own dedicated home theater room.
The BenQ HT3550 is another budget 4K home theater projector from BenQ, and this one might just very well be the perfect home theater piece for movie lovers.
This BenQ projector is based on the company's older 4K home theater projector model, the BenQ HT2550. Basically, the BenQ HT3550 4K Home Theater Projector takes what made the company's HT2550 a good projector and simply makes it even better.
As such, BenQ's HT3550 home theater projector comes packed with several features, including high-quality imaging technologies like DCI-P3 in Dark Room (which works together with the "CinematicColor" technology) to bring users exactly 95% of DCI-P3 color space (which covers a far greater visible spectrum than Rec. 709) as well as 100% Rec.709 color gamut for accurate colors. This combination ultimately brings users the visual experience that directors really envisioned for their movies.
Furthermore, this high-quality home projector also gives movie enthusiasts other really cool features like ultra-sharp picture quality with true 4K UHD 3840×2160 resolution with 8.3M pixels, as well as HDR-PRO technology (A.K.A. "Hyper-Realistic Video"), which basically delivers a dynamic iris for deeper black tones and more details, thus further enhancing users' 4K HDR viewing experience.
This 4K home theater projector is one of the best around, and while investing in one of these might look expensive, it's a choice that you certainly won't regret making. However, if you're still not convinced, then check out our detailed review below, where we thoroughly examine everything that this powerful and high-quality home theater projector has to offer.
Now, let's have a detailed look at the BenQ HT3550 and check its design, Image Specs and Image Quality, have a glance at its Interface and Ports, and understand what Film Formats this home projector is compatible with.
DESIGN / BUILD
Starting off with its design (or build), the BenQ HT3550 is just slightly large, measuring exactly 14.96 inches long by 10.35 inches wide by 5 inches tall (380 x x 263 x 127), and the unit weighs exactly 9.2 lbs (4.2 kg).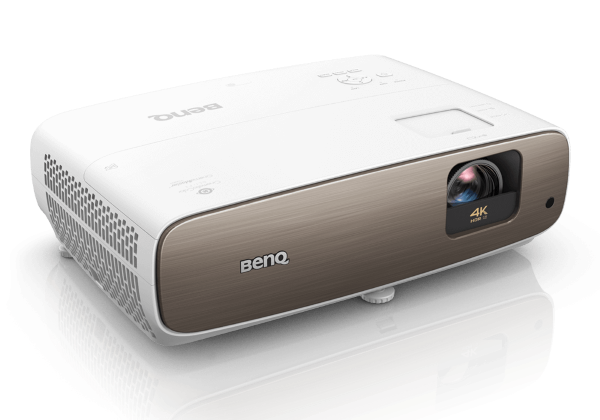 The entire unit features a very solid build, as it is made with high-quality and durable materials. This means that during your installation, you won't feel like there are any shaky (or loose / trembling) parts within it.
When compared to its predecessor (meaning BenQ's HT2550 projector, i.e. the older model), the BenQ HT3550 projector features a sleeker look with a square lens opening and a nice metallic brown color faceplate.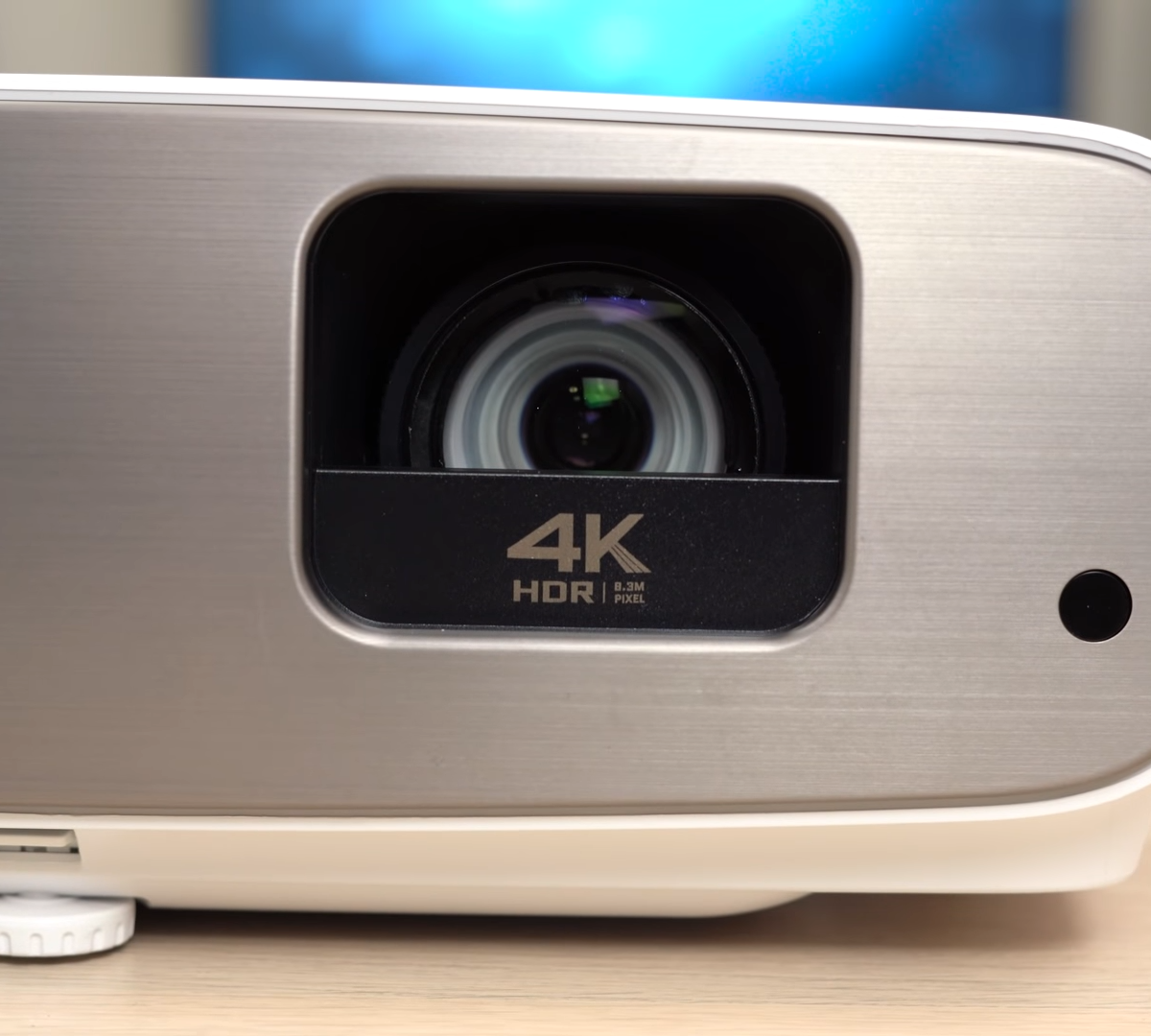 It's also worth to mention that you'll almost instantly notice a small cover (with a 4k HDR logo) that's located right in front of the projector's lens. This small, yet special dedicated lens cover was put in place to prevent light leakage from the projector's lens onto the ceiling, which obviously bothered some people.
IMAGE SPECS & IMAGE QUALITY
Now, moving on to what's more important, the projector's image specs and image quality. The BenQ HT3550 4K Home Theater Projector is basically an "improved" single chip DLP projector that comes equipped with a built-in "smaller" 4K UHD DLP chip set (from Texas Instruments).
Resolution
Starting with its image quality, this projector features a DLP Projector System that boasts a 3840 x 2160 4K UHD Resoltion (which is CTA Certified) with up to with 8.3M pixels. Now that's a lot of pixels, which basically means a much better image quality than when compared to older projector models on the market.
Ultimately, this home theater projector can support resolutions that can go from as little as VGA (640 x 480), all the way up to 4K UHD (3840 x 2160) with a maximum display color of 30 Bits (with 1,07 billion colors).
The projector features a 16:9 Native Aspect Ratio (with 6 different aspect ratios that can be selected).
Sharpness
Not only that, but the projector's image sharpness can also be further adjusted by using its lens shift dial, zoom dial, and focus ring (further discussed in the Interface section of the article).
Image Quality
Then, the second most important thing that we should talk about BenQ's HT3550 state-of-the-art home theater projector is that, when compared to older BenQ projector models, like the less expensive HT2550 for example – which is basically a more entry-level projector – BenQ's new HT3550 4K Home Theater Projector brings the addition of a dynamic iris, which helps to enhance its image's black level performance (meaning the higher contrast of black/dark colors/tones with the rest of its delivered picture).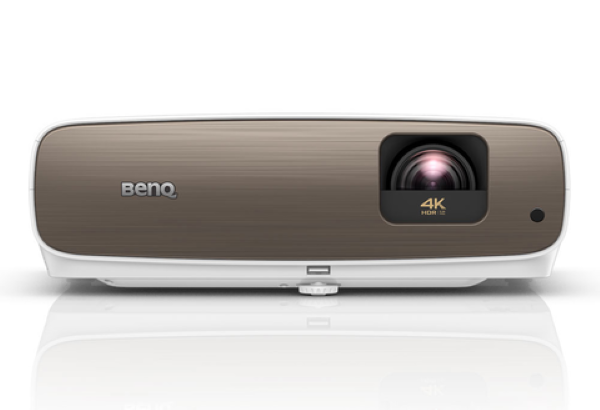 Furthermore, the BenQ HT3550 home theater projector also includes high-quality imaging technologies like DCI-P3 in Dark Room (which works together with the "CinematicColor" technology) to bring users exactly 95% of DCI-P3 color space.

This special imaging tech. covers a far greater visible spectrum than Rec. 709, which the projector also accounts for, thus producing exactly 100% Rec.709 color gamut so that users get even more accurate colors.
This combination (DCI-P3 in Dark Room + 100% Rec.709 color gamut) ultimately brings users the visual experience that directors really envisioned for their movies. Basically, this means that the HT3550 projector has fantastic color accuracy, which equates to one of the best looking images you'll ever seen from a DLP projector.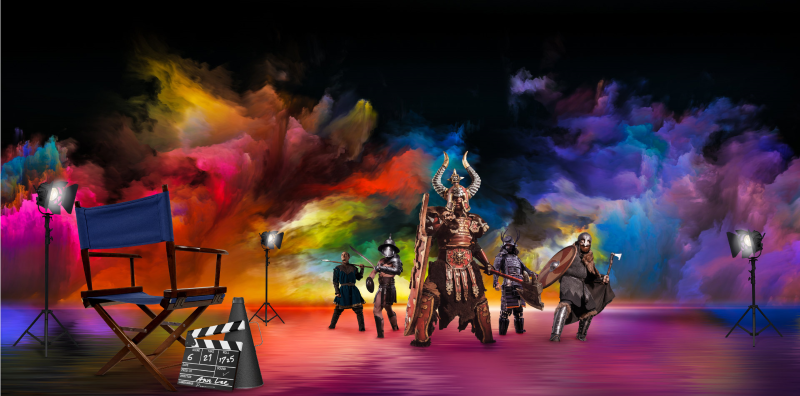 The combination of the projector's dynamic iris mixed with a high color accuracy simply produces an amazing picture with great tone mapping and contrast. That means that this projector will mostly shine when used to play HDR content, like some of the latest Marvel movies for example.
As mentioned before, this high-quality home projector also boasts HDR-PRO technology (A.K.A. "Hyper-Realistic Video"), which is based on the projector's dynamic iris, and this will help the projector to noticeably deliver much deeper black tones as well as more details, thus further enhancing its users' 4K HDR viewing experience.
When playing HDR content, you might have to turn down color saturation a little bit, but for the most part, you'll most likely be very pleased with the projector's image results.
Lastly, thanks to its HDR-PRO technology (or "Hyper-Realistic Video"), the HT3550 supports both HDR10 and HLG HDR schemes.
Brightness
Moving on to its brightness levels, this projector also comes equipped with an internal 245W Lamp that can boast up to 2000 ANSI lumens. This is just slightly less than BenQ's lower end HT2550 projector, as well as just a bit further below BenQ's "bright room" TK800 projector, which accounts for a total of 3000 lumens delivery.
However, while the BenQ HT3550 might offer slightly lower brightness levels than other home theater projector models, it still features less light leakage than previous models made by BenQ, and that's an awesome feature that should defintiely be mentioned.
Still, no matter its slightly lower brightness level, this projector was designed to handle the latest and greatest image quality you'd want and hope to get, meaning 4K content (HDR included), of course. While 2000 lumens will most likely not blow you away when it comes to image brightness, that's still perfectly fine for dark home theater rooms. Furthermore, the projector's vibrant colors definitely help to balance its image quality with its somewhat "low" level of brightness.
Optical Ratios
This 4K home theater projector comes equipped with a powerful lens that can be adjusted between 12 – 15.6 mm and between 1.9 to 2.47 camera aperture.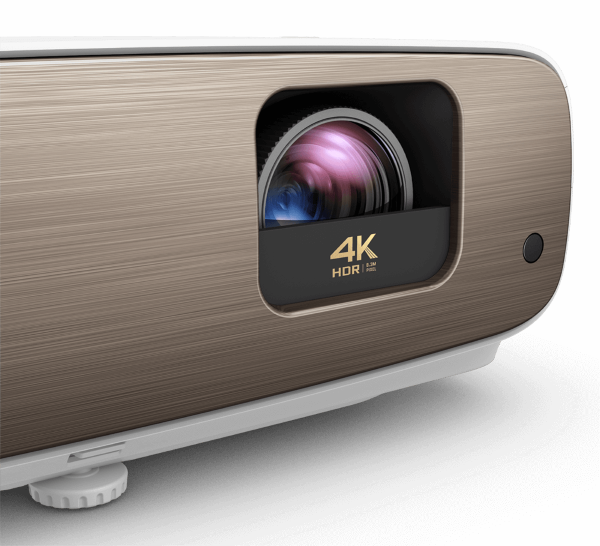 This powerful lens can produce exactly a 100-inch screen from just over 8 feet away, as it features a Throw Ratio that can go between 1.13 to 1.47 (at exactly 8.2 feet away). This basically makes the BenQ HT3550 one of the shortest throw ceiling mount 4K home theater projectors you'll ever see available.
Moreover, the projector's powerful lens offer exactly 100% Projection Offset, as it features an adjustable Clear Image Size that can be set between 40 inches to 200 inches and an adjustable Image Size that can be set between 30 to 200 inches.
AUDIO SPECS & AUDIO QUALITY
The BenQ HT3550 4K home theater projector also comes equipped with two internal 5W Speakers within its audio chamber.
These dual 5W speakers are actually super loud, meaning that they're dfeinitely loud enough to fill your entire home theater room with sound while also making the projector able to drown out all of its fan noise (goes at around 30 dBA, or 28dBA in Silence mode) that you would normally be able to hear when having the projector running (Powered On) without playing any content (movies, sports matches, etc.).
INTERFACE (Buttons / Controls & Lens Dials)
Moving on to the projector's interface, the HT3550 projector simply features two different interface areas, and those are both located at the top of the unit.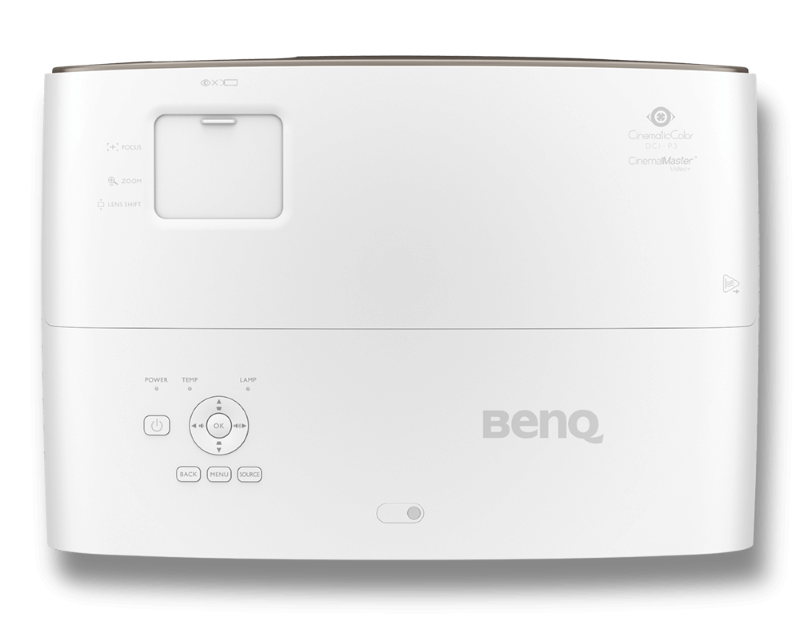 Starting at the very bottom of its top side we can find two IR Receiver (Infrared Receivers).
Then, moving on to the bottom left of the unit's top side, we can find a very simple and easy-to-understand control panel that's super intuitive to use. This control panel consists of a Power LED, a Temp LED and a LAMP Led. Then, under those, there's a simple Power Button (to turn the unit On and Off), a directional dial to go through the projector's settings menus (Up, Down, Left, Right, and OK Buttons), and under that there's a Back Button, a Menu Button, and a Source Button (to select between the unit's HDMI 1 and HDMI 2 ports).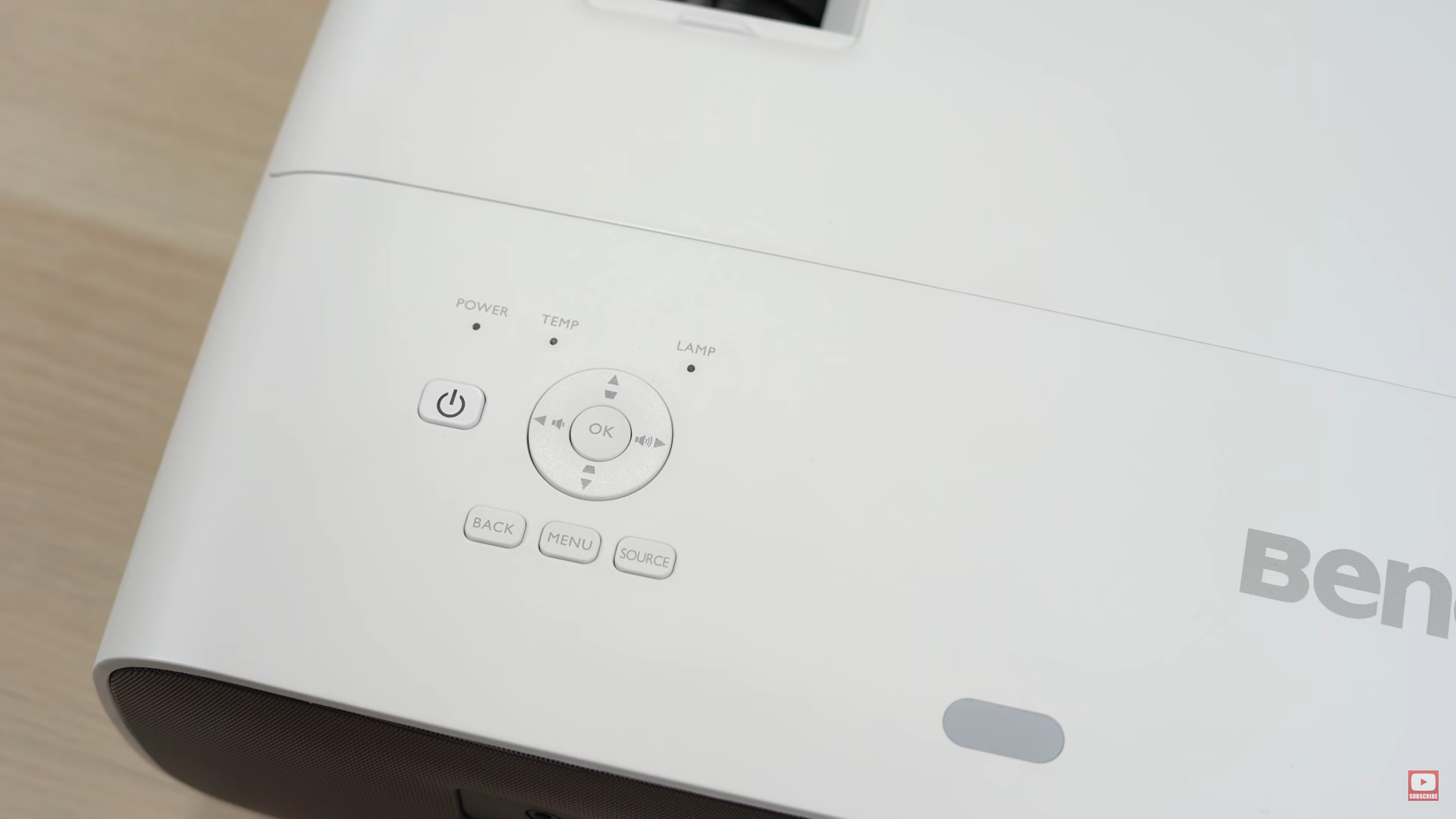 Then, on the top left of the projector's top side we can find a sliding door that integrates the projector's lens shift dial (can be used to movethe projector vertically upwards for a +10% one direction only with no negative shift), a zoom dial (which offers a Zoom Ratio that can go up to 1.3x Zoom), and a focus ring (used to shift the projector's lens' Diagonal Clear Image Size between 40 inches to 200 inches and its Standard Image Size betweern 30 inches to 200 inches).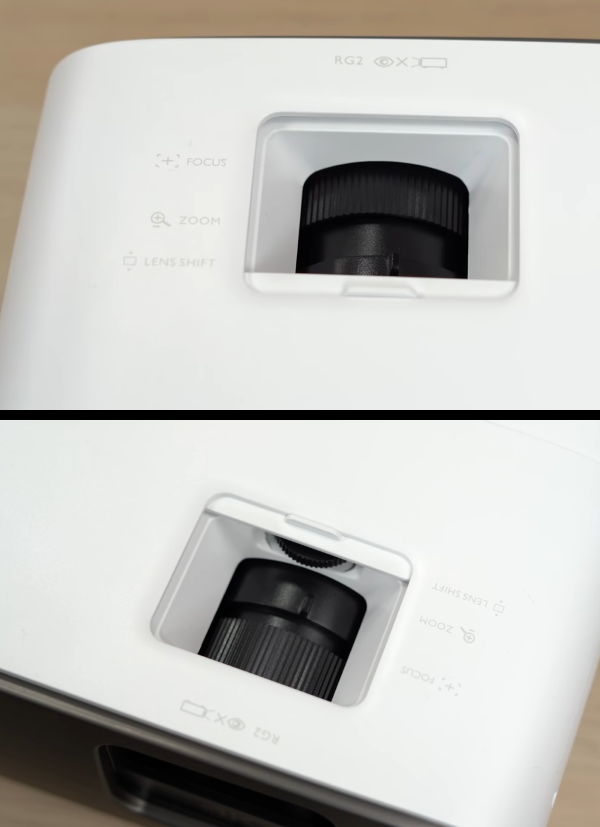 Basically, the addition of lens shit means that if you're mounting the projector on a high ceiling you can easily adjust its lens shift dial to move the screen closer to the floor without having to tilt the projector.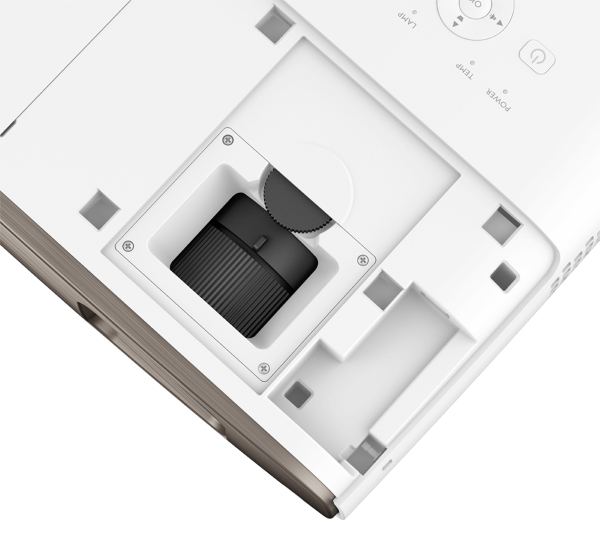 Lastly, in the event that you do need to angle / tilt the projector, the HT3550 also features Automatic Vertical Keystone Adjustment / Correction (1D, (Auto) Vertical ± 30 degrees), which means that you'll never have to worry about trying to adjust the projector's Keystone yourself.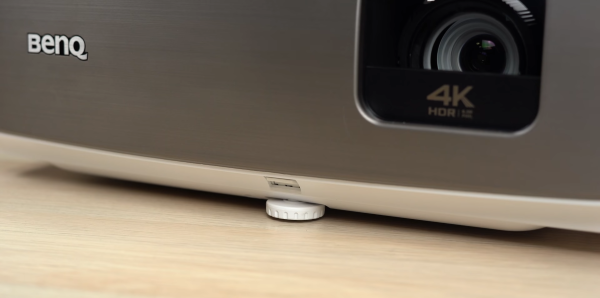 The projector's Keystone Adjustment system can be found at the bottom of the unit, placed directly at its center.
CONNECTION PORTS & POWER SPECS
At the back of the projector we once again find the same metallic brown color scheme along with all of the projector's connectivity ports.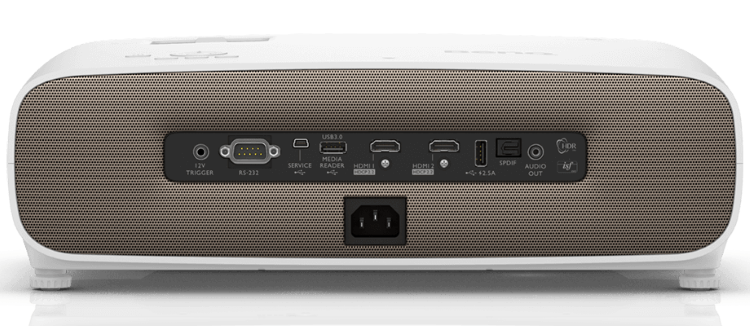 From left to right you'll find one (x1) DC 12V Trigger (can be used with a 3.5mm Jack), one (x1) RS232 DB-9pin (which works as a DisplayPort to D-Sub port), one (x1) mini B USB port one USB-A 3.0 port (which can be used to play media from a flash drive), and two separate HDMI ports (HDMI 1: 2.0 with HDCP 2.2 and HDMI 2: 1.4a / HDCP 1.4) which both support 4K HDR.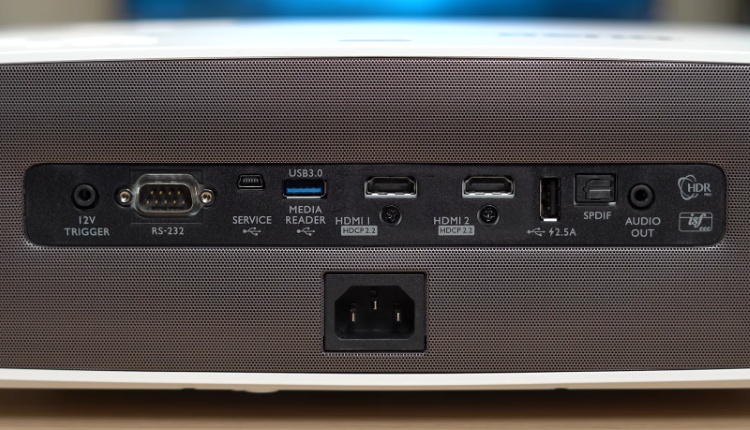 After those two HDMI ports, we can also find one extra USB-A port (which can be used as a Media Reader and/or Firmware download port), as well as one (x1) S/PDIF Optical Audio Output (this audio output port is a optical audio cable format port that allows the transfer of digital audio signals from device to device without needing to convert to an analog signal first) and one other Audio Output (for 3.5mm Mini Jacks).
Lastly, at the very bottom of the projector's horizontal connectivity plate we can also find a simply 2.0 Power Supply port that'll obviously be used to connect the projector's included Power Cable to the unit itself.
This projector's power supply works between 100 Volts to 240 V (at 50/60Hz) and features a typical Power Consumption that goes around 340W (up to a maximum of 350W), or around 280W when using it economically (using the projector on low settings, i.e. lower image quality formats, lower brightness levels, etc.).
The projector also features a Standby Power Consumption of 0.5W (maximum) when working between 100 Volts to 240 Volts.
COMPATIBILITY
Ultimately, the BenQ HT3550 4K Home Theater Projector is compatible with HDTV (in 720p at 50/60Hz, 1080i at 50/60Hz, 1080p at 24/25/30/50/60Hz, and 2160p at 23/24/25/30/60Hz) as well as compatible with 3D (solely in 1080p, instead of downscaling it to 1080i like some budget 4K projectors that are available on the market sadly do).
While it's 3D support feature will slightly dim the projector's picture down a little bit, that's something that, while expected, you'll barely notice, as the projector's 3D effect is actually quite nice and sharp.
OTHER NOTABLE FEATURES
Motion Enhancer, ISF Night/ Day Calibration & Video and Audio Enhancements
The BenQ HT3550 4K Home Theater Projector also packs some other special features that are worth to mention like a Motion Enhancer (MEMC), as well as ISF Night/ Day Calibration (a special feature that allows you to receive the best picture no matter what time of day you're using the projector), and even CinemaMaster Video + (to put it simply, this is a Motion Enhancer feature for 4K Video, which basically works as a Pixel Enhancer for 4K Resolution) and CinemaMaster Audio+2 (this basically works like a configurable equalizer that can be completely customized by users to fulfill their audio needs).
Different Picture Modes
The HT3550 projector also features several different picture modes that can be accessed to further enhance its image quality, including Bright, Vivid TV, Cinema (Rec. 709), D. Cinema, Silence Mode, and User 1 Mode (customizable to be used either with HDR / HLG / ISF Night / ISF Day or 3D).
FINAL THOUGHTS
The BenQ HT3550 is a budget, yet ultra-powerful DLP 4K home theater projector that features sharp and colorful picture quality, support to HDR10 and HLG HDR schemes, and much, much more.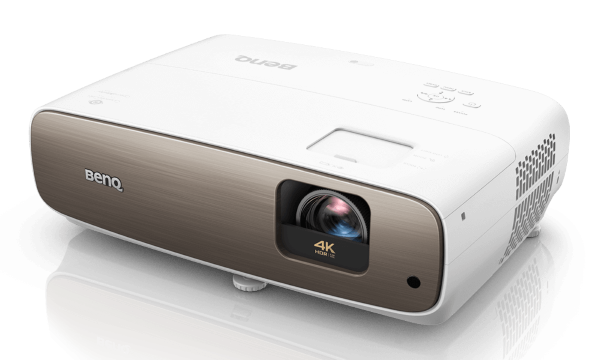 Some of its other best features are its Dynamic Iris and its DCI-P3 color coverage, which ultimately deliver a super vibrant color-accurate image with great dark tones/levels.
If you're interested in buying it, each unit is currently going for $1500. You can order yours right now, directly from BenQ's official US shopping page, which you can access by clicking here.