While plastic is an important material for our economy, as it provides multiple benefits to modern day living, plastic can take thousands of years to biodegrade. As such, plastic waste is quickly becoming a widely recognised problem all around the world. Ultimately, all plastic products that are no longer used end up taking up valuable space in landfill sites, and consequently contribute to the pollution of the natural environment, while also having a significant negative impact on our oceans. Furthermore, it's also important to highlight that the average American throws away over 322 plastic utensils every year. We can do better. However, with just a little effort, we can do much better and reduce our plastic waste overall, and that can easily start with completely stopping to use of plastic utensils.
The GoSun Flatware is a compact and ultra-portable set of reusable stainless-steel utensils that's focused on helping anyone that's passionate about preserving the environment to completely stop using plastic utensils for their personal needs.
This ultra-compact set of reusable stainless-steel utensils was designed by GoSun, a Cincinnati-based company that's focused on manufacturing high-quality solar cookers, other sunlight-driven accessories.
It's important to note that that are several benefits of reducing the worldwide plastic consumption. Those not only include preventing pollution by lessening the amount of new raw materials used, but also the vast amount of energy that can be saved from stopping to produce plastic products. Furthermore, reducing the worldwide plastic consumption can also greatly help to reduces several greenhouse gas emissions, which, mind you, strongly contribute towards climate change.
By getting a EDC (everyday-carry) set of Stainless Steel utensils like the GoSun Flatware you can easily help to contribute towards the reduction of the plastic consumption worldwide.
Not only is the entire GoSun Flatware set ultra-durable and super easy to clean, but this high-quality stainless-steel cutlery set is also compact enough to easily fit inside your wallet, purse or pocket. Lastly, thanks to its "push-out" / "pop-out" design, it's also effortless to use.
All of that makes this the only non-plastic reusable utensil set that's currently available that can easily fit into your wallet, and thanks to that, it's always ready to go. By using the GoSun Flatware Set, you'll never again have to rely on using plastic utensils ever again.
Now, let's take a more detailed look at the GoSun Flatware's design and see exactly how this product works.
DESIGN & SPECS
As mentioned before, the GoSun Flatware is a high-quality EDC (everyday-carry) set of stainless-steel utensils that come fitted inside a credit card-sized carry case that can be easily packed into your wallet. Thanks to that, you're ensured to always have an easy-to-use set of re-usable utensils with you, no matter where you're planning to go next.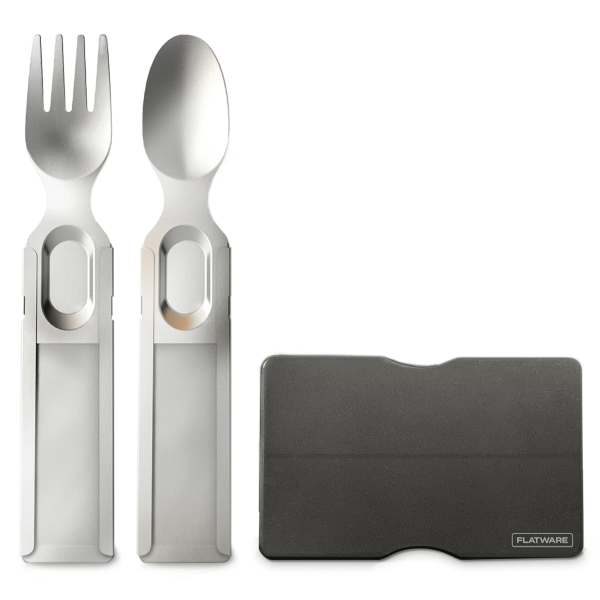 While the case itself measures just 3.3 inches long by 2.1 inches wide by 0.15 inches thick (85 x 54 x 4 mm), the set's two included utensils (meaning its collapsible fork and spoon with a serrated "knife" edge) measure just 5.5 inches long by 1 inch wide by a measly 0.1 inches thick (140 x 25 x 2.54 mm) when having the set's utensils fully extended.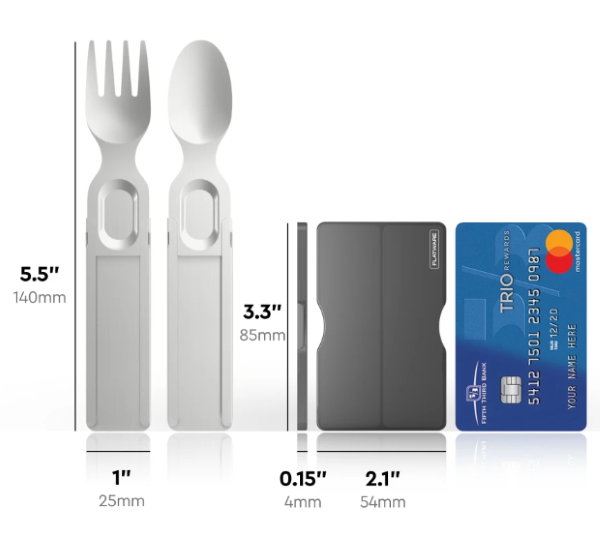 Unlike several other portable sets of utensils that are available on the market, which, mind you, tend to be quite heavy or simply too large to really be considered "portable", the GoSun Flatware Set is actually extremely flat.
The set's storage case is made of 301 Stainless Steel at the center and a hard-plastic material around the edges, which not only makes it perfect to protect both of its corresponding utensils, but also makes it completely waterproof.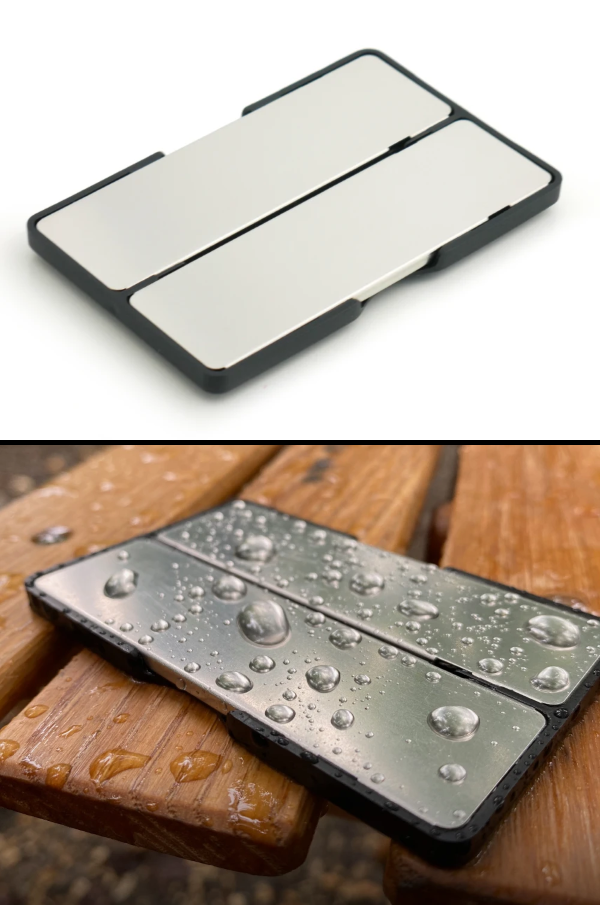 The set's collapsible utensils (fork and spoon/knife) are actually quite useful for camping, but, as mentioned before, the idea goes well beyond that, as the company designed this EDC stainless-steel utensils set to eliminate the single-use plastic utensils that people tend to use each and every day.
Furthermore, the GoSun Flatware Set is also extremely lightweight, as it weighs just a measly 1.4 oz. Thanks to its ultra-sleek and compact design and its extremely lightweight, you are guaranteed to be able to take it with you literally anywhere.
Both the set's collapsible fork and collapsible spoon with a serrated "knife" edge are designed as simple and compact, yet ultra-versatile utensils.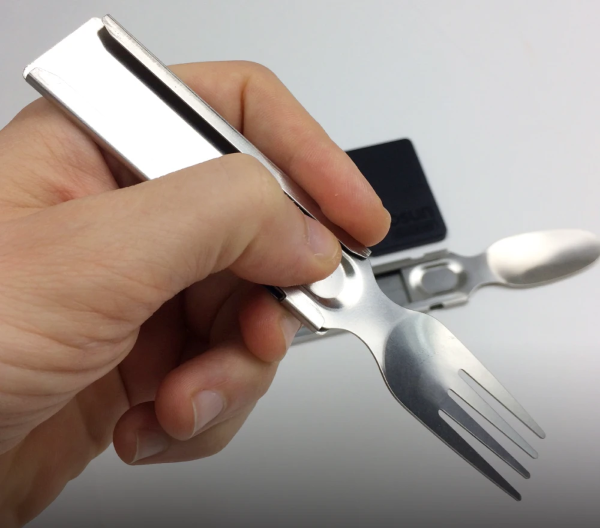 Just like the set's case, they're both made of 301 Stainless Steel, which also makes them dishwasher-safe.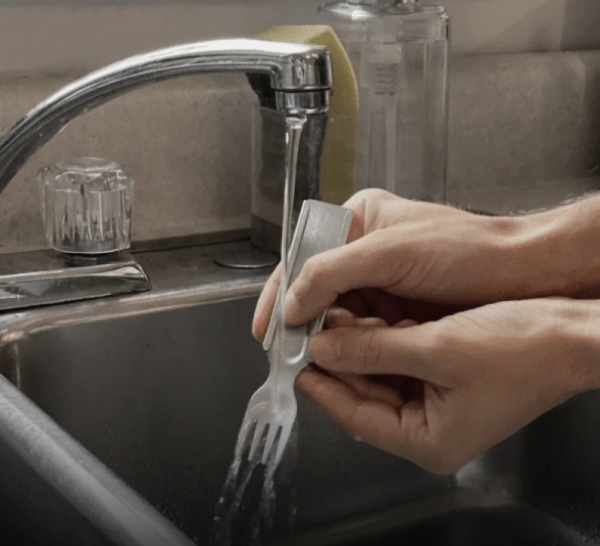 Thanks to their collapsible design, using the Flatware Set is extremely easy, and after extending each of the two utensils, you ultimately get full-sized utensils like the ones you have at your kitchen. All you have to do is pop both utensils out of their carrying/storage case, slide each utensil outside its extendable stainless-steel sleeve until it clicks into place, and enjoy your meal with two infinitely re-usable high-quality stainless-steel utensils.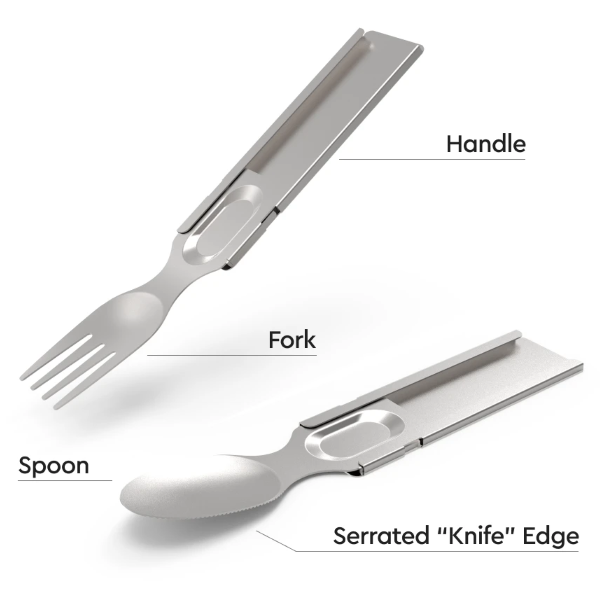 There's literally no compromise of strength, comfort or on the ability to scoop, skewer, slice, stir, or spread your food while using this set of utensils.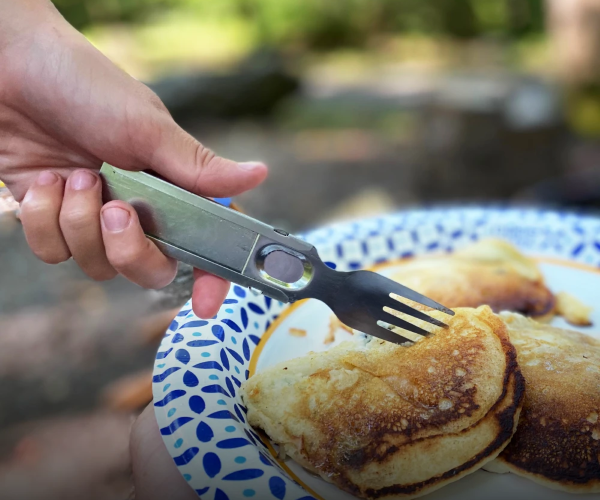 When compared to several other portable sets of utensils that I've tried in the past (which have been terribly disappointing, may I add), the GoSun Flatware Set is bound to deliver an amazing meal experience, each and every time.
FINAL THOUGHTS
The GoSun Flatware is a compact and ultra-portable set of reusable stainless-steel utensils that's focused on eliminating the single-use plastic utensils that people use on a daily basis.
Ultimately, you're offered a compact, portable, and infinite re-usable set of stainless-steel utensils that works as a much better way than plastic utensils, and with it, you can start saving the world from plastic waste.
If you're used to remembering your Smartphone, wallet, and keys before leaving your house, you'll also remember to bring your Flatware with you. At just 3.5 credit cards thick, it fits into just about any credit card slot, making it perfect for any meal at the office, outdoors, or just about anywhere else.
If you're interested in buying it, each set is currently discounted from its normal price of $39, now going for just $24 per set. You can order yours online right now, directly from GoSun's official shopping page, which you can access by clicking this link.