Since the COVID-19 world pandemic originally caused several cinemas across the country to shut down, those business now find themselves struggling with delayed re-openings. Because of that, many movie enthusiasts out there might be thinking about what's the best possible solution for them to watch movies at home. If that's your case, getting a decent home projector could fix your problem. However, with so many home projector brands flooding the market, it can be hard for you to find a high-quality projector that's packed with useful and convenient features as well as multiple connectivity options while also coming at an affordable price. This brings us to Philips Projectors' brand-new Philips PicoPix Micro PPX320 Projector.
The Philips PicoPix Micro PPX320 is a compact, yet ultra-powerful Wireless DLP Projector that can be used to easily share your content while you're on-the-go.
While it's ultra-versatile interface allows you to connect it with almost any devices that you can think for a stable HDMI-connection or wireless screen mirroring its built-in speaker and internal rechargeable battery allow you to project your favorite content wherever you are, no matter if it's a short video that you've just filmed or a movie that you've been dying to watch.
Now, let's take a more detailed look at the Philips PicoPix Micro PPX320 and check everything that this Wireless DLP Projector has to offer.
DESIGN & SPECS
Starting with the device's size, the Philips PicoPix Micro PPX320 is actually quite small, featuring an ultra compact design that makes it just slightly larger than a Knoppers chocolate bar. Thanks to its ultra-small size, this Wireless DLP Projector can easily fit in the palm of your hand.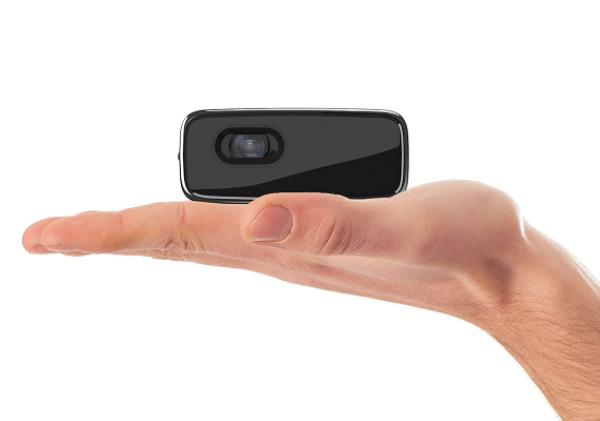 Not only that, but if you spend a lot of your time on-the-go, this tiny projector is the perfect companion for your Smartphone, as it allows you to easily share and screen-mirror all of your phone's content. Furthermore, it's also the perfect projection tool for any content creator that spends a lot of their time traveling from place to place.
Ultimately, the Philips PicoPix Micro PPX320's compact size makes it extremely easy for you to carry it inside your bag or backpack, thus making it the ideal companion for any road trips, work presentations, or friends' visits.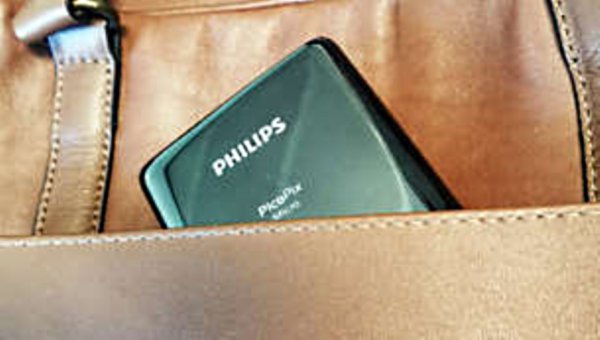 This particular projector feature an ultra-bright display that ultimately allows its users to project their content with an image-size that can go from as little as 10 inches all the way up to 80 inches, thus allowing everyone in the room (no matter the size of that room) to enjoy a clear view.
This projector can be set to replay all of your content at a screen distance that can vary between 2.62 to 6,56 ft. (80-200 cm), which means you actually get a very flexible placement for such a small unit.
While the projector's base resolution is exactly 960 x 540 pixels, this model actual supports resolutions up to 1920 x 1080 pixels. This means that you're ensured to get rich, lifelike hues and precise detail for all of content, and that goes especially for HD movies and HD film recordings that you might've done with higher-quality recording cameras (4K recording of radical sports, 4K Nature Filming and Documenting, etc.).
Users are offered a 16:9 Aspect Ratio, a 1,2:1 Throw Ratio and a 500:1 Contrast Ratio. Thanks to the projector's 1,2:1 Throw Ratio this model can accurately reproduce any wide images in their correct proportions. At the same time, the projector's featured 500:1 Contrast Ratio allows users to always get a multitude of shades between black and white, which ultimately ensures that you're always offered a rich color saturation for whatever content you're projecting or mirroring.
The Philips PicoPix Micro PPX320 Projector also comes equipped with a powerful LED lamp that can ultimately deliver around 20,000 to 30,000 hours hours of lamp life when using the device in normal mode. As such, its powerful LED light source can displays rich and vivid colors in a very enjoyable way.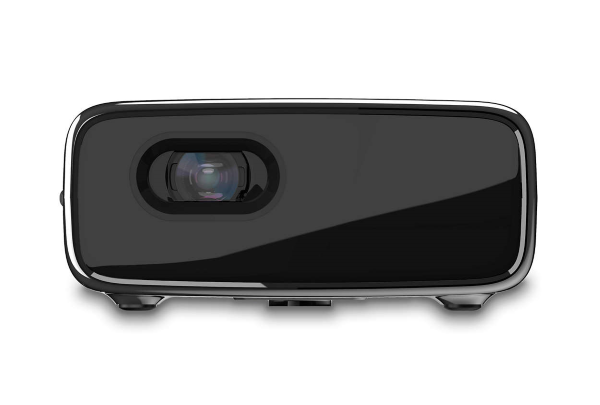 Keep in mind that even if you use this projector on an average of 4 hours per day, it will take you around 20 years of usage to actually end the unit's lifespan. This basically means that you'll most likely never have to replace its internal LED lamp.
In addition, the projector's power consumption is far lower than a regular lamp based projector, and that makes this projector an eco friendly device that can not only bring you a bigger screen display than most other lamp based projectors out there, but also a much more immersive experience at a very-low cost.
Lastly, the unit also comes equipped with a built-in 2W speaker that can provide crisp sound, and also features its own multimedia player (discussed at the end of the article). This ultimately makes this projector the perfect device for film watching or for work presentations at the office.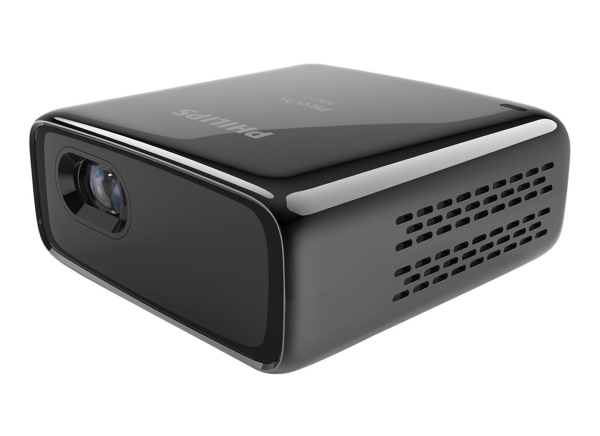 INTERFACE
Moving on to the projector's interface, both the device's connectivity ports and its ultra-simple Control Panel (its buttons) can be found at the very back of the unit.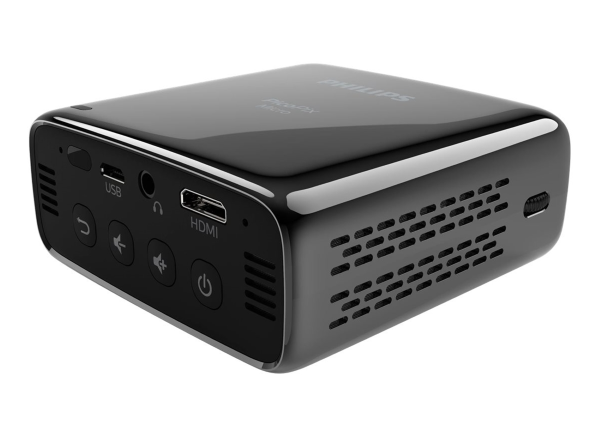 Not only does this project offers its users wireless Wi-Fi screen mirroring, but also features microSD, USB and mini HDMI ports (that's from left to right, mind you). Between it's USB and mini HDMI ports users can also find a 3.5 mm Audio Jack / Auxiliary Port that can be used to connect any headphones or external powered speakers to ultimately add a wider sound experience to the content you'll be displaying with the projector.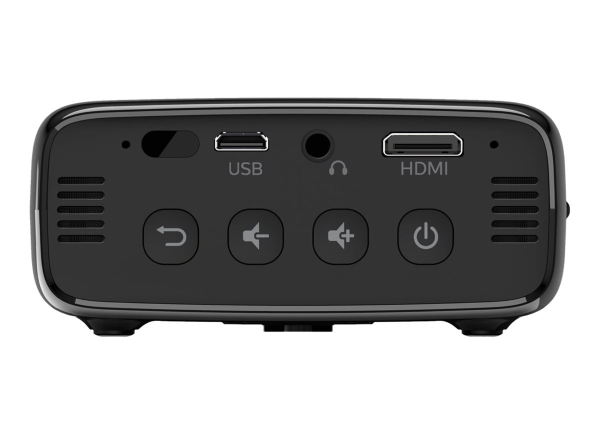 Right under its connectivity ports, users can find the projector's ultra-simple Control Panel, which, from left to right, consists of a Back Button, a Volume Decrease Button, a Volume Increase Button, and the projector's Power On/Off Button.
BATTERY & BATTERY POWER
Thanks to the projector's internal rechargeable battery, this device can project up to 115 minutes on a single charge. Thanks to that, you get almost 2 hours of cable-free projection, which ultimately allows you to get (and improve) a lot of entertainment time while still staying on-the-go.
WHAT'S IN THE BOX?
Furthermore, the projector also comes with all the accessories that you'd normally want to have with you whenever you need to travel.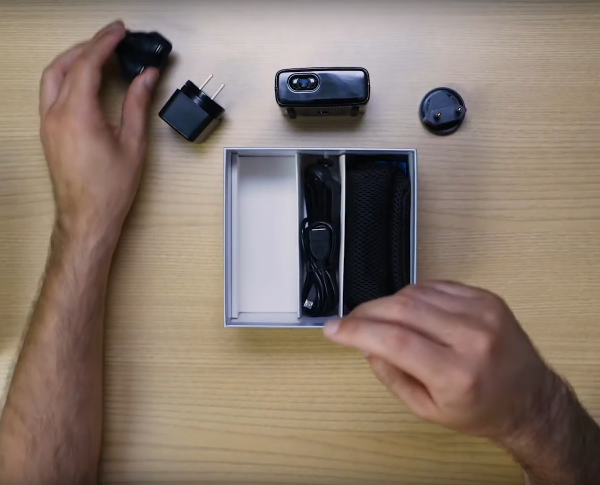 Inside each package, users will find: a multi-heads adapter, as well as a small and foldable tripod for extra convenience, the unit's proprietary remote control, an included Carrying Pouch, and the User's Manual.
OTHER NOTABLE FEATURES
Built-in Media Player for Unlimited Binge Watching
As mentioned earlier, the Philips PicoPix Micro PPX320 Projector also features its own built-in Media Player.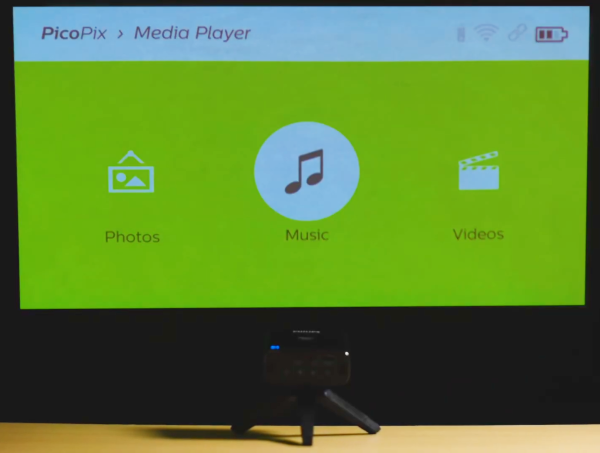 So, if you hate using cables and you don't want to outsource to other devices, you can simply pop your essentials in your hand and connect them to the projector so that you can easily browse and watch all of your videos, quickly listen to any of your music or even share your latest holidays pictures with your family and friends.
Wi-Fi Screen Mirroring for Smart Sharing
This feature is exceptionally useful for whenever you're in your Smartphone looking through your Pictures folder or just simply going through Social Media.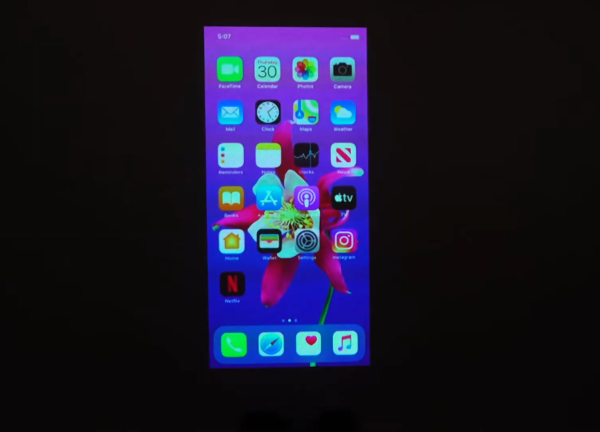 Thanks to the projector's Wi-Fi Screen Mirroring capability, users can easily connect it with any of their mobile devices, including Smartphones, tablets, or even computers / laptops and wirelessly mirror and share all of their content.
This feature is widely compatible with both IOS and Android devices, as well as with Mac and Windows PCs.
FINAL THOUGHTS
The Philips PicoPix Micro PPX320 is a small and powerful Wireless DLP Projector that includes several accessories and features 115 minutes of battery life, support to 1920 x 1080 resolution, wireless Wi-Fi screen mirroring, a built-in Media Player, and tons of connectivity options.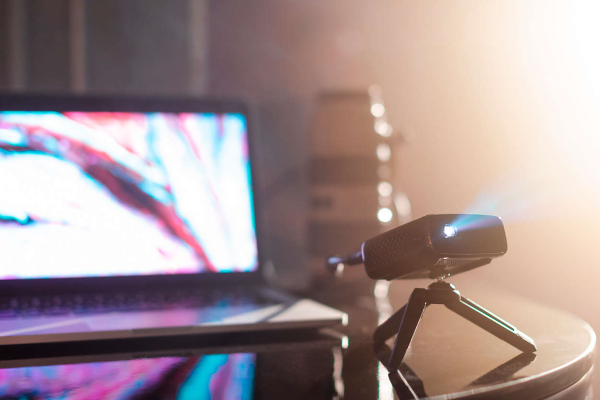 Ultimately, this ultra-sleek projector can be used to easily share all of your content while you're on-the-go. At the same time, it's built-in 2W speaker allows you to enjoy your content with sound.
if you're interested in buying it, each unit is currently priced at $270. You can order yours online, directly from Best Buy's official shopping page (which Philips Projectors is currently partnered with to sell their products). You can access the projector's corresponding shopping page by clicking this link.