For any type of content creator out there, having a reliable and portable pro-grade microphone is important to record their content with decent high-quality audio. However, most portable pro-grade microphones are somewhat bulky, somewhat heavy, and as such, end up taking too much space on creators' backpacks. Nevertheless, there's on super-sleek pro-grade wireless Bluetooth Microphone out there that promisses to maximize your freedom of recording your content's audio with no setup necessary, thus fixing all of those annoying issues. Meet the Hooke Lav.
The Hooke Lav is a wearable pro-grade wireless Bluetooth microphone that can accurately capture pro-grade sound with no wires, no dropouts and no hassle.
This is the very first, truly mobile, wearable, dual-channel, and wireless Bluetooth microphone that's available on the market.
Featuring a total of 8GB of internal storage and connectivity to any device with the click of a button, this slick, minimalist microphone is the perfect pro-grade mic to record live performances, interviews, news and sports broadcasting, or even, to stream your gaming content live with perfect audio quality.
Furthermore, it's also the perfect wearable microphone to have around during any time that you're looking to record a fitness instruction class. Not only that, but due to the COVID-19 worldwide pandemic situation, it's also the perfect piece of audio recording equipment for teachers around the world to have with them during their Virtual School Teaching and E-Learning classes.
Now, let's have a more detailed look at the Hooke Lav and check everything that this wearable pro-grade wireless Bluetooth microphone has to offer.
DESIGN & SPECS
Starting with the microphone's size, the Hooke Lav measures just 1.713 inches in diameter / wide (43.5 mm), having its body feature only a thickness of 0.494 inches (10.5 mm) without accounting for its wearable clip attachment, or a total of 0.503 inches thick when accounting for its clip. Not only that, but this wearable microphone is also extremely lightweight, weighing only a measly 0.35 oz. (10 g).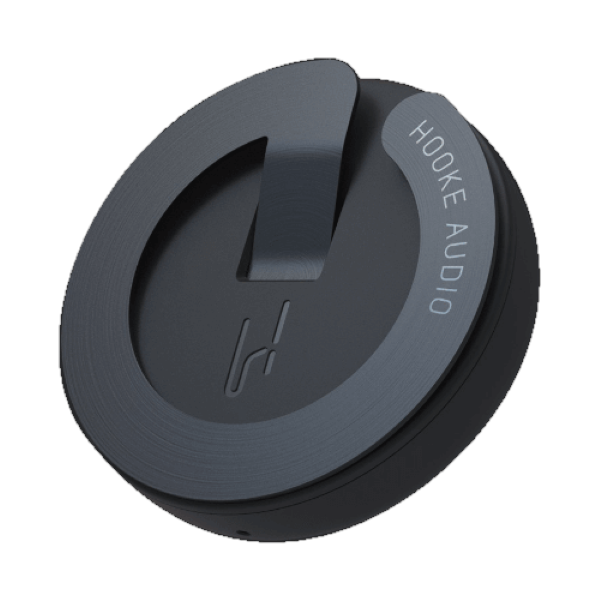 Furthermore, since the Hooke Lav was designed with the main intention to be discreet, its durable and ultra-secure brushed-steel clip attachment makes the microphone very easy to wear by simply clipping it to a lapel, shirt collar or pretty much any other piece of clothing that you feel like wearing.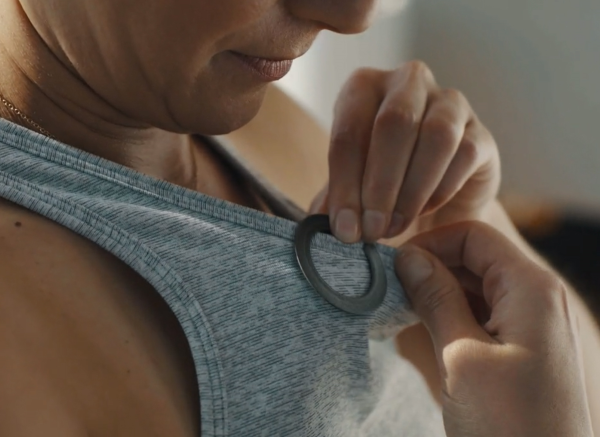 This clip attachment makes it really, really easy to wear the Hooke Lav Microphone. Thanks to it's convenient, low-profile clip-on design, the Hooke Lav can be worn and used seamlessly at any time.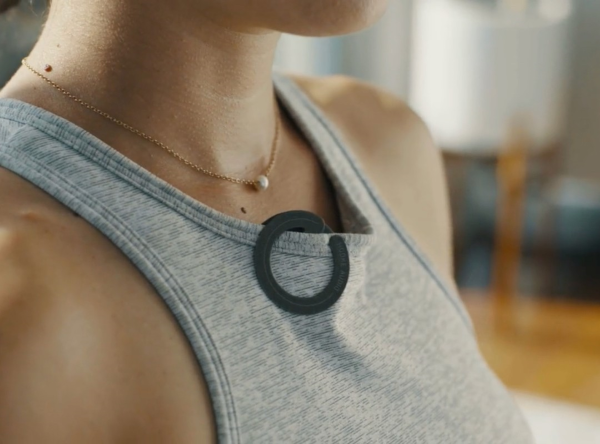 As mentioned earlier, this wearable wireless Bluetooth microphone also offers its users a total of 8GB of internal / onboard storage for continuous, drop-out proof recording situations.
AUDIO SPECS & AUDIO QUALITY
This ultra-sleek wearable wireless Bluetooth microphone comes equipped with a set of omnidirectional MEMS microphones that can accurately capture the highest-quality, noise-free sound. That goes for both any potential loud, as well as any super-quiet environment.
Featuring a Digital PDM (pulse density modulation) audio output with a Maximum Frequency Range that goes between 20Hz – 20kHz, a Audio Sensitivity that ranges between -36dB (+/- 1dB) at 94dB SPL and a S/N (Signal to Noise) Ratio of 69dB, this microphone really promises to do it all.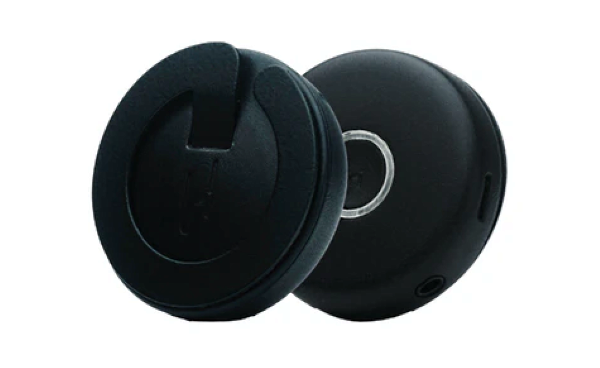 These specs make the microphone the perfect piece of audio recording equipment for content creators to have around and easily and conveniently record their content's audio at the highest quality, all without requiring any cable connections whatsoever.
Moreover, the Hooke Lav Microphone also features multilevel noise reduction, and comes with two physical wind screens that perfectly and completely block any wind noises.
With a A2DP Advanced Audio Distribution Profile that features a Maximum Frequency of 120 MHz and a Sample Rate of 48kHz, the microphone can record any really high-quality 24-bit 48kHz audio files with absolutely zero latency, which are saved in .WAV format.
Overall, you should expect really high-quality audio recordings for your audio files, no matter what type of environment you decide to use the Hooke Lav on. That goes for noisy coffee shops, busy city streets, ultra-silent streaming and/or interview rooms, and pretty much any other situation that you can think of.
HOW DOES THE HOOKE LAV ELIMINATE ANY POTENTIAL SOUND DROPOUTS?
When a recording begins, the audio is sent to a user's Smartphone or any other connected-device over Bluetooth in real time, all while an identical file is being written to the Hooke Lav's internal storage at the exact same time.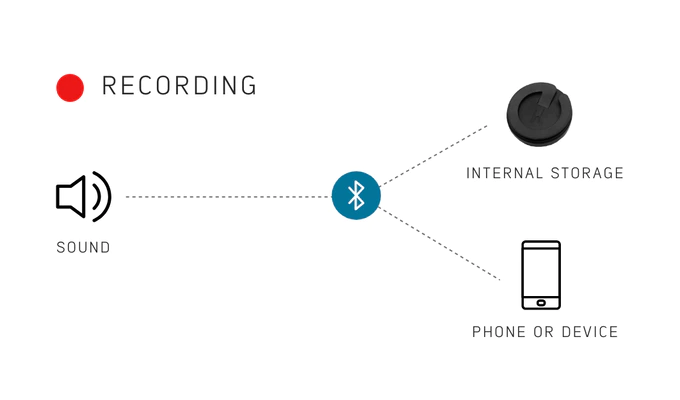 Then, whenever a user has finished his/her audio recording session, the microphone merges both audio files together for a pristine and dropout-free recorded audio file.
CONNECTIVITY
Since this wearable microphone works wirelessly via Bluetooth 5.0, it can accurately record your audio samples wirelessly to any mobile device through a stable and never interrupted Bluetooth connection.
Thanks to that, content creators can ultimately "cut the cords" and drop their outdated wired microphones by simply slipping on this ultra-sleek and super-compact pro-grade wearable wireless Bluetooth mic.
COMPATIBILITY
The Hooke Lav features a wide compatibility range, as it is compatible with all Smartphones, tablets and professional camera equipment, and that includes not only iPhones and iPads, Android Smartphones, Macs, and PCs, but also Go Pro products, DSLR cameras and more.
Not only that, but this wearable wireless microphone is also compatible with all popular social media and streaming platforms, including YouTube, Zoom, Skype, Twitch, Facebook and Instagram.
BATTERY & BATTERY LIFE
The stylish and ultra-sleek wearable microphone also comes equipped with a powerful built-in lithium-ion battery that can reportedly offer its users a maximum of 7 hours of battery life with continuous audio recording.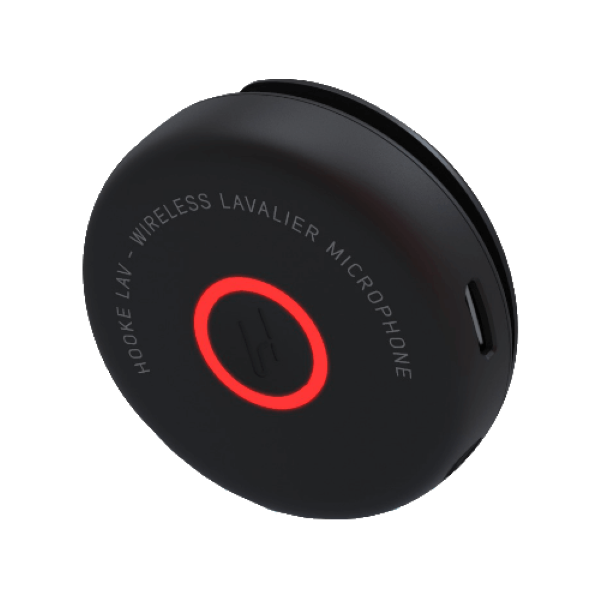 Lastly, the microphone also features a small USB Charging port that can be used to recharge the unit's internal battery. All it takes is less than an hour to fully charge its battery, so, without a doubt convenience is definitely also there when it comes to recharging the device.
MAIN USE CASES
As stated earlier, all of the already mentioned features make the Hooke Lav the perfect piece of audio recording equipment for any Live Streaming situations, including Music Performances, Interviews, News and Sports Broadcasting, and Gaming, as well as Fitness Instruction Classes and even Virtual School Teaching and E-Learning.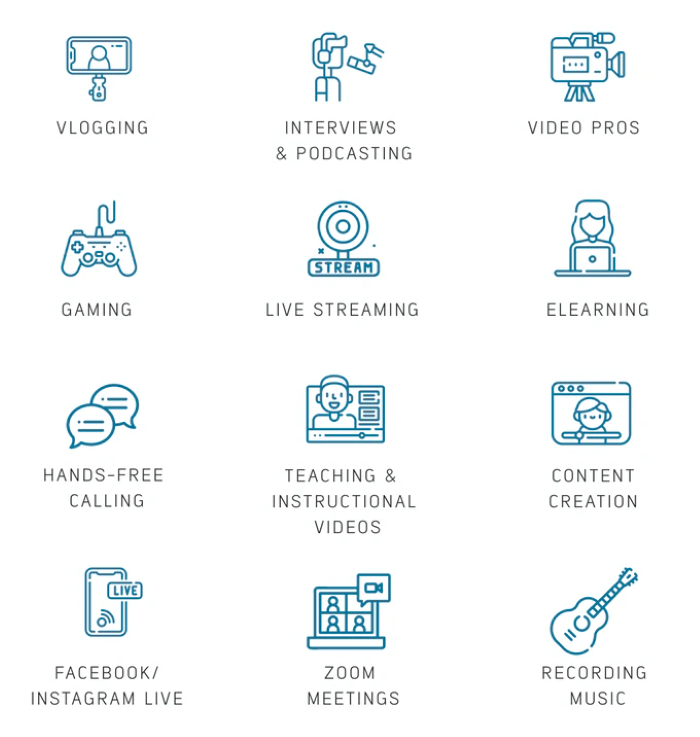 OTHER NOTABLE FEATURES
Island Mode
By using the Island Mode, users can easily and convenient record their audio samples in a completely hands-free manner, all without having the need to connect their Hooke Lav Mic to a Smartphone or camera.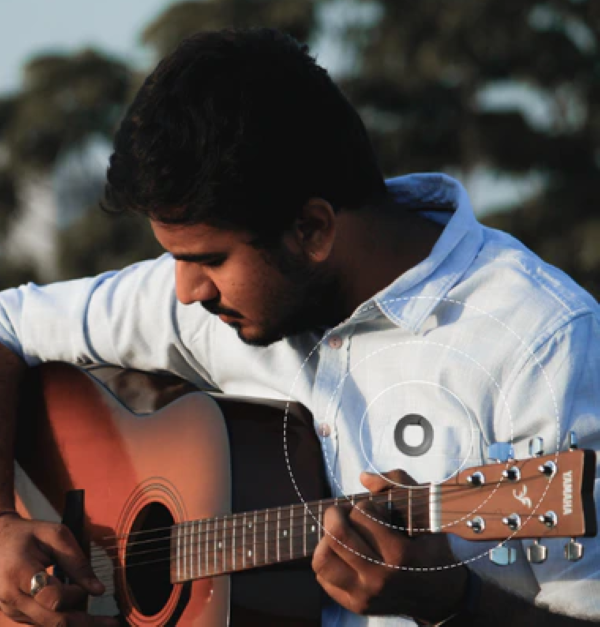 Thanks to that, users content creators can "unplug" themselves from the world and still record their thoughts, songs and sounds with just a clip and a click!
Lastly, thanks to the mic's 8GB internal storage, all of your audio files are safely stored within the device's onboard memory until you're able to connect and upload those files to a mobile device.
Receiver Mode
The Receiver Mode requires 2 Hooke Lav Microphones to work. By using this mode, users can override the internal microphone on their Smartphone/camera/computer and record with Hooke Lav.
While the first microphone unit connects wirelessly to the second Hooke Lav mic, that second microphone pumps audio into a user's Smartphone lightning port/Micro USB slot via a 3.5mm cable.
Furthermore, the Receiver Mode also allows one Hooke Lav Mic to receive audio from the other and transmit it directly into the audio jack of any camera. Thanks to that, you can perfectly sync your sound directly to the video that's being recorded.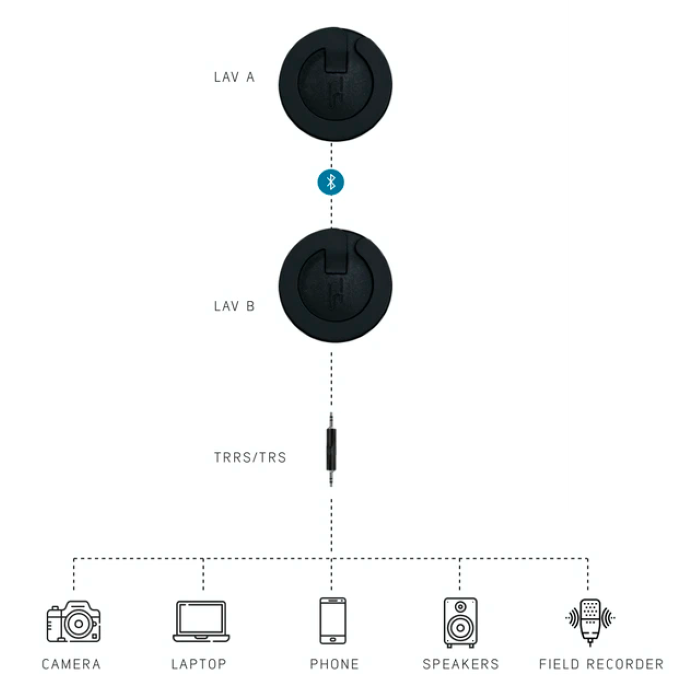 Solo Mode & Duet Mode
By using one single Lav Microphone, users can record alone. Alternatively to that, by pairing the first mic with a second Lav unit, users can use both mics in Duet Mode to set up a 2-channel input.
The Duet Mode is perfect for interviews, podcasts and more. After connecting both microphone units together via Bluetooth, all that there's left to do is to simply place each Hooke Lav mic on the two different interviewees and record their vocals respectively. Both recordings are perfectly transmitted to the host's Smartphone in real-time, without any latency whatsoever, and mixed together with the video automatically.

THE SMARTPHONE COMPANION APP – The Hooke Audio App
By using the Hooke Audio App, which is available to download for free for both iOS and Android devices, users are able to have their Bluetooth-enabled devices stream rich, dual-channel, high-quality audio (20Hz – 20 kHz) via Bluetooth, with no latency whatsoever.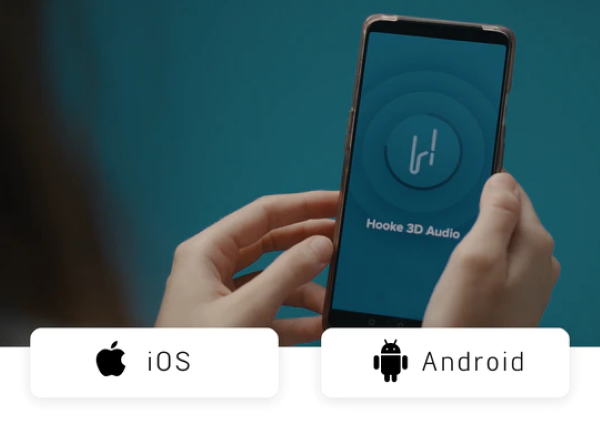 Not only that, but the Hooke Audio App also doubles as a field recorder. Thanks to that, you can simply fit your Smartphone in your pocket and easily record audio on the fly.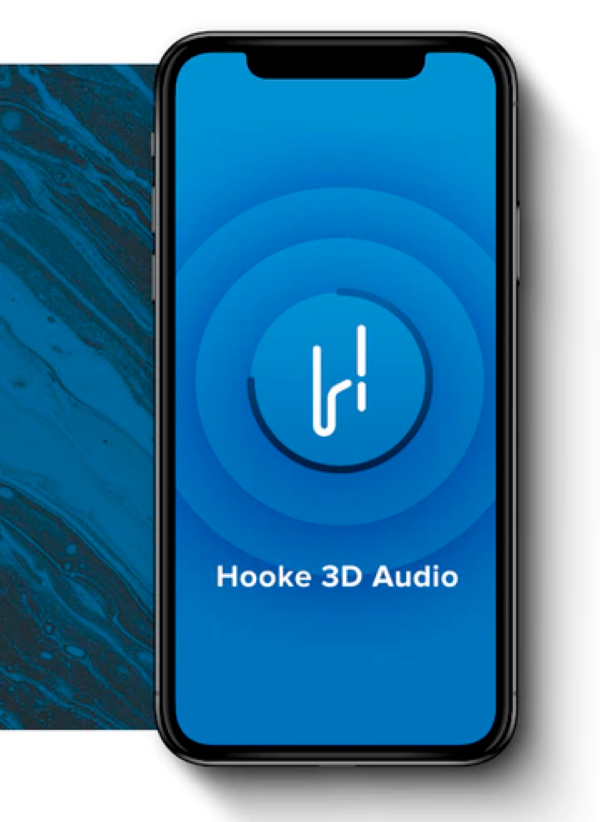 Lastly, users can also share their videos and sound recordings via email, social media and text message straight from the App itself, and no special additional speaker units or tricky algorithms are required to do that.
WHAT'S IN THE BOX?
Inside their package, users will find: their Hooke Lav Microphone, two (x2) included Microphone Wind Screen Attachments, an included USB Charging Cable, and the mic's proprietary Carrying Case.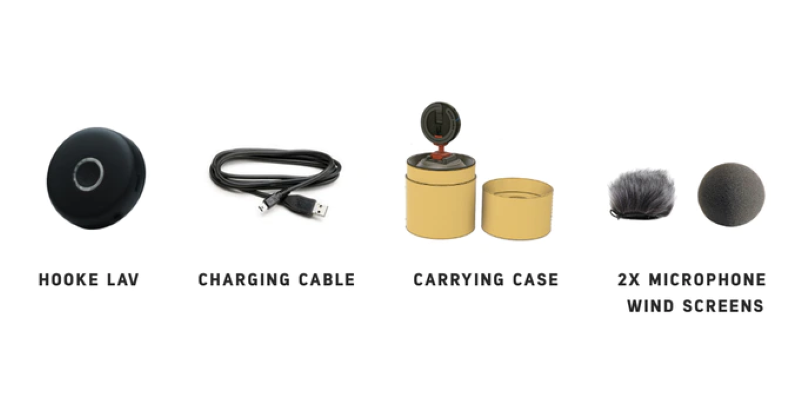 FINAL THOUGHTS
The Hooke Lav is a wearable pro-grade wireless Bluetooth microphone that can accurately record pro-grade sound with no wires, no sound dropouts and no hassle.
This wearable, dual-channel, and wireless Bluetooth microphone features a total of 8GB of internal storage as well as Bluetooth-connectivity to any Bluetooth-enabled device with the mere click of a button.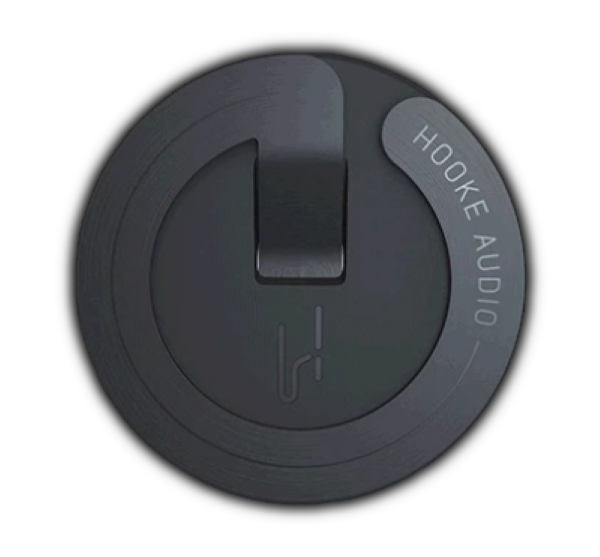 All that makes this slick and minimalist microphone the perfect pro-grade mic for content creators to record their content's audio.
If you're interested in getting it, the company currently has its recently announced Hooke Lav going through a Kickstarter Crowdfunding Campaign. By supporting Hooke Audio's Kickstarter Campaign with a minimum pledge of $115 ($64 less than its future retail price of $179) you'll be able to get your own Hooke Lav Wearable Microphone, which will be shipped to you as soon as the company finishes the units' production.