First mentioned on Gadgetgram in this article back in May of 2020, SwiftPaws is gearing up for their first Holiday season. They're celebrating being in-stock for the Holidays with some incredible offers and bundles, more on that below.
What is SwiftPaws?
Simply put, SwiftPaws is the best game of chase ever for your pup!
Based in Melbourne, Florida, this locally grown company takes socially and environmentally conscious actions wherever possible. SwiftPaws Home is an enrichment-based dog toy that is fast and easy to set up at home.  This interactive game of capture the flag lets dog owners control the action with a wireless remote.  This remote controls the speed and direction of the "flag" your pup will chase.  After just a few runs, your pup will be dog tired and have their fill of exercise for the day!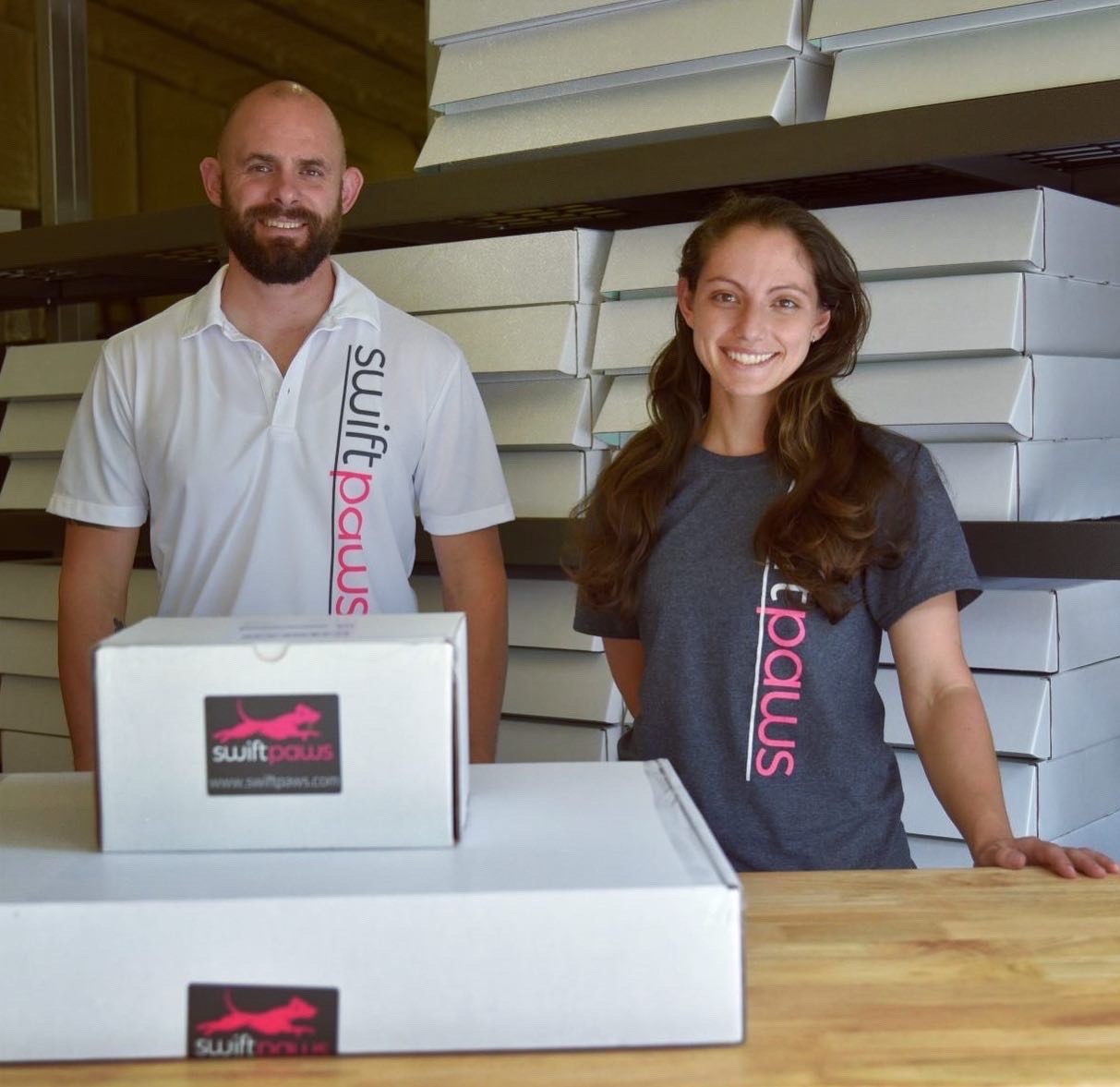 For Your Pup's Health and Wellness
All loving dog owners want to ensure their pup is happy and healthy.  One of the best ways to do this to provide both mental and physical exercise for your pup.  By providing the right amount of enrichment, you'll not only help keep them limber and healthy, but mentally fit too!  Pups who are exercised regularly also have fewer behavioral problems when left alone at home. A great way to relieve boredom, SwiftPaws also helps pups become more confident in themselves by tapping into their natural drive to chase. Similar to chasing a ball or frisbee, SwiftPaws turns your pup's prey drive into play drive, except you don't have to wait for your pup to bring it back to you! Follow this up with some enthusiastic positive reinforcement when they catch the flag, and you'll see the joy in your pup's eyes!
SwiftPaws is perfect for any pup, but especially high-energy pups!  Frenetic Random Activity Periods (FRAPs, also commonly known as the Zoomies) are short bursts of energy many pups experience.  SwiftPaws is a great way for high energy pups to burn off those Zoomies!  With just a few minutes of chase time, your pup will be dog-tired and much calmer and satisfied inside your home.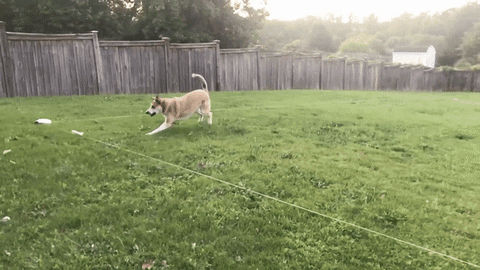 Now Available For Online Purchases
Since its launch, SwiftPaws' popularity has resulted in products selling out several times over the past few years.  To prepare for this Holiday season, SwiftPaws increased production so your pup can get one under the tree this year!  There are two main offerings to choose from: SwiftPaws Home Original, and the Deluxe Holiday Bundle.
SwiftPaws Home Original Kit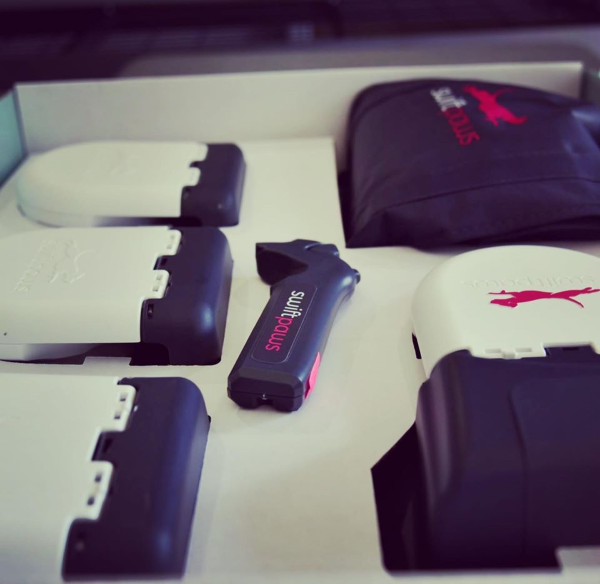 Thousands of customers have come to know and love SwiftPaws Home, the complete at-home kit which launched successfully on Kickstarter in 2018.  It comes with everything you need to get your pup up and running fast!  SwiftPaws Home includes:
SwiftPaws Home Main Unit
Remote Controller
3 Pulleys
1 Roll of Line (250′)
Rechargeable Battery and Charger
Stakes and Tethers
Line Winder
Roll of flags
This kit allows you to create courses up to 300 feet in length and has a maximum speed of 30mph. We've seen it set up in backyards of all sizes, and even indoors!
SwiftPaws Deluxe Holiday Bundle
For the first time ever, SwiftPaws has introduced a limited supply holiday bundle that comes with even more fun!  In addition to everything you get when you purchase SwiftPaws Home, you will also receive:
Two Extra Pulleys (The Most Popular Expansion Pack)
Exclusive Holiday Accessories
An Expandable Water Bowl
An Upgraded Tote Bag
An Upgraded Line Winder
This holiday bundle combines the most popular accessories with some added holiday exclusives. A great option for active pups because extra pulleys mean endless configurations and fun!  The Deluxe Holiday Bundle is only available while supplies last.
Is SwiftPaws Safe for My Dog?
Yes, SwiftPaws has lots of built-in safety features and was designed with safety in mind! You should, however, always check with your vet to make sure that your pup is healthy enough to start any kind of high-intensity activity including agility, flyball, and lure coursing.
Please note: SwiftPaws was not designed for use with young puppies. As a general rule, all puppies should have their exercise carefully monitored as they are still developing.
SwiftPaws Safety Features Include:
90 Second Shutoff: Your SwiftPaws home will shut off and beep/vibrate after 90 seconds of play to let you know it's time to take a break. Every pet has a different level of fitness, so it's important to always watch your pet for signs of getting hot or tired. Your pet will LOVE this game, so it's up to you to decide when it's time for a break.
Stall Feature: While running SwiftPaws Home, your machine will sense if there is a disturbance to the system (ie: your pet steps on the line or grabs the flag) it will automatically cut power when it senses this. If the disturbance does not go away and you continue to try to run the machine, it will initiate a full stall where it will completely stop running and will only start again when it senses that all is clear.
Safety Tethers: Your Machine and every pulley should always be anchored by using the included safety testers. Do not anchor the machine or pulleys directly to the ground or to a solid object. They are designed to be tethered at the back so they can center themselves during play. Tethering this way also allows the equipment to "give" a little and move out of the way should a pet come into contact with any of the equipment during play.
Is SwiftPaws Durable?
SwiftPaws is made with the highest quality materials and parts.  The product is made of durable glass-filled polymer to ensure it can handle anything thrown at it – even a curious pup!  SwiftPaws was designed to be moved around and used outdoors and will hold up to years of use.
Return Policy
SwiftPaws has a 30 day return policy and a full one-year manufacturer warranty.  Their support team is easy to reach via email should you run into any issues!
Set-Up and Use
Setting up SwiftPaws is a breeze. In just minutes, you can be ready to play in any size space. Some customers even have set it up indoors!
Once you're ready to use SwiftPaws the operator is in control of the speed and direction with the included remote control. This way the whole experience can be tailored to the pup running the course.
SwiftPaws even provides a quick set up video to make it even easier!
Final Thoughts
SwiftPaws is a perfect way to ensure your pup engages in fun, healthy, and enriching exercise that is fun for you too!  This high quality, safe, and very easy to use at-home lure course is now in stock and shipping for the first Holiday season ever.  Last year, it sold out before the Holidays so make sure to catch one while you can!  To see the latest SwiftPaws products and offerings visit their website directly.